Gramophone Dreams#18: AMG Giro turntable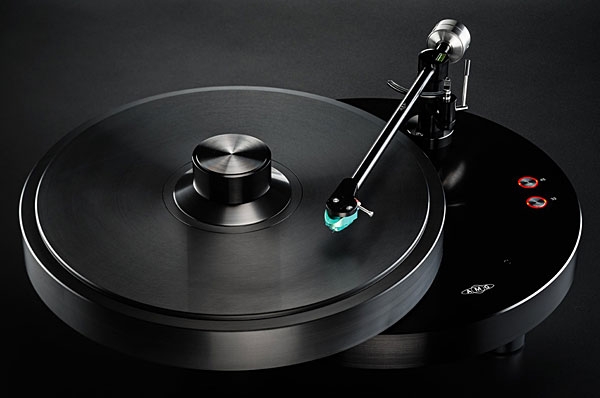 It's get-ting bet-ter all the time (it can't get no worse)
—John Lennon & Paul McCartney
Remasterings of recordings make me angry—they mess with my memories of the songs I love, especially songs from the 1960s that I played in my bedroom on a cheap Garrard turntable through Lafayette speakers. Like my first girlfriend, these songs permanently entered my psyche and modified my DNA.
When songs I've heard a thousand times are remastered or remixed, they sound wrong and weird to me. They make my inner hard drive skip as I try to figure out what was changed, and why. This is especially true with Beatles reissues.
One day, in high school, the nerdy girl who sat in front of me in math turned around and said, "The Beatles are coming! The Beatles are coming!" I groaned and rolled my eyes.
I didn't like the Beatles. Hipsters like me gave no mind to the British Invasion. I was the right age, but where I grew up, Otis Redding and Wilson Pickett trumped all that Liverpudlian pop. I didn't like the Beatles until they stopped playing stadiums and started making statement albums that merged art, pop music, and light social commentary. Sgt. Pepper's Lonely Hearts Club Band, released in the US on June 2, 1967, was the first Beatles record I bought.
Today, listening to the 50th-anniversary remix and remastering of Sgt. Pepper's (2 LPs, Parlophone PCS 7027), I submitted once again to those mop-top rockers. Guess what? It's déjà vu all over again.
The new edition of Sgt. Pepper's is the remastering I always dreamed of but never thought would actually happen. George Martin's son, Giles Martin, and Abbey Road audio engineer Sam Okell have created this revelatory remix from the original four-track master tapes—revelatory because this reissue eliminates the haze, the hard textures, the questionable stereo of my original US pressing (Capitol SMAS-2653).
The new Parlophone edition lets me hear all the way through the EMI mixing console and experience a key paradigm-shifting Beatles moment—in close-up, I-am-there intimacy. Best of all, my current, mature vantage lets me more fully appreciate the originality of Lennon and McCartney's songwriting, the importance of Geoff Emerick and George Martin's recording innovations (footnote 1), and, finally, to perceive a little more of the original marketing strategy behind this landmark album.
I remember thinking that the 1967 American stereo release sounded grainy and opaque—very different from the deep, richly toned sound of the monophonic British pressing (Parlophone PMC 7027) I bought at Tower Records in 1987. According to Giles Martin, for the 2017 edition he went back to the original, pre-bounced studio tapes; in doing so he delivered a fresh, sparkling, version that corrects every sonic problem I heard from my first stereo copy.
You can laugh, but I still believe that ste-ree-o is a marketing gimmick. To me, mono imaging is more natural, and easier for my brain to process. I was certain I'd hate this new stereo remix, but I was wrong. I can't stop playing it—especially the second LP, of poetically intimate alternate takes of the same songs, in the same order as the album itself. This alternative Sgt. Pepper's makes the Beatles seem more interesting and intelligent than I ever realized they were—less like pop-culture millionaires, more like cultural fire-starters making songs that could change the way people view themselves and the world.
This new edition is a sonic joy. The voices of John, Paul, George, and Ringo, and the sounds of their respective instruments, are all so enjoyably clear and forcefully present that this album should have been called Meet the Beatles II. Never since the first Beatles bootleg, Kum Back (1969), have I felt so in-the-studio close and behind-the-scenes intimate with these legendary Brit boys.
This alternative Sgt. Pepper's is so extraordinarily engaging that I decided to use it as the cornerstone of this month's comparison of German and British turntables. I mean, if a German record player can't play a hunky-dory British band, what good is it?
"So let me introduce to you . . ."
Analog Manufaktur Germany (AMG, footnote 2) makes: two turntables, the Viella and Giro; four tonearms, the 9W2, 9WT Turbo, 12J2, and 12JT Turbo; four phono cables, the Basic, Standard, Reference, and Turbo; and one moving-coil cartridge, the Teatro. All of these products are built in Bavaria, and seem elegantly designed and precisely made.
AMG was founded in 2011 as a strategic partnership among the late Werner Roeschlau and his son Julian Lorenzi, who made precision parts for other turntable manufacturers under the name Roeschlau & Lorenzi; Gerald Jakob, of High Fidelity Studio, a high-end audio distributor and dealer in Augsburg, Germany; and Garth Leerer, of US audio distributor Musical Surroundings. High Fidelity Studio and Musical Surroundings have worked together since the 1990s, making and distributing turntables and other analog products in the US and Germany.
The AMG Giro turntable
I always bug my old friend and turntable setter-upper, Michael Trei, record collector and a Contributing Technical Editor to Sound & Vision, with dumb questions. The question that most annoys him is, "So, Michael—if you could have any turntable you wanted that you don't already own, which would it be?"
Like a real New Yorker, he answers my question with another: "What would you buy?"
I try to keep the game going. "I don't know. Maybe something British, like the Palmer 2.5 ($8990) or the SME Model 15 ($7399)—or something German, like a Dr. Feickert Analogue Firebird ($10,995) or a Brinkmann Bardo ($7990)—or an AMG Viella V12 ($16,500). Then there's that Australian . . . Mark Döhmann. His new Helix 2, with the Schröder CB tonearm ($25,000), looks interesting. Maybe I'd buy that."
At the time, I hadn't heard about the younger, handsomer brother of AMG's Viella turntable: the smaller, more sculpturally perfect Giro. To my eye, the Giro looks better than the Viella. Rather than merely a lower-priced model from the same company, it seems an effective distillation of everything that makes the Viella extraordinary.
The Giro G9 is the Giro turntable bundled with the 9W2 9" tonearm. The package costs $10,000 without phono cable. Happily, my Giro G9 review sample came with AMG's Teatro moving-coil cartridge ($2750) and Reference phono cable ($1500).
The Giro is a 24.5-lb, belt-driven turntable assembled on a circular plinth of machined, black-anodized aluminum 12" in diameter and 1.5" thick. This plinth contains a speed-adjustable motor controller for the Giro's Swiss-made DC motor. The red, ring-lit buttons on the tonearm side turn green when the speed is selected: 331/3 or 45rpm. When you hold down the speed button for five seconds to engage the speed-controller adjustment function, the button blinks red and green.
Leftmost on the plinth is the platter-bearing housing, which also serves as one of the Giro's three feet. Conveniently, the height of the feet can be adjusted from the plinth's top surface. The bearing, which contains a PTFE thrust pad, comprises a hydrodynamically lubricated, 16mm-thick steel axle with an integral hub that measures 2.375" in diameter. Upon that hub—which AMG's website describes as both a subplatter and a flywheel—the 1.75"-thick polyoxymethylene (aka POM or Delrin, footnote 3) platter fits snugly and stably. Unlike most turntables, in which the record spindle is an extension of the platter bearing axle, the Giro's stainless-steel record spindle is a separate piece that makes contact with the platter, but is decoupled from the bearing.
The stainless-steel drive pulley of the Giro's motor rises through the rear of the plinth, inside the platter's rim. The thin rubber drive belt can be tricky to attach, but overall, the AMG Giro is unusually easy to set up.
The AMG 9W2 tonearm
In his October 2014 Listening," Art Dudley said this about AMG's 9W2 tonearm: "I was stunned. Our hobby has been blessed with some beautifully made tonearms, including the [Naim] Aro and [Linn] Ekos, as well as the Mission Mechanic, the Zeta, Sumiko's The Arm, and various iterations of the Ikeda. None surpasses the 9W2 in sheer build quality."
I agree. When the 9W2's 9" aluminum armtube moves across a record, it rides on the smoothest gimbal rollers I have experienced since the Breuer Dynamic and Technics EPA-100 tonearms. When the 9W2 moves up and down, it does so on two 0.4mm-diameter fulcrums of spring-steel wire spaced just a bit wider than the armtube's diameter—as Art described it, "on a line precisely parallel to the arm's offset angle (24.07°), so that azimuth doesn't change as the arm moves up or down." To my reckoning, this is a simple and supremely effective innovation.
---
Footnote 1: See Kevin Ryan and Brian Kehew's
Recording the Beatles: The Studio Equipment and Techniques Used to Create Their Classic Albums
(Curvebender Publishing, 2006).
Footnote 2: Analog Manufaktur Germany (AMG UG), Gewerbepark A7, Deining 92364, Germany. Tel: (49) (0)9184-8086389. Web: www.amg-turntables.com. US distributor: Musical Surroundings. Tel: (510) 547-5006. Fax: (510) 547-5009. Web: www.musicalsurroundings.com.
Footnote 3: Polyoxymethylene is a thermoplastic used in precision parts requiring high stiffness and dimensional stability.