Gramophone Dreams#18: AMG Giro turntable Page 2
To me, 9" tonearms have always seemed more lively and responsive than their longer, lazier-sounding counterparts. I imagine that short tonearms handle like short-wheelbase sports cars. I could tell just by looking at it that the 9W2 would handle like a very fast and expensive
Bayerische Rennvagen
. According to my eyes and ears and Shure's
An Audio Obstacle Course: Era IV
test record (LP, Shure Brothers TTR115), the 9W2 tonearm in combination with the higher-compliance (18 x 10
cm/dyne) AMG Teatro moving-coil cartridge tracked difficult grooves at the highest levels.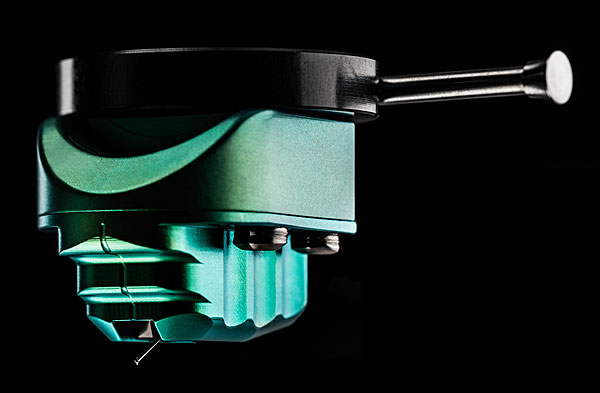 The AMG Teatro moving-coil cartridge
In his online coverage of the 2014 Consumer Electronics Show, Michael Fremer described AMG's Teatro MC cartridge as "an international collaborative effort, combining a machined, two-piece Tiodize Type III Titanium body manufactured in America and a Japan-sourced generator system, featuring separate coils for each channel said to increase separation (most cartridges have two coils mounted on a single former)." Michael didn't mention the Teatro's neodymium magnets or its soft-alloy yoke containing cobalt and iron.
The Teatro has a 0.4mV output, an internal coil resistance of 12 ohms, and tracks at 2gm. Its 40x7µm line-contact stylus sits at the end of a solid-boron cantilever. Most important, the Teatro's shiny chunk of strangely green titanium looks really impressive on the end of AMG's 9W2 tonearm. Mikey also forgot the Teatro's most outstanding feature: It has the best, easiest-to-use stylus guard ever to protect a needle; made of machined aluminum, it fits like a glove.
Listening and comparing
No record player sounds bad while playing an LP as well-mastered as the new edition of Sgt. Pepper's Lonely Hearts Club Band. Unfortunately, too many record players make even well-mastered records sound dull, bright, or annoyingly confused. Only the best are capable of connecting the listener—directly, quietly, and organically—to the more hidden layers of a great recording's greatness. Both the AMG Giro G9 and Palmer 2.5 turntables communicated the subtler aspects of the Beatles' greatness, but in ways very different and almost opposite.
I am not yet fully evolved. My mind is still drawn to such dualities as big/small, hard/soft, warm/cool, yin/yang, and, of course, Apollonian/Dionysian—that last dichotomy is one of my favorite tools for describing the character of sound. These latter two oppositions effectively describe the main difference between my reference Palmer 2.5 turntable with Audio Origami PU7 tonearm, which is conspicuously Dionysian (broad on the bottom, and voluptuous, almost pregnant, through the midrange), and the Giro G9, which is distinctively Apollonian (a tight, firm bottom; a strong, solid mid-core; and very rational through the high frequencies). The Palmer leans towards flesh and blood while the Giro leans toward bone and brain.
Please understand: I use the Palmer 2.5 and Audio Origami PU7 not as a reviewer reference for neutrality, but as a personal reminder of the type of sound I like. I currently own three turntables: a 1957 Thorens TD 124, a 1984 Linn Sondek LP12, and the 2016 Palmer 2.5. Each in its own way reproduces the pulse, drive, and excitement of musical performances, and can connect me to the inner workings of a composer's mind. I purchased all three, because those things are important to me. The AMG Giro G9 did those things as well as my own turntables do—but as it did them, it sounded strikingly different.
Although the Giro G9 looks, feels, and plays music like a German science-lab instrument, it somehow managed to rock and unlock the Beatles and Sgt. Pepper's better than has any of my own turntables. It may be made in Germany, but the Giro G9 loved Rita, Ringo, and rapscallion John even more than my two British-made decks, the Linn and Palmer. I would never have gotten the full impact or the complete pleasures of the alternate-takes disc had the Giro not been so completely adept at recovering and sorting out complex music. Attached to AMG's 9W2 tonearm, each of the several cartridges I tried presented me with more information—especially quiet, low-level information—than did either of my British record players. Without feeling too sharp-edged or mechanical, the Giro G9 gave me a looking-glass view of Lovely Rita, Lucy, and Mr. Kite. The Giro G9 was especially good at directing my attention to the rhythmic differences and instrumental eccentricities of the Pepper alternate takes.
Every time Michael Trei visits, we nerd out on all topics analog. One night in early June, he came over with a just-like-new US first pressing of Sgt. Pepper's (Capitol SMAS-2653). I was excited to recover some teen memories. New and old Beatles pressings, two turntables, two tonearms, and two wildly different cartridges made for a long, "would you believe?" night.
At first, I was annoyed to discover how far from reality my memories of the Capitol edition were. Michael's pristine pressing (stamper #5/#4) sounded clean, solid (maybe a little hard), and surprisingly quiet, and the stereo was more attractive than annoying. That was on the AMG rig: Giro G9 with Teatro cartridge. On the Palmer 2.5 with Audio Origami PU7 arm and EMT TSD 75 cartridge, it sounded less clean, less solid, but equally quiet, and—I swear—almost '60s psychedelic. The bass from the Palmer was strong and enjoyably big, but not nearly as detailed or as well articulated as from the AMG. Listening first to the Apollonian Giro G9 made the Palmer sound excessively Dionysian.
Michael had not yet heard the new edition of Sgt. Pepper's, and I was excited to play it for him. Listening to the remix through the Palmer made us laugh and smile. (A WOW emoji appeared above Michael's head.) Sides 1 and 2 sounded incredibly rich, unusually transparent (for a Beatles record), and super-tuneful in that uniquely Beatles way. Individual voices and instruments were easier than ever to recognize and follow. The music had an attention-grabbing flow, and microtextures that reminded me distinctly of analog tape. Michael kept smiling and staring straight ahead.
Then I played both sides again, on the AMG rig. The differences between these two fine record players were distinctly yin/yang, moon/sun, man/woman, etc. Too much so. The Palmer was too lush, big, and sunny. The AMG was too dark, strict, and analytical. So I said . . .
"Michael—you're good at installing cartridges, right? And fast! How long would it take you to swap these cartridges?" I wanted to install the AMG Teatro in the Audio Origami arm, and the EMT TSD 75 in the AMG 9W2. He laughed and frowned. Thirty minutes later, we were playing the Beatles on the Teatro-Palmer and shaking our heads incredulously. All I could do was stutter and smirk.
"Michael. Are you hearing what I think I'm hearing?"
"I think so."
"You know, in his review of the Palmer, Michael Fremer said that because of the Palmer's rich midrange, it would be wise for a user to choose a leaner, more analytical cartridge. It sounds like we've just done that." The AMG Teatro cartridge in the Palmer–Audio Origami rig was sounding as if its yin and its yang were balanced just right.
We played sides 1 and 3, comparing the final versions of the Pepper's songs to the alternate takes. Then we switched to the AMG rig with EMT cartridge.
Our incredulous looks returned—twice as emphatic. We both knew: This was it. The AMG's analytical designo had morphed into the lady on the half shell in Botticelli's The Birth of Venus. The EMT TSD 75 was adding exactly the right measures of seductive smile and rosy cheek to a sound that, only an hour earlier, had had a bit of an assassin's tight-lipped cool.
I couldn't resist: "So Michael—if you had to pick one of these two turntables to be your one and only, which would it be?" Always a pest.
He didn't hesitate: "No question—the AMG!"
I told him I thought the cartridge swap was a huge deal and, to me, extremely revealing. "Both 'tables are more exciting and descriptive than my Linn LP12 or Thorens TD 124. I could live happily with either. But the AMG seems to have it all going on: exquisite style, superb build quality, ease of setup, ease of use, and the ability to steer cartridges and play records with the world's finest record players."
But I'm a restless reviewer. Now I want to try the Palmer-Origami with a lean but elegant Lyra cartridge, and the AMG Giro G9 with a rich-toned Koetsu. Life in the bunker's get-ting bet-ter all the time.