Gramophone Dreams #40: Denafrips Terminator & Ares II Measurements
Measurements, from November 2020 (Vol.43 No.11)
In his September 2020 Gramophone Dreams, Herb Reichert reported on two D/A processors from Chinese manufacturer Denafrips: their flagship Terminator, which costs $4498, and their least expensive model, the Ares II ($768). Like the Holo Audio May (Level 3 version, $4998), which Herb reviewed in August 2020 and which I wrote about in September 2020, the Denafrips converters employ R-2R D/A conversion schemes. Both offer two oversampling modes—OS Slow and OS Sharp—as well as a NOS (NonOverSampling) mode.
HR was impressed by the Terminator, writing, "Like the Holo Audio May DAC, the Denafrips Terminator seemed like an endgame, last-DAC-I'll-need-to-own product. It satisfied all my music-listening desires." He also liked what he heard from the affordable Ares II. "It felt and sounded like a Terminator that shrunk in the laundry," he wrote, adding, "it retained all of the Terminator's features and a majority portion of the flagship's engaging character, but the sounds it projected seemed smaller and denser and tighter."
He preferred the Terminator in its OverSampling (OS) Slow mode, which gave a "dramatically enhanced," better-focused three-dimensional soundstage and a better sense of pace compared with NOS. However, he found that the OS Sharp mode attenuated recorded reverberation and seemed to emphasize compression.
HR did like the sound of the Ares II in NOS mode, describing its sound as "relaxed and musical" but with a "slight diffusion and grainy flatness" compared with OS Slow. Again he did not like the OS Sharp mode, finding it "kind of forward, rough, and ringy, with sharp-ish, sometimes glaring highs."
As the R-2R Holo Audio May was one of the best-measuring D/A processors I have reviewed, and the two Denafripses use what appears to be very similar switched-resistor-array DACs, I borrowed the Terminator and Ares II from Herb so I could take a technical look at them with my Audio Precision SYS2722 system (see the January 2008 "As We See It").
Apple's USB Prober utility identified both processors as "USB HiRes Audio" from "DENAFRIPS." Their USB ports operated in the optimal isochronous asynchronous mode, and Apple's AudioMIDI utility revealed that they accepted 32-bit integer data sampled at all rates from 44.1kHz to the same extraordinary 1536kHz as the Holo Audio May. The S/PDIF inputs, including TosLink optical, accepted data sampled at rates up to 192kHz.
The two Denafripses' three operating modes—NOS, OS Slow, OS Sharp—didn't affect the output levels at 1kHz. The Terminator's maximum output level was 4.52V from the balanced outputs, 2.26V from the unbalanced outputs. The Ares II's maximum output levels were a little lower, at 4.4V, balanced, and 2.2V, unbalanced. Both sets of outputs for both processors preserved absolute polarity (ie, were noninverting) in all three modes. The Terminator's balanced output impedance was a high 1233 ohms at all audio frequencies; the unbalanced output impedance was half that magnitude, as expected. The Ares II's output impedances were even higher, at 2.4k ohms, balanced, and 1.2k ohms, unbalanced. The Ares should not be used with preamplifiers or integrated amplifiers that have an input impedance less than 10k ohms.
The Terminator and Ares II behaved identically in the time domain. Fig.1 shows their NOS-mode impulse response with 44.1kHz data. It indicates perfect time-domain behavior, due to the absence of a low-pass reconstruction filter. The impulse response in OS Sharp mode is shown in fig.2. It is typical of a linear-phase reconstruction filter, with time-symmetrical ringing either side of the single sample at 0dBFS. The OS Slow impulse (not shown) was almost identical but with a little less ringing.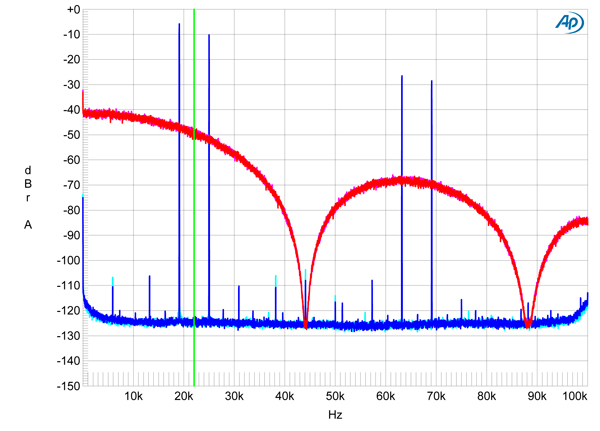 In the frequency domain, the absence of a reconstruction filter in NOS mode means that the spectrum of the audioband signal is mirrored either side of each integer multiple of the sample rate, which, with white noise sampled at 44.1kHz, results in nulls at 44.1kHz and 88.2kHz (fig.3, red and magenta traces). There is only a gentle ultrasonic rolloff, which means that the aliased image at 25kHz of a full-scale tone at 19.1kHz (cyan, blue) is hardly suppressed, and higher-order images of the tone are high in level.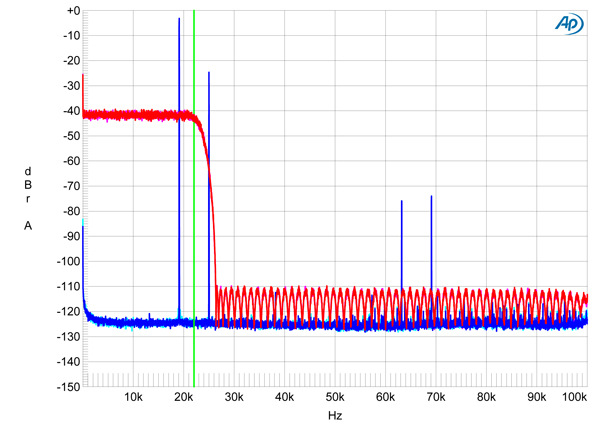 The OS Sharp filter's output rolls off sharply above 20kHz (fig.4, magenta and red traces), and the aliased product at 25kHz is attenuated by almost 70dB (cyan, blue). The distortion harmonics of the 19.1kHz tone are visible in this graph; all lie close to –100dB (0.001%). As expected, the OS Slow filter rolls off at a slower rate above the audioband than the Sharp filter (fig.5, magenta and red traces), and the aliased images of the 19.1kHz tone are higher in level (cyan, blue). However, with the white-noise signal, the ultrasonic noise floor is disturbed by regularly spaced ripples. I doubt that this behavior will have audible consequences, but it does suggest that there are some mathematical limitations with this filter.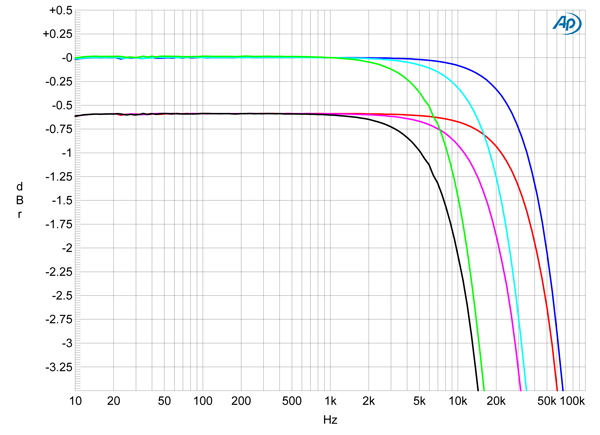 Fig.6 shows the Terminator's frequency response in NOS mode with data sampled at 44.1, 96, and 192kHz. All three responses start rolling off in the top two audio octaves. With 44.1kHz data (green and gray traces), the rolloff reaches an audible –1.5dB at 10kHz, and there is a channel imbalance of 0.6dB. The Terminator's response is down by 1.25dB at 20kHz with 96kHz data (cyan, magenta) and by 0.3dB at 20kHz with 192kHz data (blue, red traces). The Terminator's response in OS Sharp is flat to 20kHz with all three sample rates, but in OS Slow mode, the response with 192kHz data (fig.7, blue and red traces) rolls off earlier than it does with 96kHz data (cyan, magenta) or 44.1kHz data (green, gray). The Ares II's frequency response is identical to the Terminator's other than having well-matched channel levels.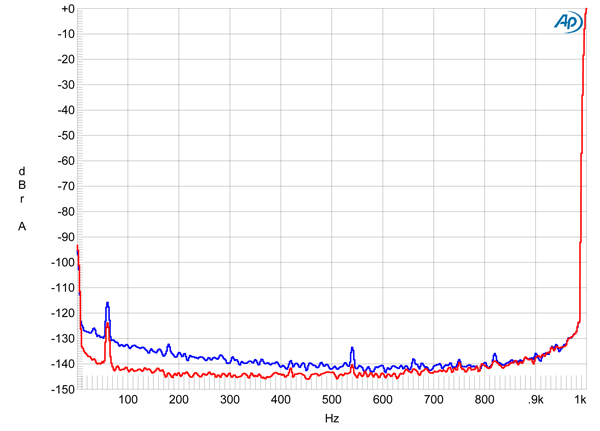 Both processors had excellent channel separation below 1kHz, at >105dB in both directions, though it decreased at 20kHz to 87dB (Terminator) and 84dB (Ares II) due to the usual capacitive coupling between channels. The processors' noise floors were very low, though the Terminator (fig.8) had a low-level 60Hz component that was absent with the Ares II (fig.9).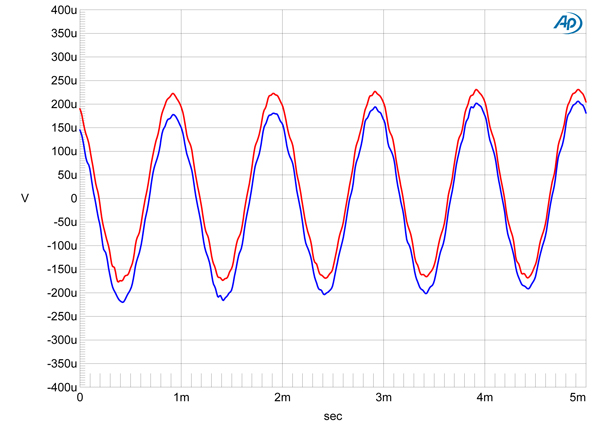 An increase in bit depth from 16 to 24, with dithered data representing a 1kHz tone at –90dBFS, dropped both the Terminator's and Ares II's noise floors by around 35dB (fig.10). This implies a resolution of close to 22 bits, which is among the highest I have found. With undithered 16-bit data representing a tone at exactly –90.31dBFS, the Terminator's and Ares II's analog output waveform was symmetrical, with negligible DC offset, and the three DC voltage levels described by the data were free from noise (fig.11). With undithered 24-bit data, the Denafripses' very low analog noise floor means they can output a perfect sinewave, even at this very low signal level (fig.12).
The very low noise floor implies a very low linearity error. However, I encountered problems when I tried to measure that error. Audio Precision's software examines the change in a processor's analog output as it steps a 24-bit/48kHz-sampled 1kHz tone down in level from 0dBFS to –140dBFS (fig.13, blue trace). However, the red trace in fig.13—taken with the Terminator; the Ares II behaved identically—shows that the error toggles between +1dB and –1dB with each 2.33dB step down. I have no idea what, if anything, this behavior implies about sound quality; I have never seen anything like it before. It suggests that the Denafrips' transfer function is somehow related to the signal level encoded in the incoming data.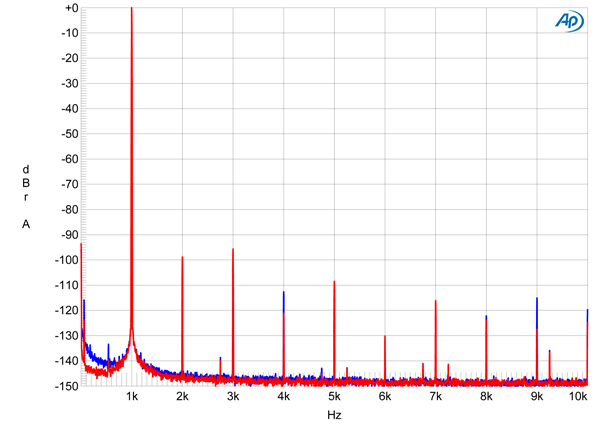 Both processors produced very low levels of harmonic distortion with full-scale data (fig.14, Terminator; fig.15, Ares II). The second and third harmonics were the highest in level, but both were close to –100dB (0.001%), with the Ares II offering a lower level of second-harmonic distortion.
Intermodulation distortion with both processors in NOS mode with an equal mix of 19 and 20kHz tones, each at –6dBFS (which means the combined signal peaks at 0dBFS), was very low (fig.16), with the difference tone at 1kHz lying at –110dB (0.0003%). However, the aliased images of the two tones at 24.1kHz and 25.1kHz were almost as high in level as the fundamentals. In both of the OS modes, the equal-level mix of the high-frequency tones drove the Terminator and Ares II into overload, but reducing the signal level by 3dB produced a relatively clean-looking spectrum (fig.17).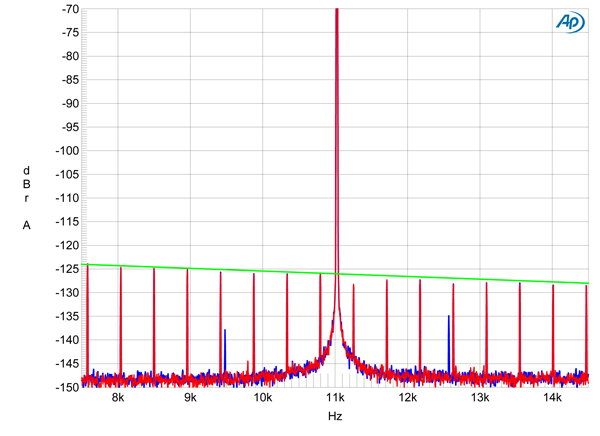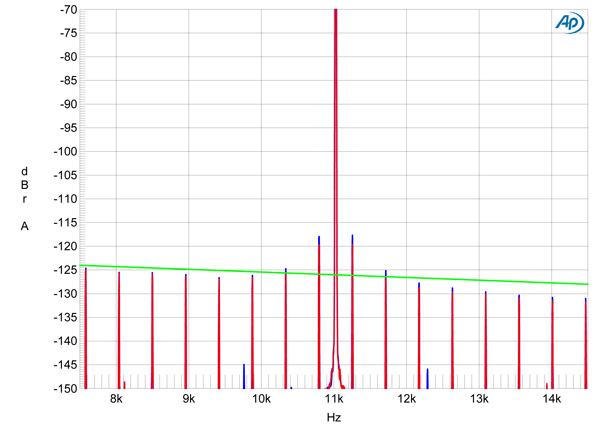 The two Denafrips processors offered excellent rejection of word-clock jitter. Fig.18 shows the spectrum of the Terminator's output when it was fed high-level 16-bit J-Test data via TosLink. All the odd-order harmonics of the low-frequency, LSB-level squarewave lie at the correct levels (sloping green line), and there is only a slight broadening of the central spike that represents the high-level tone at one quarter the sample rate. A sideband pair is visible at ±1.5kHz in the left channel (blue trace), though this is low in level. The noise floor is even lower with the Ares II (fig.19)—as the J-Test signal isn't dithered, the noise floor in these graphs is that of the processor—but the signal-related sideband pair closest to the central spike is slightly exaggerated. With 24-bit J-Test data, the Terminator produced a clean noise floor (fig.20).
In many ways, the Denafrips Terminator and Ares II offer excellent measured performance. However, that peculiar result with the linearity error test, the overloading of the OS modes with full-scale high-frequency tones, and the premature top-octave rolloff of the NOS mode with 44.1kHz data all leave me scratching my head. What I can say is that the Ares II offers almost identical measured performance as the Terminator for one-sixth the price.—John Atkinson