Gramophone Dreams #16: Sony & AudioQuest headphones Page 2
I took a deep breath, pulled the bunker shades down, and listened to Lou Reed croon "Waiting for the Man" and execute long sloooow guitar licks that seemed so "I'm feeling g-o-o-o-o-o-o-d . . ." stretched out. An hour passed. I completely forgot to call Sphere back.
"Heroin (Version 4)": I'm addicted to musicians who can play simple guitar rhythms and jack me up into pulsating delirium. Through Sony's splendidly vivid-sounding MDR-Z1R headphones, Lou Reed's hyper-strummed, screaming, droning guitar, plus Maureen Tucker's poetic-eccentric drumming, were like a needle in my arm booting me all the way up till "I felt just like Jesus's son." Moe's drums could not have sounded more solidly real or more perfectly toned. Bass quality was big, fast, and tight. The MDR-Z1Rs delivered the full measure of this spectacular performance, recorded live at The Matrix, a club on Fillmore Street in San Francisco; hence the set's title.
Eventually . . . After weeks of digital streaming, CDs piled everywhere, and scores of LPs, I began to realize: The Sony MDR-Z1Rs possessed that same understated vividness that makes the Focal Utopias so special. The Sonys made more natural-sounding bass and more present-sounding midrange than the Audeze LCD-4s; and they sounded more relaxed and easygoing than the HiFiMan HE-1000 V2s.
The MDR-Z1Rs are the most open-sounding closed-back headphones I have experienced. Their sound has a unique purity (as in uncolored), naturalness (as in relaxed and nonmechanical), and beauty (as in vivid and transparent). In these important areas, the MDR-Z1Rs rival their open-back competition from Audeze, Focal, and HiFiMan. That makes them already one of the greats.
Sony TA-ZH1ES DAC–headphone amplifier
Sony's current flagship DAC–headphone amplifier, the TA-ZH1ES ($2199.99), was designed by Masaki Sato and his team. Though it measures only 8.27" wide by 2.56" high by 12.36" deep, it's a densely attractive object weighing 9.7 lbs, and Sony's industrial-dark-brown finish expresses an old-school seriousness. The TA-ZH1ES is a hybrid analog/digital design whose sound is quiet as death and joyously alive. It has adjustable gain, and processes 32/768 PCM and native DSD up to 22.4MHz. Most of its all-business front panel is taken up by six output jacks: a balanced XLR4 followed by five jacks rimmed in brass: unbalanced 3.5 and 6.3mm, balanced 4.4mm, and separate left- and right-channel balanced 3.5mms. On the rear panel are a preamp output and four inputs, analog (RCA) and digital (USB-B, coaxial, optical).
I used the TA-ZH1ES with all of my best headphones, and for about a third of my auditioning of the MDR-Z1Rs. With both its own DAC and the Mytek Brooklyn, the Sony amp delivered a powerful, grainless, recording-studio sound that seemed darker but no less transparent than either the Linear Tube Audio microZOTL2.0 ($1100) or Pass Labs HPA-1 ($3500) amplifiers. It excelled at bass drive, boogie, and bounce. The TA-ZH1ES's sound was unique because it made the bass seem stronger than I'd previously heard with any of my reference headphones. Even more remarkably, its sound had a hypnotizing, deep-sea, looking-into-the-abyss spatial perspective that got darker and denser as it descended (or ascended) into infinite space. The Sony TA-ZH1ES made the microZOTL2.0 sound nearsighted. The Pass Labs HPA-1 had a finer, more ether-like transparency, but the Sony's deeper, darker, more liquid-like space really held my attention.
It's interesting to me how, more than any loudspeaker, the highest-quality headphones seem to reveal the essential and widely varying viscosity (or plasticity) of the sounds of the amplifiers that power them. Headphones seem to expose the dynamic nature of the source-load impedance characteristic. And because of this, headphone amps must be ultimately judged on the subjective quality of their transparency—not just on the relative quantity of transparency they effect.
With every set of headphones in my collection, Sony's TA-ZH1ES amplifier generated more bass, smoother highs, and a deeper, darker, more water-like transparency than any I'd previously experienced.
AudioQuest NightOwl Carbon headphones
What a feeling . . . it was a windy 21°F and I was pumping my bike uphill to Bed-Stuy's Saraghina bakery. I was wearing my rapper parka, and AudioQuest's new NightOwl headphones were fitted snugly over my wool watch cap. My AudioQuest DragonFly Red DAC and iPhone 6 were tucked safely in my parka pocket.
The 'Owls were delivering the cynical laments on Terry Allen's Amerasia (256kbps AAC iTunes download, Sugar Hill). Tears froze on my face as Allen played his harmonium and sarcastically sang "My Country, 'Tis of Thee." My hands felt like ice, but I channeled the heat and horror that were Vietnam and Thailand between 1963 and 1975 ("Nobody's Goin' Home . . . nobody's goin' home"). Despite all this, I wondered: Is my face all red and blotchy? Will I look like a mad person to those tattooed baker women at Saraghina's?
The phone rang. It was my girlfriend, bb. I pushed the button on the NightOwls' thick microphone cable and began stammering, in a choked-up voice, "You don't know what America was like during the Vietnam War!"
Right there on the street, in front of Bed-Stuy's Royal Rib House, I experienced a moment of perfect convergence: of my life, the music and the woman I love, mother nature, and some of this century's most excellent audio engineering.
In contrast to the Sony MDR-Z1Rs' pro-studio aesthetic, a different branch of headphone audio traffics in psychedelic pleasures, punchy colorful presences, and rich organic tones: purely Dionysian. My beloved Audeze LCD-Xes and LCD-2s are the poster 'phones for this type of sound. So are AudioQuest's original "semi-open" NightHawk headphones ($499.99)—and now the NightOwl Carbons ($699.99, footnote 2).
When AudioQuest introduced the NightHawks, designed by Skylar Gray, several of my reviewer friends thought they sounded dark or closed-in. My review pair sounded a little shadowy at first, but I'm a break-in fanatic—I just hung them on my shelf and played music through them for six days and nights. On the seventh day I discovered unique-sounding headphones that reminded me, in both tonal character and dynamic expression, of my reference loudspeakers: the paper-coned DeVore Fidelity Orangutan O/93s. I fell in love.
The NightOwl Carbons are over-ear headphones with aperiodically vented earpieces to load the same driver used in the (semi-open) NightHawks: a long-excursion, 50mm dome of biocellulose with rubber surround. The NightOwls have the same basic look as the NightHawks and use the same 1.2 Tesla split-gap motor, to provide a sensitivity of 99dB/mW and a nominal impedance of 25 ohms. Like the NightHawks, the NightOwls felt super-comfortable—they have the same pivoted outer and auto-adjusting inner headband. The 'Owls even have the same ovoid earcups of liquid wood. A dark gray –metal-flake finish replaces the NightHawks' faux burled wood.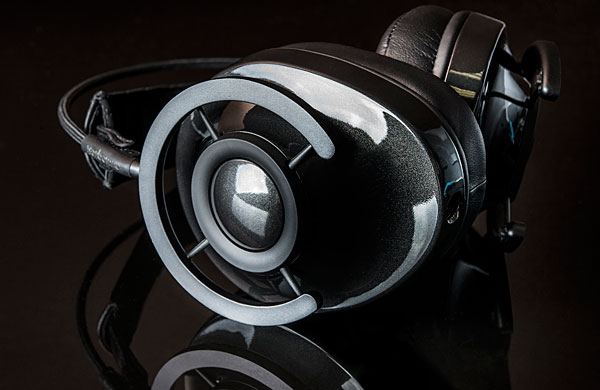 Critical Listening: Also like the NightHawks, the NightOwls reproduced music with a distinctive, natural-sounding, paper-cone tonality. To many headphone enthusiasts, pulp cones don't sound as sharp, detailed, or spatially resolved as metal-dome, electrostatic, or planar-magnetic drivers. Nevertheless, I think, when properly implemented, natural fibers deliver more real-life organic tone and sound less mechanically hi-fi than Mylar films or metal domes.
If you're one of those who thought the original NightHawks sounded too dark, you can now rejoice—properly broken-in, the NightOwls beguilingly straddled the lines between dark and light, hard and soft. And—surprise!—they come with two easily changeable sets of earpads to let you darken or lighten their sound.
Changing the earpads changes the head-to-diaphragm space—which is like changing the size of room a pair of speakers is used in. When you switch earpads, you change not only the head-diaphragm space, but also the quantity and quality of the earpads' seal with your head. These apparently subtle changes can have enormous effects on bass quality, midrange color, and treble purity.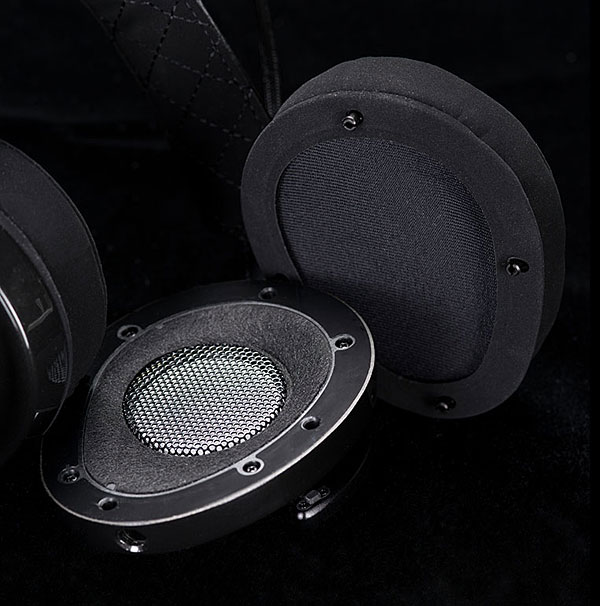 Listening with the "protein-leather" earpads to David Chesky's latest and most beautiful composition, The Girl from Guatemala, performed by soprano Maureen McKay, from The Spanish Poems (24/192 download, Chesky HDtracks), was all pristine flow and deep wet space. The bass was full and rich—maybe slightly "puffed up," but in an utterly enjoyable way. The midrange was as tactile and colorful as I could ask for. Treble was seductively pure.
Listening once again to The Spanish Poems, this time with the "microsuede" earpads, I heard a whole new sound: lighter, brighter, bouncier. The bass seemed tighter, less plump. Midrange detail was enhanced, but instrumental tone color was reduced. I suspect that many audiophiles will prefer the drier, more detailed sound of the microsuede, but my heart and soul instinctively preferred the greater romance of the "pleather."
Not a Pidgin: AudioQuest's latest cool headphones have become my all-day-long delivery vehicles of music and phone calls, life and art. I wear them everywhere, and feel that the young, handsome headphone master Skylar Gray has nailed it. The NightOwl Carbons combine high-quality, all-natural audiophile sound with spectacular looks, exceptional comfort, and durability. If I were now forced to live with just one set of headphones, they would be AudioQuest's NightOwl Carbons. Footnote 2: AudioQuest, 2621 White Road, Irvine, CA 92614. Tel: (949) 585-0111. Web: www.audioquest.com