Graham Nash's Second Stop: dCS/Wilson Audio/Dan D'Agostino Suite at the Mirage
[Note: click here for background on this project and here for how we set up the equipment.]
We were clearly off to a good start, so I was wondering what Graham Nash's reaction would be to an all out audiophile assault.
I explained to Nash that the Vivid speakers and Luxman system we just heard were relatively compact, by audiophile standards (though by no means modest), and that the next room would be more typical of the cost-no-object approach. Judged by Graham's "impact of the music" criteria, would bigger necessarily be better, or might it detract from the musical intent he was looking for?
As he heard about the equipment, Nash was intrigued that Wilson had roots stretching back to the early '70s and that dCS was from England. He later credited the BBC's role in encouraging solid engineering and sonic standards, thus helping establish companies in the home country marketing to both the studio and home.
Like O'Hanlon's On a Higher Note suite, dCS has always impressed me at past CES shows with gorgeous and carefully tuned sound. Mating a high performance system with a hotel room can often be a challenge, but they also had Brian Berdan of retailer Audio Element and Peter McGrath to help out. Again, I needn't have worried.
dCS had their new Rossini products on display (Player at $28,449 and Clock at $7,499) but the company's John Quick suggested we hook Graham's computer up to the newly refined Vivaldi system which sports a new software algorithm intended to better optimize the architecture of the Vivaldi's Ring DAC processing core. Again, I hit play on Roon and everything ran smooth from the first note.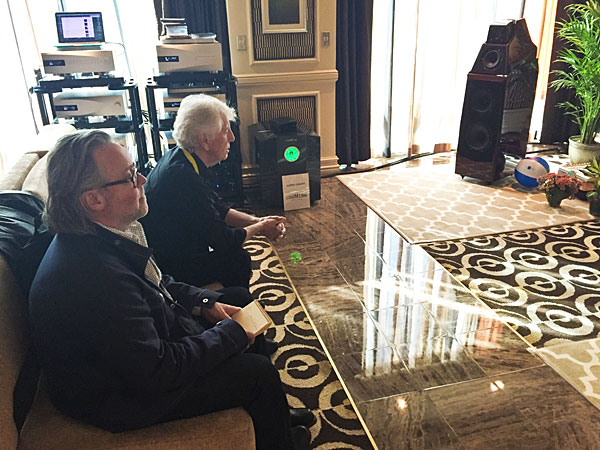 In addition to the normal stack of products, on the floor to the right of the equipment rack, was the Stromtank S 5000 power source with its large glowing green eye (you can see it in the above photo next to Graham). All of this added up to a great sounding system and again we listened to a variety of tracks from This Path Tonight, ending with the haunting "Back Home" which includes my favorite line from the album: "Take your time, cause time will take you." This track also includes a short choral arrangement that is simply stunning.
And then after listening to the album and a classical piece we took some photos and headed out the door.
"Well this was the second set of speakers that I've heard the music on apart from the studio and I was quite impressed with that system," remarked Graham. "Once again I'm more interested in how it makes me feel than whether its high-end or a million dollars or whatever the hell stuff costs nowadays. I don't particularly care about that, I care about how it makes me feel. And that's one of the reasons why I played 'Back Home' [the penultimate track on the new album written in honor of Graham's pal, the late Levon Helm] because I know it all so personally, so intimately, and I was very pleased with the way 'Back Home' started there."
"Do you know that's my demo from my tour bus?" he added.
"Wait," I said, "from the bus?" It had sounded so natural, so right. It was an emotional moment for all of us in the room.
"Yeah," replied Nash, "and then we overdubbed the drums. Because as always with music, the feel of a great take is what matters most."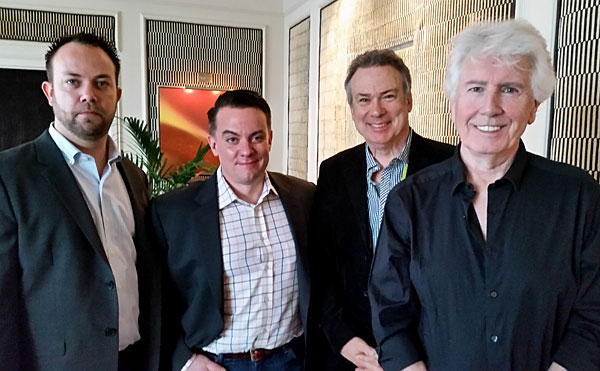 "Keep in mind, dCS were able to get that sound by carefully assembling a system", someone added as we walked towards the elevators. I could see that everyone was getting it after only two rooms.
Next up, over to the Venetian where we start with the top floor and eventually try a wide variety of systems.
Equipment List (used for demo):
dCS Vivaldi Upsampler $21,999
dCS Vivaldi DAC w/new Ring DAC Mapper $35,999
Dan D'Agostino Momentum M400 monoblock amplifiers $65,000/pre
Wilson Audio Alexia $52,000/pr
Transparent Reference XL GenV interconnects $11,000
Transparent Reference XL GenV speaker cables $17,000
Stromtank S 5000 independent power source $30,000
Harmonic Resolution Systems SXR stands, Vortex footers