The Good Rats' Peppi Marchello dies at 68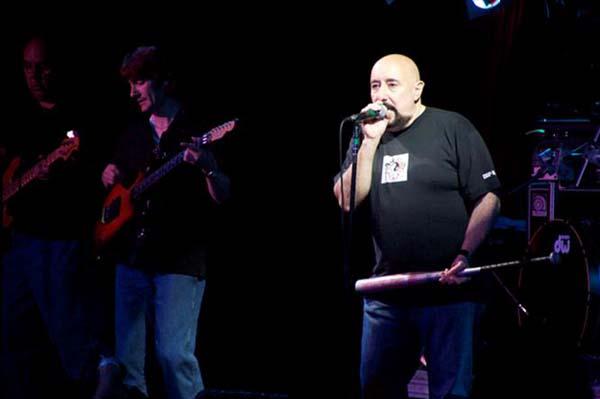 Peppi Marchello, founder, lead singer, composer, and arranger for the rock band, The Good Rats, died on July 10, 2013 from cardiac arrest. He was 68. The band's sophisticated, yet catchy and accessible rock anthems fostered a rabid following among fans in their home base, New York City's Long Island suburb. However, despite five strong albums of original material released between 1974 and 1981, three of which were distributed with major label support, the band was virtually unknown outside of Long Island (except for a small but strong fan base in Rochester, New York), and couldn't even develop a following in New York City.
Rolling Stone
dubbed The Good Rats, "The World's Most Famous Unknown Band." I recall seeing the band several times a month in the mid-1970s at large Long Island rock clubs, where hundreds of fans crowded the club's doors to gain access. However, during the same period, at a show I attended at The Bitter End in Manhattan, the audience count was in the single digits.
The press coverage of Marchello's passing says it all: within 12 hours of Peppi's death, Long Island's Newsday had an obituary on its website. And 10 hours later there was a longer article including interviews with Marchello's musician brother and son and details of the funeral arrangements, which was open to the public. As I write this, six days after Marchello's death, the New York Times still hasn't published a word.
Although The Good Rats never achieved the notoriety of their Long Island-based contemporaries, which include The Young Rascals, Mountain, The Blue Oyster Cult, and Vanilla Fudge, their music today stands up better than that of these other bands. Marchello's music mated accessible catchy melodies with a backdrop of sophisticated double electric guitar harmony and counterpoint over driving rock rhythms. His lyrics spoke of everyman topics and gravitated towards music and the music industry as well as women. From "Songwriter, from their first album Tasty, from 1974:"
"The songwriter can make you laugh or cry
He's pumping gas at night just to survive
And all he asks of you to sing his songs
And put his name in lights where it belongs"
From 1978's "Dear Sir," a cynical take on management in the music industry:
"I am nothing but some red ink or some black
I'm a promotion or a second Cadillac."
Marchello's arrangements demanded nothing less than technical virtuosity and The Good Rats never failed to deliver. Drummer Joe Franco (who literally wrote the book on doubled-bass drumming technique) and bassist Lenny Kotke laid a solid rock foundation for guitarist John Gatto's serpentine rock leads. Peppi's brother, Mickey, was the band's utility infielder. He could provide solid rock rhythm guitar behind Gatto, while holding his own on harmony and counterpoint guitar leads. On the jazzier tunes, he could comp jazz voiced chords as well as an archtop master while providing an angelic vocal harmony to counter his brother's aggressive, raspy soulful lead vocal.
I'll admit that I was obsessed with this band during their heyday in the mid-'70s. That time was the nadir of rock music creativity during my lifetime and I'll admit, I was addicted to Marchello's music, as it filled the void nicely. It was easy to get personally involved. When the band released its second album, Rat City In Blue, without major label support in 1976, I helped Marchello get some airplay on commercial radio in Philadelphia, where I was living at the time. But it was easy to get hooked on this music. When my then-12 year-old cousin, Chuck Bonfante, a fledgling drummer, visited me one day to play me his Osmonds Live album, I rolled my eyes and said, "You want to hear a great live rock band?"and then played him a live version of the largely instrumental gymnastics show,Marchello's "Klash Kabob" from the first Good Rats album, Tasty.
Although he did not admit it to me at the time, that listening session had moved my cousin so much, that, in later years, he sought out drummer Franco to study doubled bass-drumming technique and ended up playing with The Good Rats in an iteration of the band in the late 1980s.
The band's lack of commercial success was frustrating, as bands such as The Cars, Blondie, Cheap Trick, and The Ramones opened for The Good Rats. They achieved stardom but the Rats were left behind. After a number of personnel changes, The Good Rats broke up in 1983 but Marchello remained active over the last 30 years. He had lead several versions of The Good Rats since then, which included one or both of his sons Gene and Stefan, and, over the last three years was especially busy. He would perform with his current version of The Good Rats about six times a month, performing old and new material, mostly at Long Island clubs, and would reconvene the original Good Rats band annually for sold-out shows at New York City's B.B King's.
At the time of his death, The Good Rats website listed 25 upcoming shows, including a March 2014 reunion concert at B. B. King's to celebrate the 40th anniversary of the Tasty album. There are also four CDs of newer and never released Marchello material available on Marchello's Uncle Rat Music label at www.goodrats.com.
It's sad that Peppi Marchello died at a time of intense personal musical activity. At his wake over this past weekend, the Marchello family had tastefully outfitted the funeral home as a virtual Peppi Marchello museum, with rare photos, posters, and memorabilia on display with classic and rare Marchello tunes being piped throughout the funeral home's sound system. Although most of the photos were family related (Marchello is survived by four children, eight grandchildren, two siblings, and his mother), there was also a poster board on which was displayed the music to several tunes he had written over the past two weeks.