Going Wild Over Handel Goes Wild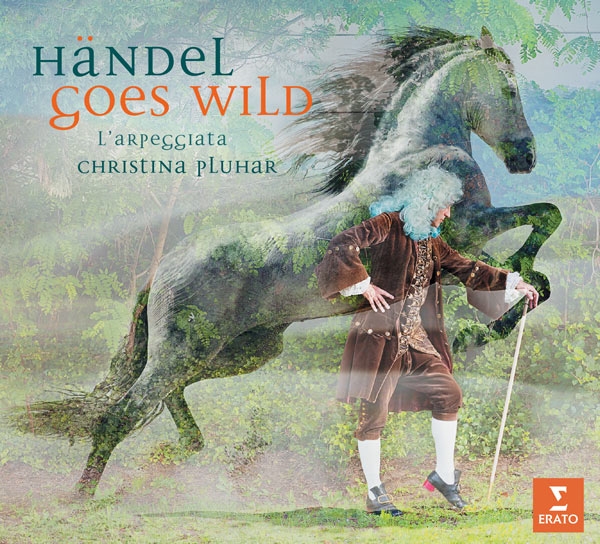 If the last thing you need is one more serious dive into the depths of the human psyche, you will find happiness in
Handel Goes Wild: Improvisations on George Frideric Handel
. A delight from start to finish, this latest Warner release from theorbist Christina Pluhar and her crack early music ensemble,
L'Arpeggiata
, lives up to its director's reputation for refreshing baroque repertoire with new, out-of-the-box ideas.
The first thing to know about this Handel Goes Wild, which I auditioned via 24/96 WAV files downloadable from multiple sites, is that none of its 15 selections receives anything close to standard treatment. While, on the vocal pieces, countertenor Valer Sabadus and soprano Nuria Rial may sing Handel's music more or less "as written," albeit with the expected and often delightful period-authentic embellishments, what instrumentation precedes, follows, and supports their voices owes as much to jazz, middle Eastern, and even Indian forms as it does to the baroque era.
Most of Pluhar's choices shake things up to the extent that your great grandmother—you know, she who was a lifelong patron of the Metropolitan Opera and always wore her pearls when shopping—would either be rolling in her grave or wishing she could jump out of the coffin / urn / ground / cosmic dust and groove along. Part of Pluhar's penchant to turn things topsy-turvy is reflected in the augmentation of her baroque ensemble by clarinet, piano & organ (modern), double bass, and a virtually wacky assortment of percussion. In addition, Pluhar's singers may be early music specialists, but their voices are so androgynous that, if you ignore their names in the track listings, you'll be hard pressed to declare with certainty whose voice is male, and whose female.
L'Arpeggiata wastes no time in letting you know what to expect. The opening track, the "Sinfonia" from Handel's opera, Alcina—one of five instrumentals on the disc—begins with a mildly jazzy improv that integrates a wacky mix of baroque, middle eastern, and klezmer elements. Superb clarinetist Gianluigi Trovesi deserves special plaudits here. His treatment is hardly Charles Lloyd or Esperanza Spalding, but in the context of the baroque idiom, it really is something else . . . as in lots of fun.
Sabadus sings "Venti, turbini" from Rinaldo wonderfully, with musical phrasing and perfectly placed trills, but Trovesi's intro to the aria is of another dimension entirely. Ditto for all that surrounds Rial on the great aria, "O sleep, why dost thou leave me" from Semele. The tinkly little fairy bells that introduce the selection are delightfully droll, but they also seem thematically appropriate for the subject matter. Those sounds, combined with the simplicity of Rial's utterance, make the piece into an innocent nursery rhyme of sorts that engages in ways Handel never envisioned. Clearly the child's lungs are not very developed, because Rial breaks Handel's impossibly long, legato run of notes—a run that tenor John McCormack was the first to record in a single breath—into three phrases, with ample breaths in between. But her high notes are so pure and fetching that one can easily forgive her.
Besides, virtuosity for virtuosity's sake is not what this disc is about. Rather, it's designed to delight the senses while reframing the old in ways that make it viable and fresh to new audiences. Hence, in a baroque selection I won't identify lest I spoil the fun, you will discover a seemingly spontaneous outburst of Kathak vocalization. Were that not enough, marvel as The Queen of Sheba seems to be carried into the very Pawnshop where you know what was recorded.
It would be amiss to pretend that everything works here. Having learned Cleopatra's heartbreaking aria from Giulio Cesare, "Piangerò la sorte mia," from Beverly Sills, I found Rial's surface treatment of the piece, along with her non-traditional technique, off-putting. But that's just the purist in me. Speaking of which, purists be warned that the unorthodox, undeniably delicious instrumental solo at the start of "Ombra mai fu" from Xerxes will give no cause to ponder the rather curious fact that the opera begins with a ruler's love song, not to a human, but rather to a tree.
Truth be told, many of the more sobering arias on Handel Goes Wild lose much of their customary emotional impact in these performances. But honoring grief is the last thing on Pluhar's mind. Rather, she's concerned with joy. And joy is what you'll get with each listen.