Going Dutch (& Dutch): a Conversation with Martijn Mensink Page 2
Atkinson:
The
Stereophile
review's measurements showed that the 8c has a time-coincident step response, which again is extremely unusual. While there are passive dynamic speakers that achieve this on the listening axis with sloped-back front baffles and first-order crossover filters, there are very often compromises as you move away from that axis.
Mensink: Yes. You need a DSP to do that properly . . . As the tweeter and the midrange driver are on the front baffle, the woofers on the back, this introduces a problem. Normally the tweeter and midrange signals would arrive at your ears before the bass does. The tweeter and midrange themselves are acoustically aligned because they are in the same plane, but then we delay them a little to virtually align them with the woofers in the back. It becomes a virtual point source.
But when you place the speakers in front of a wall, as the tweeter and the midrange driver are directional, acoustically speaking it's as if the wall really isn't there. However, as the woofers are on the back, the wall is sort of an acoustic mirror, so it's as if there's another pair of woofers behind the wall. In effect you now have four woofers, and that means that their combined acoustic point of origin shifts in the direction of the wall. We add a bit of extra delay to the tweeter and midrange driver to compensate for that, so that in combination with the wall, again you have a virtual point source.
Atkinson: And you have a reasonably wide range of distances you can compensate for, up to 1.5m/5'?
Mensink: Yes, with the app you can tell the speaker "Alright you're 40cm from the front wall, you're 1m from the sidewall," then the speaker will automatically load the corresponding DSP presets.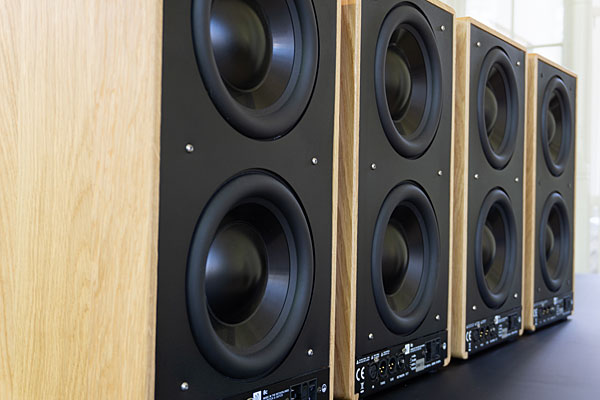 Atkinson: Then, as I describe in my follow-up review, using REW you can bring the acoustic response in the room as close as possible to the target curve that you've defined. Now you have a speaker where, not only is its intrinsic behavior optimized as a point source, its interaction with the room is also optimized.
Mensink: Yes, exactly, we think that is the final frontier . . . what we and a lot of other companies have done and are doing, we're taking Floyd Toole's lessons and incorporating them in designing a better loudspeaker. However, the room-loudspeaker interface is the final frontier and while there are other companies who implement DSP to deal with the room, the 8c does more than that in that it also is a cardioid, so it interferes with the room in a different way, a favorable way. I think that is the future.
Atkinson: How would you make a better 8c?
Mensink: I'd say the only compromise is loudness. The 8c is actually loud enough for most people but it's a relatively compact speaker. It's pretty loud but there are limits, like every speaker has its limits . . .
Atkinson: Like with the excursion you need from the woofers to get extension down to 20Hz?
Mensink: Yes, of course, [which is why] it would help a lot if you place the speaker closer to the front wall because it would augment the bass . . . There are different approaches that could work very well as well but I think it would be difficult to improve the 8c as it stands as a concept by a whole lot. Perhaps there's a small thing here, a small thing there that we could do but there's not a whole lot we could do, I think.
Atkinson: One thing you have been working on the 8c's integration with Roon when the pair of speakers are connected to a network.
Mensink: It took us a long time to get these speakers Roon Ready. And that's not because of Roon, because Roon is very easy to implement, it took our guys less than a week to make the 8c pretty much Roon Ready, to have the RAAT [(Roon Advanced Audio Transport)] protocol implemented. But the difficulty is what Roon does: it streams a digital stream to a streamer and there [the stream] is split into Left and Right channels.
Atkinson: But the 8cs are two separate units. Roon is not sending one stream going to both left and right speakers, it is one stream going to the left, the other going to the right, as if they were two separate multi-room zones.
Mensink: Correct. And each speaker has its own audio clock, which are not exactly the same. There's a little bit of drift but you don't notice that when you're not in the same room. And while Roon can send a stream to one speaker and a stream to the other speaker and you press "Play," they start more or less at the same time and it sounds okay playing music, a central voice would start to drift . . .
Atkinson: As the clocks very slowly lost sync with one another . . .
Mensink: Correct. So after an hour of playing the voice would be over there, not in the middle. It actually took a lot of time and a lot of work to get a pair of 8cs perfectly sync'd over the Ethernet. So that was the big hold-up.
Atkinson: That problem has been solved.
Mensink: Yes. The guys at Roon are currently testing the latest build, but it's not released yet. We're close though. And now that problem is solved, that enables us to add other features, other streaming services as well. We're big believers in Roon but there are other streaming services and so that is the future we are looking at.
Atkinson: Future plans?
Mensink: Well, it is our policy not to disclose anything but I can say a couple of things. A new version of the app, a native app that you can use on your phone, for instance.
The future we see is basically you will have just a pair of speakers and nothing else. You won't need any other gear. And we believe that everything will be streaming so you will no longer have a DAC or a streamer box, something like that. Just a pair of speakers and an interface. And everything will be streaming . . .
Atkinson: I think it is the future: smart speakers and a dumb source of data.
Mensink: Yes, exactly. In the old days, the glory days of hi-fi, the R&D and the innovation would be at the high end and then it would gradually trickle down to the lower-price gear, But now most of the innovation is in the small Bluetooth speakers—very cheap, sound actually quite decent. If you look at what it is it's remarkable and convenient and . . . well hi-fi's still pretty traditional, most guys still have a CD player and now they are gradually making the transition to streaming, that's a good thing . . .
Atkinson: A final thought?
Mensink: We don't think there needs to be this schism between audiophiles and normal people . . . we hope to bring them together.