Genesis at CES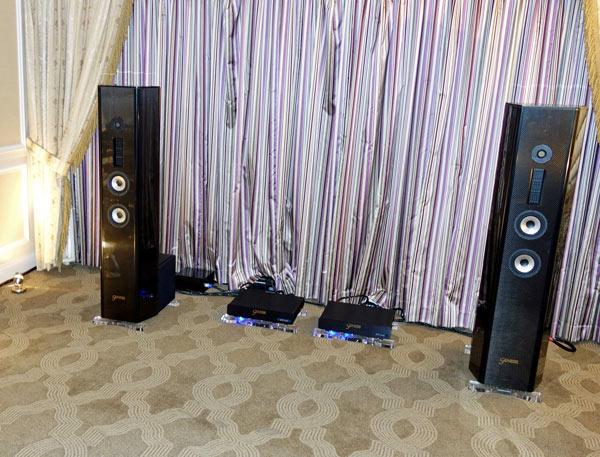 Gary Leonard Koh, the President and CEO of Genesis Advanced Technologies, walked me through the latest technological upgrades he has made available through his product line. His 60"-tall, 135 lb Genesis G-Force floorstanding loudspeaker has a cabinet with a carbon-fiber veneer that overlays a formulated laminate of green poplar and bamboo, combined with medium and high density fiberboards. The speaker uses a ring-radiator ribbon tweeter (R3T), a 5" planar-magnetic ribbon midrange, two 5" solid-titanium-cone mid-bass drivers, and two 10" powered (500W) servo-controlled woofers.
The loudspeakers were being driven by Koh's Genesis $22,000/pair 1440 class-D monoblock amplifiers, which are rated at 1440W into 4 ohms. The rest of the system included a Genesis SMC-1 preamplifier with phono input, a $15,000 Genesis Muse Music Source, a 12,000 Genesis Phono Preamplifier, a $6,300 Roksan Xerxes 20plus turntable, and a $2750 Roksan Artemiz tonearm. Several pairs of Genesis Absolute Fidelity Interface Cables were used to connect the system.
Gary played my copy of Patricia Barber's "Too Rich for My Blood," which proved the system's resolving capabilities for micro detail, subtle timbral qualities, and open highs. This system proved to be one of the better-sounding rooms I visited at CES 2015.