GamuT Di150 LE integrated amplifier Page 2
At the top of the Di150 LE's rear panel are two pairs of WBT speaker binding posts. Below those are, from left to right: pairs of unbalanced outputs marked Tape Out and Out; balanced right and left outputs marked R Out and L Out; that tiny HTH toggle; unbalanced HTH, Tape, Tuner, and CD inputs; and two sets of right and left balanced inputs, labeled Bal 1 and Bal 2. In the lower left corner is the IEC mains plug. All balanced outs and ins are XLR plugs and sockets, respectively; unbalanced connections are Neutrik-made RCAs. And each side panel of the Di150 LE is actually a massive heatsink.
Michael Vamos told me that GamuT's goal for the Di150 was to "combine our D3i dual-mono line stage preamplifier [$8380] and D200i dual-mono stereo amplifier [$13,990] in one smaller package with slightly lower output power." That was the amplification combo I'd enjoyed in Wes Bender's room at the Park Lane Hotel. Could GamuT pack $22,370 worth of audio into an $12,990 package?
Listening
Sometimes a component arrives in my penthouse listening den, and the sheer difference of sound compared to my reference gear makes me think, Why did I ask to review this thing?!? That was my first response to hearing the GamuT Di150 LE. With a generic, nothing-special power cord I had on hand—instead of the IsoTek power cord included with my review sample and, reportedly, every GamuT amplifier sold in the US—the Di150 LE's sound lacked body, warmth, and weight. Swapping out the generic cord for the fat, purple IsoTek snake made a difference: Bass notes now landed with a wallop, and bass depth and extension were considerably increased. Soundstage scale grew to commensurate proportions. And while I would never say that the GamuT sounds like a tube amp, the IsoTek cord endowed its sound with indisputable liquidity. The IsoTek remained in place for the remainder of my listening.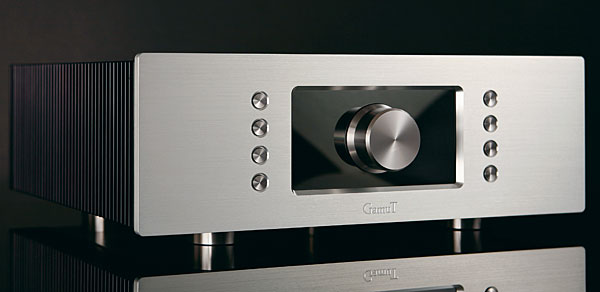 With the DeVore Fidelity Orangutan O/93 and PS Audio NuWave: Is there a greater living rock star than Tom Petty? Today, as they enter their fifth decade, the 66-year-old Floridian and his band, the Heartbreakers, are still producing profound rock, and there's no better sign of their supremacy than Mojo (CD, Reprise 523971). Described by Petty as the kind of music his band plays when no one else is listening, Mojo contains 16 songs, brilliantly performed and exceptionally recorded. Released in 2010, Mojo never gets old.
With Mojo, the GamuT declared itself capable of going head-to-head with tube amps, the music almost blooming like a fairy-dusted single-ended-triode tube amp, Ron Blair's tough bass notes enveloping me in that Florida swamp stench. Mike Campbell's guitar was pure acetylene burn, and I can't remember Steve Ferrone's two-and-four snare-drum pop! ever sounding quite so meaty. Through the GamuT, Mojo was all Cadillac cruise control on some melting-asphalt Interstate, the air humid and dense with bugs, the beat all-encompassing. The GamuT grooved!
My DeVore Fidelity Orangutan O/93s loved the GamuT's beefy transformers: the big two-way speakers went as deep and low as I've heard them go. CD after CD, the GamuT rendered significant bass tonnage—when those tons were actually encoded on the disc. The GamuT's midrange-through-treble sound was tonally open, creating as clear an aural window on the music as I've heard in my seventh-floor pauper's penthouse. Album after album, the GamuT smacked me up and down, surprising me with fresh sonic goodies from practically every disc.
Early on, multiple traits—a GamuT house sound?—emerged: a hard-charging, forceful delivery of the music, strong micro- and macrodynamics, stupendous bass reproduction, a wide and layered soundstage, and what some call "black" backgrounds: music from digital sources that was free of noise or digital nasties, and often floated free of the speakers' physical positions. The GamuT pulled every last digit from my PS Audio NuWave DAC, whose warmish, darker-than-neutral tonality was complemented by the great apparent clarity of the muscular Dane.
Hoping to unearth more of the GamuT's secrets, I played many CDs, including: PJ Harvey's Dry (Island 162-535-001-2) and her EP Man-Size (Island PRCD 6786-2); Jeff "Tain" Watts's Folk's Songs (Dark Key Music 3360); Garbage's Beautiful Garbage (Interscope 0694931152); Ali Jackson, Aaron Goldberg, and Omer Avital's Yes! (Sunnyside SSC 1271); and Luciana Souza's Brazilian Duos (Sunnyside SSC 1100). Every time, the GamuT was transparent to the source, yet with uniformly solid traits: the most potent delivery of music ever in my system; colossal images that, while fun and revealing, were perhaps larger than life; fantastic speed and dynamics; and—here I go again—velvet-black backgrounds. The Di150 LE played the bejesus out of well-recorded CDs but refused to smear lipstick on pigs: such ratty-sounding CDs as drummer Dennis Chambers's Planet Earth (BHM 1005-2), and pianist Vladimir Ashkenazy performing Chopin's Polonaises (London 421 032-2)—both of which are tinny-sounding audio dogs. And while the GamuT's sound was unvaryingly transparent, it consistently lent its traits of power, speed, enormous images, and outstanding bass-frequency expression to every CD worth its polycarbonate.
With the Elac Debut B6 and PS Audio: Herb Reichert raved about Elac's Debut B6 stand-mounted speakers ($279/pair), so, for fun, I drove them with the GamuT beefcake. The Elacs have been in my system for many months, and I find that they sound somewhat processed overall, with a hard-focused top end and copiously warm, woolly bass response. The punchy Debut B6es took to the GamuT right away, in a love affair of lowdown bass frequencies. This terrific pairing resulted in a level of jump! even more energetic and propulsive than that produced by the GamuT and DeVore O/93s. From Tom Petty to PJ Harvey, and with the little Elacs pumping mad music juice, the GamuT Di150 LE blew the lid off my Greenwich Village joint.
With the Wharfedale Diamond 225 and PS Audio: Herb Reichert is writing a Follow-Up to my review of NEAT Acoustics' Iota Alpha loudspeaker; I'm doing Herb a solid by writing a Follow-Up to ">his review of the Wharfedale Diamond 225 stand-mounted speakers ($449/pair). The Wharfedales don't boogie hard—they're more cerebral and cool, cleaning up PJ Harvey's mouth when she moans about her "Man-Size." But there's no denying the Diamond 225's accuracy and lack of colorations—more of Luciana Souza's lovely Brazilian Duos is revealed through the Wharfedale than through either the Elac Debut B6 or DeVore's Orangutan O/93. The jazz album Yes! was also rendered with sparkling lucidity. And, once again, the GamuT delivered large-scale images, along with great speed, drama, and superlative dynamics.
With the Wharfedale Diamond 225, Kuzma Stabi S and Stogi, and Shindo Allegro: I ran my Shindo Laboratory Allegro preamp into the GamuT via the latter's HTH function, turning the Di150 LE into a power amplifier. As Fleet Foxes' eponymous debut album played (LP, Bella Union BELLAV 167), the GamuT retained its fondness for large spatial scale and killer dynamics and forcefulness—now allied to more generous tonal saturation, more appealing textures, and greater senses of liquidity and melodic flow. Bass notes lost some of their muscular grip, trading accuracy for a warmer cushion through the Shindo, while retaining the pristine beauty and majesty of the Foxes' choirboy voices. Most impressively, the GamuT enlarged the images and magnified the exquisite textures created by the Shindo—and it doesn't get better than that.
Conclusions
Its price of $12,990 pits the GamuT Di150 LE against some serious integrated amplifiers, including the Mark Levinson No.585 ($12,000), the Ayre Acoustics AX-5 Twenty ($12,950), and the Musical Fidelity Nu-Vista 800 ($12,999)—all of which are listed in Class A of Stereophile's "Recommended Components." I've never heard in my system another amplifier, tubed or solid-state, that provided such enormous images or such speed, dynamics, and pure force. Emanating from "black" backgrounds of noiseless space, notes flew from the Di150 LE with purpose and punch, whether from LP or CD.
In my opinion, the best solid-state still can't compare with the best tubed amplification; at least, no solid-state amp has bested my tubed Shindo separates (though the Spec RPA-W7EX Real-Sound power amplifier came close). When I joined the Shindo Allegro preamplifier to the GamuT Di150's power-amp section, I felt I was getting a taste of what the Shindo preamp might sound like on steroids—its lovely tonality, texture, and naturalness were fortified by a brute-force amp tempered by quick wits.
Given its ability to drive any loudspeaker, its even-keeled tonality, its remarkable bass reproduction, and its versatility and cool running (it ran warm, never hot), the GamuT Di150 LE should make every Dane proud—and Wes Bender, too.