Focal XS Book speaker system and Spirit One headphones, plus Gotye's "Somebody That I Used to Know"
One of my favorite displays of T.H.E. Show Newport: Focal's sleek XS Book multimedia speaker system ($399) was making big sound, playing music from a laptop (through plain-old iTunes, I think) and connected to Cambridge Audio's smart DacMagic Plus ($599). My mind raced, counting all the friends who could use a system like this.
Focal makes it easy: The XS Book system includes RCA and mini-jack cables for connecting the speakers to your existing stereo, television, computer, iPod, or smart phone. No speaker cables are needed: The "master" right-channel speaker contains the 20W amplifier stage and power supply, has a volume control and standby switch, and connects to the left channel via an RCA stereo cable.
The Focal XS Book is front-ported, 2-way, bass-reflex design with a 19mm aluminum-dome tweeter and a 4" Focal Polyglass-cone mid/woofer. Each speaker measures a friendly 11" H by 4.5" W by 7.8" D and weighs just 5.5lbs. I can see this system in Ms. Little's apartment, at Kristen's shop, in Natalie's loft, and even in my office. I mean, if I had an office. Anyway: Very cool.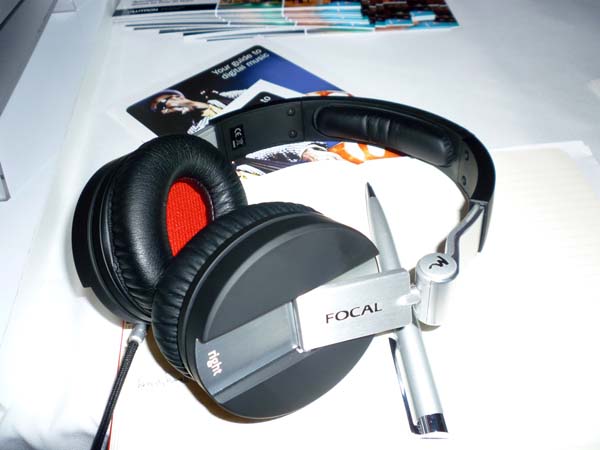 I also listened to Focal's attractive Spirit One headphones. Unlike other headphones that are attempting to ape the look and feel of the nearly ubiquitous Beats line, Focal's Spirit One appears refreshingly simple, though the design is in fact complex and super-smart. Upon putting the headphones on, a few things struck me immediately: They are light and extremely comfortable, fitting nicely on my head and hugging my ears with their soft pads; the around-the-ear, closed-back design provided surprisingly effective isolation from outside sounds: even with music and sound effects blasting from the room next door, I was easily able to enjoy the sound coming from the Spirit Ones; finally, that sound was smooth and detailed, compelling and easy to enjoy: I instantly felt transported by the music.
It's also important, I think, to note that one of the demo tracks was Gotye's "Somebody That I Used to Know." You know this song, even if you don't realize it. And, if you really don't know this song, what the hell is wrong with you?
It's being played on every station, in every convenience store, in every car across the nation. I mention it because it's not the typical pop song. It's far better. It doesn't sound like anything else on the radio right now—in fact, it reminds me more of a production from the 1960s with space and dynamics and mood changes—but people are nevertheless eating it up, making it the first song in the history of Billboard to top four major charts (Dance Club Song, Dance/Mix, Hot 100, and Alternative) in a single week. This is good news for anyone who's interested in music. Which means it's good news for you. Why? Because when quality succeeds, we, as audiophiles, are also given an opportunity to succeed. With products like the XS Book and Spirit One headphones, Focal is making smart moves in the right direction.