"This is exciting," says Thiel's new CEO, Bill Thomas
We reported last November that Thiel Audio Products, the Kentucky-based speaker manufacturer founded by Kathy Gornik and the late Jim Thiel, had been had been acquired by a private equity firm based in Nashville, TN, and that Gornik was no longer with the company. At the 2013 Consumer Electronics Show, held January 8–11 in Las Vegas, the Thiel display at the Sands Convention Center was packed. I met up with Thiel's new CEO, 55-year old Bill Thomas, and asked him what had led him and his two partners to acquire the company.
Bill Thomas: It's been made up that a private equity firm bought Thiel, but it was just three guys that loved music. A friend in Lexington called and said "There's an opportunity up here, would you be interested in looking at a speaker company?" I said "Sure, let's drive up there and look at it."
John Atkinson: Had you heard of Thiel Audio before that call?
Thomas: What's funny is I don't have an audio background, my background is in production and manufacturing, mainly for the construction industry. So we're driving up from Nashville and I looked at my friend and I said "A speaker's a speaker, isn't it?" He said "Yeah." We got up to Thiel and took the tour. I was very familiar with the machinery and all, and was impressed. But when we sat down in the music room, they turned on the speakers, we immediately looked at each other and said "Wow, there really is a difference." It got us excited, the sound was phenomenal!
Atkinson: What were you listening to, the CS3.7s?
Thomas: Yes, '3.7s. I was floored. We started talking and it looked like a great opportunity. Thiel had a great name, it been around for a long time. I sold my last business [Nashville's Granite and Marble Concepts] 2½ years ago so I'd been looking for an opportunity. This came up, I said "Let's do it," all three of us agreed on it, and we ended up closing on the sale on November 16 [2012].
I'm still trying to wrap my hands around it, I had knee surgery that had already been scheduled a week after we closed, so I have only been up there only 7 or 8 days before CES.
Atkinson: The press release emphasized that long-time Thiel employees Brad Paulsen, Gary Dayton, Lana Ruth, and Rob Gillum were all remaining onboard, and I was impressed by the fact that I see many familiar Thiel employees here at CES.
Thomas: We've kept the same core people that have been there for years. Our new CFO Grant Halloran has done a wonderful job, and while there's some tweaking that needs to be done, I don't need to get in there and mess anything up because they've been doing a good job for a long time.
Atkinson: What is your next step?
Thomas: Our first step is to get an engineering staff in-house. From what I understand, since Jim died they've been outsourcing some of the engineering. The outsourcing has worked okay but it takes a long time. I mean if you're outsourcing [the engineering], it involves sending over what [the consultant] thinks'll work, you build it, it doesn't work, then it's days going back and forth. It makes sense to have somebody in-house just to get things done faster.
Atkinson: I think it's fair to say that Thiel was always a little tardy bringing products to market...
Thomas: Right, we've heard the same thing, so we need to get an engineer, one or two, in-house, to pick up the pace on bringing things to market.
Atkinson: You're actively looking for someone with serious engineering talent?
Thomas: Absolutely, immediately, that's the number one priority on our list.
Atkinson: I mean Jim Thiel typified a lot of what high-end audio is about: you have a man with a vision and a passion that you can support with other engineers, but it's very difficult to function without that vision.
Thomas: People have asked "Who's the visionary of the company going to be?" And my answer to that is that it was Jim, no question about that. Jim died and then it was Kathy. Kathy's no longer here, so everybody's going "Who's going to step up and be the visionary?" My answer to that is, I don't really want a visionary company, I want the company to have a vision but instead of hinging it on one person, I want everybody to be a part of it. That's my philosophy.
Atkinson: I was surprised to learn that Kathy was no longer with the company. . .
Thomas: I wish Kathy was still with us. This was Kathy's baby for 35 years. . . I think that with a change in ownership, a change in control of the company, she just said that it was time for her to retire. I understand that completely. It was her baby and we're going to treat her baby really nice, but I can see where I would have the same kind of concern.
Atkinson: I know from my own career at Stereophile how hard it is to manage a relationship with a company's founder. When I came in, there were things that I had to do and, of course, they were not things that he wanted to do.
Thomas: So you know exactly what happened. But it happened very quickly. I think Kathy may have realized that, okay, things needed to change and obviously, as great a company as Thiel is, there's things that needed to be done or we wouldn't have had the opportunity to buy . . . I have total respect for Kathy and wish her the best.
Atkinson: Coming into this industry very recently, does that give you a better insight into how the audio market's functioning and where you should address your energies, or has it been a bit of an uphill struggle?
Thomas: I think it's kind of refreshing, not being a diehard audiophile, being able to look at it from the outside. We're going to depend on our dealers a whole lot by listening to them [tell us] what they need for the market and producing it for them instead of us trying to force what we think the market needs. They're the ones selling the products, so they know the market better than I know the market. We need to listen to them.
Atkinson: Thiel has been well-represented in the architectural audio space with products like the PowerPoint on-wall speaker, as well in the traditional high-end space and in Home Theater. Do you see any additional directions you could take the company in?
Thomas: Yes, with the architectural and home theater, we need to fill out our line better, to give the integrators more choice. Instead of just one line of architectural speakers we need to be able to do the whole house. And we need a broader, a broader line on that area. We're going to continue our focus on the international market but continue the "Made in America," the quality, and the international market likes that.
Atkinson: The press release last November emphasized that the entire factory team has been retained and that there were no plans to close Thiel's Lexington operation. I understand from talking to some of the people from the Thiel factory you brought to CES that already you've invested in a new CNC machine.
Thomas: Right, we're going to do what it takes. There's a lot of efficiencies that can be improved on in the production side, so that's what we're doing. We're getting new, better equipment that can get stuff produced faster.
Atkinson: And continue, as you said, the fact that this is a product that is made in America using an American workforce in an American factory . . . I think it's important to keep those skills in this country.
Thomas: You hear so much going the other way nowadays that it is refreshing to have something that's made in America, that's produced here.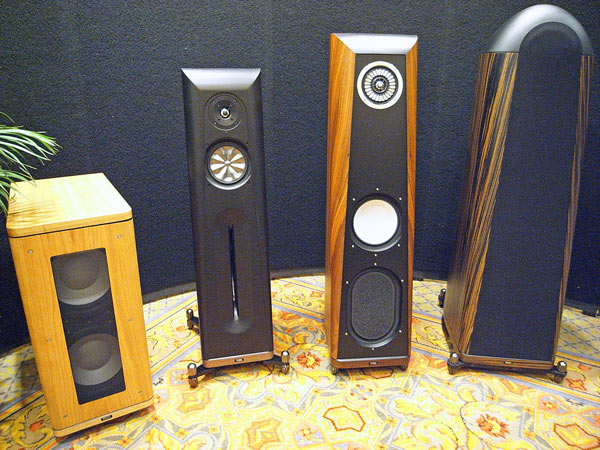 Atkinson: Here at CES, not only do you have the new CS2.7, which uses the same coaxial HF/MF unit as the CS3.7, but you have the smaller CS1.7, which combines a version of Thiel's "wobbly-web" woofer, loaded with a slot-shaped port, with a 1" metal-dome tweeter. I understand that the '1.7 is scheduled to ship in February?
Thomas: Right now it is, Yes. I think when we get back from CES there may be a little tweak we've got to do with the crossover, but then it's good to go.
Atkinson: I wish you all the best with your new venture.
Thomas: Thank you.
Update: It was announced in early February that industry veteran Bob Brown, former longtime president/CEO of Lenbrook America and currently involved with ZVox, has been appointed to Thiel Audio's board and is serving as Thiel's interim COO. According to Twice magazine, Brown will provide the company's new owners "with a complete analysis of the existing operation, including manufacturing, domestic and international sales as well as marketing."