Esoteric's New Grandioso T1, M1X, S-05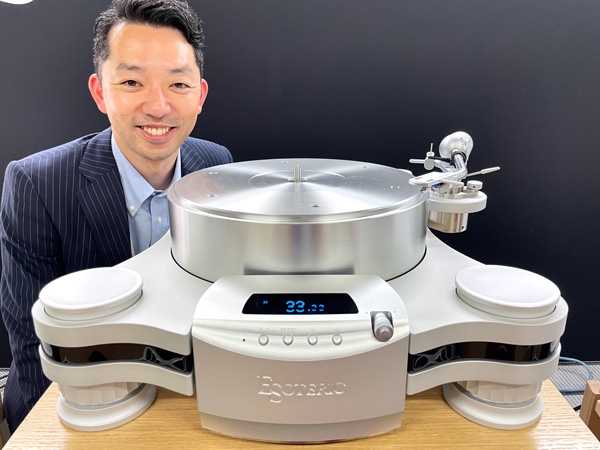 In celebration of Esoteric's 35th anniversary, the company's Shota Terai offered a sneak preview of the Grandioso T1, the first turntable in Esoteric's long history. Due to be finalized soon, the T1 employs the company's "patent-registered unique contact-free Esoteric MagneDrive System that inductively synchronizes the rotations of a magnetic driver and platter, realizing a quiet and silky-smooth rotation at an extraordinarily accurate rotation speed."
The turntable's motor drive unit uses the Grandioso G1X Master Clock to achieve 10MHz Clock Sync capability. The three-piece independent chassis configuration—two layers of aluminum separated by a layer of wood with high gloss piano lacquer—is claimed to aid mechanical and electrical isolation. The company also claims that its Magne-Float platter reduces the platter's effective mass from 19kg to approx. 4kg, thereby reducing spindle bearing friction. Other features include an inverted bearing system, a Micrometer adjustment knob that fine-tunes sonic characteristics by adjusting the strength of magnetic force being applied from the magnetic driver to the platter, special isolation feet with internal damping, two speeds (33 1/3 & 45) adjustable within 0.1%, optional TA-9D dynamic balance tonearm, and optional armboard that can accommodate up to three dimensions. The main unit weighs 45kg, with the separate power supply weighing an additional 18kg.
Just released, the Grandioso M1X monoblock power amplifier (above) claims an "all-new drive stage that has been expanded in size by 150% [and] astonish power linearity from 300W/8ohms to 2400W/1ohm." The company's "largest-ever" power supply occupies 60% of the internal space and includes a 3000VA/19kg main power transformer. Total custom capacitor capacity is 60,000µF. Weight is approximate 62kg (136.75 lb), and power consumption is 55W at idle, 400W otherwise.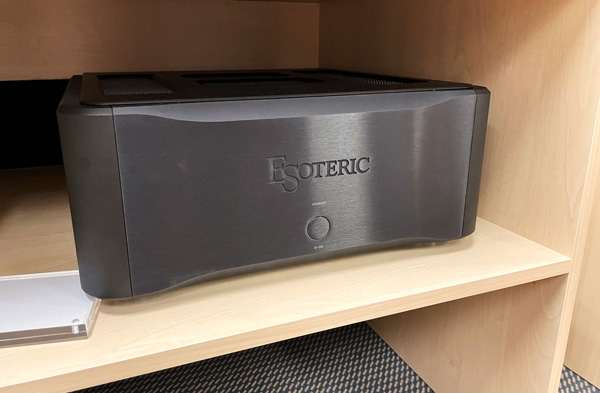 Still under development is the S-05 class-A stereo power amplifier (above), which features dual-mono construction and a rated output of 30Wpc into 8 ohms, 60Wpc into 4. Bi-amping can be used to double the output. Esoteric suggests pairing the S-05 with the N-05XD Network DAC/preamplifier for a minimalist high-end system.