The Entry Level #24 Page 2
Once home, I unwrap my new possession, place the record on the VPI Traveler, and anxiously, expectantly, sit down to listen.
More beeps, bangs, and drones—gah!—almost as terrifying as the crap coming from Ms. Little's apartment. Ten seconds in, I'm scolding myself: Why did I buy this? (footnote 1) I get up, pull the record from the platter, return it to its sleeve, place the album on a stack of countless others like it, and soon forget it ever existed.
Where did I put that Drake record?
Ms. Little snapped me out of my reverie. "And what do you mean by 'Hmm'?"
"Nothing. I like the way you think about music."
"You do?"
"Yes. But, sweetheart, you know what I do for a living, right? There's no reason for your music to sound like this."
She smiled. "So what are you going to do about it?"
Epoz AktiMate Micro powered desktop loudspeaker
Back at home, I had the answer to Ms. Little's question: Epoz's AktiMate Micro powered desktop loudspeaker ($499/pair), the smallest, cutest, most affordable of the Australian company's line. The rear-ported Micro measures 9.45" high by 5.7" wide by 7.87" deep, and has an MDF cabinet finished in five coats of high-gloss paint. You have the option of black, white, or, as in the case of the review samples, supersexy red. These were easily the most beautifully finished speakers I've had in my home: I saw no signs whatsoever of cabinet imperfections, and the speakers' lustrous paint job looked almost like liquid. Though designed in Australia, the speaker is manufactured in China.
Maybe I'm sexist or something, but I was not at all surprised to learn that a woman is responsible for the Micro's lovely physical design. Women have better taste than men. Better eyes. Better senses for detail. Better ears, too. (Generally speaking, of course: Ms. Little is a Yankees fan, after all.) I'm thinking of EveAnna Manley of Manley Labs; Jozefina Lichtenegger of EAT, designer of gorgeous turntables and phono cartridges; Bea Lam of VTL, who has the final word when it comes to the sound of any VTL amplifier.
Jacki Pugh, managing director of Epoz, is the woman responsible for the AktiMate Micro's stunning looks. In 2005, Pugh, along with Epos's Mike Creek, formed Epoz to be the sole Australian distributor of Epos loudspeakers. When it came time to christen their new distribution company, Creek and Pugh decided it'd be a good idea to play on the strength of the Epos brand, while also paying tribute to Australia's nickname, Oz.
In December 2007, Epoz introduced the AktiMate brand, with the intention, Pugh says, of providing "a seriously good hi-fi desktop speaker." According to Pugh, there was a gap in the hi-fi desktop market "just waiting to be filled."
To that end—and like the Audioengine A5, which I wrote about in May 2011—the AktiMate Micros are powered, or active, which means they include their own amplification. By contrast, passive loudspeakers, like my PSB Alpha B1s, need to be connected to an amplifier to make sound. Traditionally, passive loudspeakers have ruled audiophiles' dedicated listening rooms, while active models have been relegated to pro-audio applications or partnered with a desktop PC. But in recent years, thanks in large part to Audioengine's capable engineers, active speakers have earned greater respect from audiophiles. Indeed, the A5s effortlessly filled my relatively small (11' by 13') listening room with clean, powerful sound; Bob Reina fell in love with Audioengine's smaller A2. After reviewing the A5, I recommended them to my friend Natalie, who's owned a pair ever since. She uses them with her Music Hall USB-1 turntable.
Music Hall's Roy Hall, AktiMate's US importer, would probably prefer that Natalie owned the AktiMate Micros. And had the Micros existed at the time Natalie was shopping, I certainly would have offered them as an alternative to the matte-black Audioengines. I think I know which speaker Natalie would have picked: She loves red.
For those of you not interested in tech talk, now would be a good time to skip ahead, munch a spoonful of Nutella, or tune in to an episode of New Girl. The magnetically shielded Micro has a 1" (25mm) soft-dome tweeter and a 3.9" (100mm) Kevlar mid/woofer. Its frequency range is given as 70Hz–25kHz. The Micro's class-D amplifier and associated electronics are contained in the left-channel speaker. The amp is rated for a maximum output of 40W at 1kHz into its own 4 ohm load. In theory, the amp should be a perfect match for the speaker; to the prospective buyer, one of the advantages of powered over passive speakers is that time and energy need not be spent selecting the partnering amplification. The Micro's amplifier contains circuits to protect it from overheating, voltages too low or high, and short circuits.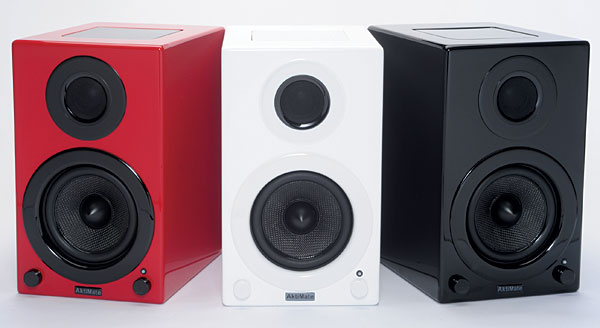 Around back you'll find the speaker terminals, two inputs (a 3.5mm stereo minijack and a USB input for connection to a PC), the power switch, and an AC inlet for the included power cord. The signal from the USB input is turned into audio by a Texas Instruments PCM2704 DAC—the same chip used in Music Hall's dac25.2 D/A processor. Capable of handling resolutions up to 16-bit/48kHz, the PCM2704's USB port operates in isochronous mode, which means it allows the host PC to handle data clocking. By contrast, the increasingly popular asynchronous operation, employed in highly regarded processors from Wavelength, Ayre Acoustics, and others, relieves the host PC of its clocking duties to, in theory, reduce jitter to insignificant levels. And never forget: Jitter is evil. According to my audiophile doppelganger (footnote 2), Music Hall's VP of sales Leland Leard, the PCM2704 was chosen for the Micro because "it sounds so bloody good."
The volume knob and three-position input-selector knob are on the left speaker's front panel. A small blue LED glows softly when the speakers are switched on. In addition to the AC cable, the speakers come with bare speaker wire, simple banana plugs for terminating the speaker wire, a 3.5mm cable, a USB cable, and four rubber feet each.
Blah blah blah. Still awake? Now for the Micro's coolest, smartest feature: Atop the left-channel speaker, tastefully concealed by a black plastic cover, is an iPod dock. Certain audiophiles will be horrified by the thought of an iPod dock intruding on their sacred listening rooms, but in my opinion, the Micro's dock is what separates it from its competitors. Where other powered speakers are limited to a 3.5mm stereo input for iPod connectivity, the AktiMates' dock allows the user to directly and conveniently charge and play an iPod.
I'm telling you: Girls love this. (And so do I.)
Seriously good?
As I usually do with speakers, I allowed the AktiMate Micros to burn in for a couple of weeks before giving them my undivided attention. I put them on the floor of my listening room, set my iPod to Shuffle, and let the music play—thoughtless, liberating, fun. Despite the speakers' haphazard placement, they offered impressive speed, clarity, and detail. Over time, the lower frequencies grew fuller and more present, and the speakers' overall sound opened up and became more relaxed.
When I set up the Micros on my sand-filled, 24"-tall Target stands, I was immediately impressed by their spatial abilities. Like the NHT Super Zero 2.0s, the AktiMate Micros responded very well to careful placement and proved to be absolute imaging wizards. Positioned just a couple of feet from the front wall and aggressively toed in, they created a surprisingly detailed and stable soundstage—and when I brought them to within just a couple of feet of my listening couch, the effect was almost like listening to headphones: The speakers almost completely "vanished" from the room, voices and instruments appearing with stunning speed and precision; which made intricate electronic dance tracks such as Four Tet's "Pyramid" (192kbps MP3) especially captivating.
Though the Micros sounded smaller and had less bass extension than my PSB Alpha B1s ($299/pair), they nevertheless offered better scale, presence, and bass impact than I'd expected from such a small speaker. I knew that the Micros lacked bass weight and depth, but because their overall frequency response was so smartly balanced, it was easy to forget what I was missing.
Compared to the even smaller Audioengine A2 ($199/pair), the AktiMate Micro had a cooler, more forward overall sound that sacrificed some midrange clarity and richness. While the Audioengine offered a lovely smoothness to Anneka's voice in FaltyDL's "Gospel of Opal" (320kbps MP3), the AktiMate sharpened the edges, emphasized sibilants, and redirected my attention to such percussive elements as the synthesized hi-hat.
Having had my fill of MP3s, it was time to play some vinyl. Using an AudioQuest Evergreen RCA-to-minijack interconnect ($29/1m), I connected the AktiMates to the output of a Parasound Zphono•USB phono preamp. The turntable was VPI's Traveler, equipped with Dynavector's DV 10X5 moving-coil cartridge. This was not a good match: Through the AktiMates, even the most common surface noise was so loud and intrusive that LPs were practically unlistenable. Was this due to some sort of incompatibility between Parasound and Micros? I don't think so. Did it have something to do with the 2.5mV output of the MC cartridge? Probably. What I do know is that the problem was solved by returning to my Rega Research P3-24 turntable and its Elys 2 moving-magnet cartridge.
Still, I enjoyed the AktiMate Micros most when I used them as they were intended to be used: on the desktop, connected to my PC via their included USB cable. Relieved from the duty of having to fill an entire room, the Micros sounded more confident and controlled, their bass and midrange settling into better balance with their fast highs. And for whatever reason, modern pop albums, such as Gotye's Making Mirrors and Kendrick Lamar's Section.80, sounded especially good—dynamic, present, and altogether involving.
Good enough
A few days ago, Ms. Little came over.
"Wanna listen to some music?" I asked.
"Sure."
"Do you have your iPhone?"
"Yes."
"Cool. Plug it into the speakers' dock and play something."
She plugged her phone into the AktiMate Micros and, after some deliberation, selected Deadmau5's "Moar Ghosts 'n' Stuff," pressed Play, and took a seat on the orange couch.
The track's infectious synth melody bounced off my listening-room walls. The heavy beat sent vibrations through my floorboards. Ms. Little smiled. "I might have to dance," she said. A moment later, she was on her feet.
How good are the Epoz AktiMate Micros? Good enough to make a pretty girl dance, sing, and laugh. That's good enough for me.
---
Footnote 1: While it's true that I can't pronounce his name, I very much enjoy Ghédalia Tazartès's work.
Footnote 2: At hi-fi shows and who knows where else, Leland Leard has been known to pose as me while hitting on inadequately dressed booth babes. My reputation has improved immensely. Thanks, Leland!