The Entry Level #11 Page 2
The two-way Energy CB-10 is a bass-reflex design. A large rear-firing port has an internal diameter of 2" and flares out to 2.75". The speaker uses a 1" aluminum-dome tweeter and a 5.5" woofer with a ribbed elliptical surround, the latter said to increase excursion, decrease distortion, and create a larger piston area for greater efficiency, making the CB-10 an easy match for amplifiers. The CB-10's frequency range is listed as 66Hz–20kHz, its in-room sensitivity as 90dB, and its nominal impedance as 8 ohms. In Energy's Convergent Source Module design, the tweeter and woofer are meant to act as a coincident source working together to provide wide bandwidth, constant dispersion, and a flat frequency response. In theory, this would all add up to easy setup and satisfying listening from anywhere in the room.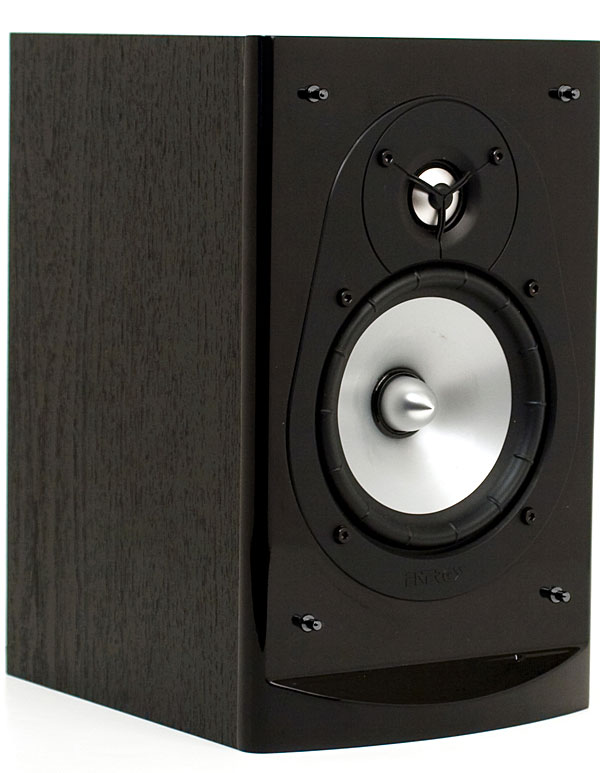 The CB-10 has a high-gloss black baffle, a modest cabinet veneered in black ash, and gold-plated five-way binding posts. At just under 9 lbs and measuring 11.4" H by 7.1" W by 8.5" D, the CB-10 is almost identical in size and shape to my PSB Alpha B1, but the Energy feels a bit lightweight in comparison. I think it has something to do with that glossy baffle. Perhaps it's too glossy. Combined with the speaker's slick aluminum drivers and staid cabinet, the front baffle creates a dramatic but somewhat garish effect. Knocking on the cabinet's side panels produced a clearly audible resonance. The CB-10 was designed in 2008 by Klipsch Group's Canadian team of engineers.
I did all of my listening using my Rega P3-24 turntable, Exposure 2010S CD player, NAD C 316BEE integrated amplifier and PP 3 USB phono preamplifier, AudioQuest Rocket 33 speaker cables, and Sidewinder interconnects. The speakers were secured with small globs of Blu-Tack to 24" Target stands, while the components rested within my PolyCrystal equipment rack. Source components and amplifiers were plugged into a Furutech e-TP60 power conditioner and then into a Furutech GTX wall receptacle.
Twin Sisters' "Daniel" opens with a short progression of xylophone-like synth notes. Through the Energy CB-10 these bright notes rang out with great presence, but were a touch uncontrolled, diffuse, and ragged at the edges. Seven seconds into the song, I noticed some surprising background chatter—someone shifting positions in the studio, perhaps. And, at just about 2:30 into the song, when the synths, guitars, and cymbals reach a climax and are joined by Estella's ethereal voice, there was just a moment of distortion—a clear flaw in the recording that I wish could have been avoided. The Energys were digging deep into the mix.
In Heaven's second track, "Stop," sounds like a response to "Daniel" as guitarist Eric Cardona sings:
Here in another land, giving up all of my trials
Little did I think that you'd be doing the same for me . . .
Someday it's all over
Will I remember the scenery then?
Maybe it's foolish to want to be alone
We can learn something from sweet pop music. What I learned from "Stop" was that the Energy CB-10 was producing too much bass. The track opens with a couple of deliberate snare-drum strokes before the full band enters, and these strokes were distinctly heavier than I'm used to hearing, and not nearly as snappy. The hi-hat was nevertheless quick and bright, the voices clean and nicely delineated, but the bass guitar sounded bigger, fatter, and looser than I would have liked, and at times overpowered the rest of the music. Was this due to the tuning of the CB-10's big rear port?
The effect of this bass coloration depended on the music I listened to. There was a satisfying weight and pleasant darkness to Benoåt Delbecq's "Mille Nandie Remix," from the solo pianist's Circles and Calligrams (CD, Songlines SGL 1583-2), and The Multi-Purpose Solution's "Superman's Flying, Guns Are Shooting" was conveyed with awesome power and impact—the CB-10 could really rock! But too often, its heavy bass detracted from my overall listening experience.
I like the Energy Connoisseur CB-10. It definitely made music—and performed especially well with loud rock—but when I'm listening to the hi-fi, I want more than music. I want magic.
Love last
Strangely, while listening to Boston Acoustics' A 25 loudspeaker ($299.98/pair), magic was what I kept thinking about.
Paul Messenger introduced Boston Acoustics' A Series in April's "Industry Update." With the creation of the A Series, Paul reported, BA wanted to create a "global loudspeaker," one that would be appreciated by music lovers worldwide.
I asked BA's director of program management, Stephen Shenefield, to tell me more about what had inspired the A Series. He explained that while Boston Acoustics products have gained a reputation for offering an "American" sound, one better suited to home-theater applications, the company has always considered the heart of its identity to be traditional two-channel speakers. With the A Series, BA wanted to appeal to two-channel enthusiasts in other parts of the world, specifically hardcore hobbyists in Europe and Asia, but also wanted to dispel the notion that the company is interested only in the home-theater market. In truth, said Shenefield, Boston Acoustics strives to balance its loves of music and home theater. And balance (in life, love, and loudspeakers) is good.
To get this point across, BA's engineering team, based in Peabody, Massachusetts, worked with respected independent designer Karl-Heinz Fink, of Germany, and audio legend Ken Ishiwata, of Boston's corporate sister, Marantz. "It was a truly international development," said Shenefield. "The Europe team would make a tweak, we would check it out here, we would make a change, they would confirm it, and so on."
According to Shenefield, the specific design goals for the A 25 were flat frequency response, low distortion, and high power handling. No surprises there—almost all speaker designers say the same thing—but different speakers still produce different sounds. The result depends on how you combine those elements. With the A 25, Boston Acoustics found the right balance.
The two-way A 25 measures 10.7" H by 7.25" W by 8.9" D, weighs a surprisingly heavy 10 lbs, and uses Boston's 1" Kortec soft-dome tweeter and a 5.25" mid/woofer with a cone of ceramic and glass-fiber polymer. Inside the braced cabinet, a wooden reinforcement disc essentially doubles the thickness of the speaker's top panel to 1.4? and works to minimize extraneous frequency radiation for a cleaner overall sound and better stereo imaging, says BA. The frequency range is listed as 55Hz–25kHz, the sensitivity as 89dB, and the nominal impedance as 8 ohms. The speaker has scratch-resistant high-gloss side panels; all other surfaces are covered in a textured veneer reminiscent of faux leather, giving the A 25 a purposeful, no-nonsense look while sidestepping the sometimes cheap appearance of the ubiquitous black-ash veneer. It's an attractive speaker indeed: Whenever I came close to the thing, I wanted to kiss it. The A 25's heft and outstanding fit and finish belie its modest price.
On first listening to music through the A 25, I thought the speaker sounded tight and somewhat restrained, but those qualities soon settled into senses of ease, control, and balance. It didn't matter if I was in the bedroom, bathroom, kitchen, or the stairway leading to my apartment: If music was playing through the A 25s, I was drawn to it. Casual listening was at once more enjoyable and almost impossible—something special was happening in my listening room, and I had to pay close attention to it.
"In a Lonely Place," from Comet Gain's excellent Howl of the Lonely Crowd (CD, What's Your Rupture WYR? 0707), was painted with crystalline electric guitar and sweeping keys precisely placed in a wide, deep soundstage, and with all the lovely, moving energy inherent to David Feck's honest delivery as he sang: "I was born when she kissed me / Died when she left me / I lived a few weeks while she loved me / In a lonely place." The song ends too soon, as good things sometimes do.
Happily, the bass guitar in Twin Sister's "Stop" was round, tight, and very well controlled; and while the little recording flaws in "Daniel" were clearly audible, they were somehow easier to overlook—the A 25 had a fine way of balancing accuracy and musicality for an enriching and fatigue-free listening experience.
However, despite the A 25s' impressive control, stable stereo imaging, and emotive power, the PSB Alpha B1s produced an equally balanced sound, with vibrant tonal colors and greater overall scale, for a more immersive listening experience. Listening through the Boston A 25s to Cut Copy's Zonoscope (LP, Modular MODVL134), I was in Prospect Park again—Natalie was reaching for our hands, launching her own into the brilliant night sky, tugging at moonlit clouds. But when I listened to Zonoscope through the PSB Alpha B1s, the music was presented with greater drama and scale: band, venue, and evening sky were brought into my listening room.
Damn my fickle heart—I love both of these speakers! If I were Larry Archibald, I'd keep the PSBs, buy the Bostons, and—hey, I'd buy the Energys, too.
Listening to Cut Copy's "Need You Now," pondering the lyrics ("There's a beauty in the waking night / There's a memory waking up / But it's never gonna reach you / I need you now"), and thinking back to that mid-August night in Brooklyn's Prospect Park, I asked myself again: Why do we struggle through relationships rather than settle for being alone?
Though I have to constantly remind myself of it, the answer is simple: The best things in life are those that are shared. With that in mind, I picked up the phone and invited the girls over to listen to records and relive the magic of our summer.