Emotiva XPA Gen3 two-channel power amplifier Page 2
"Can't you hear the Blessed Savior calling you?"
Genuine artists seldom need fashion tips; and some, like mountain-music master Ralph Stanley, are always so damn fashion-forward that none of us will ever catch up. I know, 'cause I've spent my whole life imitating Dr. Stanley's personal style and attitude of gratitude. The cover photos on Ralph Stanley (CD, DMZ/Columbia CK 86625) will show you exactly what I mean.
While I still mourn Stanley's passing—he died in 2016—he remains an inspired minister in my Bed-Stuy church. So many times, his version of Hank Williams's "Calling You" has unburdened my soul and transported me to the Promised Land. I prayed that the combo of Emotiva XPA Gen3 and KEF LS50 would at least set me in a front pew.
And after I'd adjusted the LS50s' toe-in a couple of times, it did just that. Unfortunately, this combo did not let "Calling You" make me cry, break out in goose bumps, or feel safe in the cosmos, as the recording does with PrimaLuna's tubed Prologue Premium, which puts out 1/10 the power at more than twice the price ($2200); or with the four-times-as-expensive Line Magnetic LM-518 IA $4450); or even with Schiit Audio's Ragnarok integrated ($1699), which loves the LS50s.
In my experience, the KEF LS50s can swing either toward the masculine (Apollonian, disegno, precise, linear, well drawn, dry) or the feminine (Dionysian, colorito, poetic, atmospheric, colorful, wet)—depending 100% on what type of amplifier is driving them. The Emotiva XPA Gen3 made the LS50s lean about 30° toward disegno.
Mr. Objectivity liked the Gen3 driving the LS50s much more than the same amp driving the Magnepan .7s. (O. believes reproduced sound should be precise and well-drawn.) "Now Herb, that is what I call accurate to the source." To which I responded, "But O., Ralph Stanley is the source! I need accuracy to his creative vision. I want to be transported to Ralph's church in the mountains!"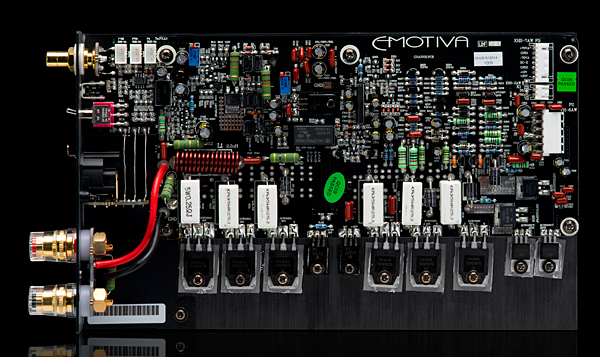 When I played Roscoe Holcomb's The High Lonesome Sound (LP, Smithsonian Folkways FA 2368), the XPA Gen3 gave me every note from Holcomb's banjo, clean and unblurred—but the high-lonesome part of the experience came up a tear shy. (More proof that true artists never need fashion tips: Compare the photo of Holcomb on this album's cover to any photo of author William S. Burroughs—the resemblance is uncanny.)
Don't get me wrong—the Emotiva allowed the LS50s to sound enjoyably detailed; the bass seemed cleaner and more transparent than ever before; the midrange wasn't really dry; and force and momentum were exceptional—almost good enough to make my heart move. But somehow, despite the good articulation of voices, the Gen3 was always a little short on love and prayer. It just couldn't get roots music to stretch my humanity or deliver the full sensual pleasures of women's voices.
Once I'd accepted that, I decided to switch my investigations of the Gen3-LS50 pairing from looking for high lonesome to checking for high resolution.
The next record was the newest on the Stereophile label: composer Sasha Matson's Tight Lines (LP, Stereophile STPH022-1, footnote 1). I heard a starry night full of gently provocative detail, strong and naturally rendered bass, enchanting narrative-lyrical inventions, engaging spatiality, even a little wet magic (which I suspect was enhanced by the EMT echo plate they used on the recording). Listening to the first movement, Cut to Bar Interior, for piano and string quartet, I became transfixed with pianist Mark Gasbarro's playing. The Emotiva-KEF combo clearly revealed what is most enjoyable about this carefully mixed and mastered recording: its perfectly balanced high frequencies. Because they were neither too bright (tipped up) nor too dull (rolled off), they let the midrange and bass regions express themselves with exceptional naturalness, as if part of the same fabric. Tight Lines' properly balanced highs made the clarinet, brass, and piano—and especially the strings—into something I think all audiophiles would want to experience through their own systems. This record and these speakers combined to make possible the XPA Gen3's finest moments in my bunker. This was the wet magic I was looking for.
And then . . . with the Technics SB-C700s
Ages ago, I used to frequent a liquor store on the Bowery. I was always greeted at the door by a white Labrador with a single milky-white eye (he must have been blind). The guy behind the Lexan security wall called him Night Train. Every time I petted Night Train, I thought of Huddie Ledbetter (aka Lead Belly) singing "Midnight Special," the traditional southern prison song he's often credited with writing. By the time I got to the order window, I'd be singing this in my head: "Yonder comes Miss Night Train / with a bottle in her hand . . . / Let that Midnight Special shine its ever-lovin' light on me!"
In most popular songs, beat and rhythm are everything, and never were they more so than in Lead Belly's Last Sessions (4 CDs, Smithsonian Folkways SF 40068/71). His version of "Midnight Special" transports its full load of heartfulness via deeply affecting beats and forceful forward momentums. (This is why I'm always talking about forward momentum—it carries 90% of music's important content.) I know Ledbetter's a little older here, but this recording is on analog tape, and his 12-string guitar work is a fantastic, good-sounding, foot-tapping joy all by itself.
Lead Belly's guitar rhythms came up very strong through the Emotiva XPA Gen3 and KEF LS50s, but they came up even stronger through the Gen3 and the more analytical-sounding Technics SB-C700 speakers ($1700/pair). The Emotiva-Technics combo enjoyably emphasized Lead Belly's strumming beats, but it also showed—and screeched more than a little—when that 1947 tape deck pinned its VU meters in response to Huddie's high-pitched vocal notes. While this combo felt notably controlled, open, and pacey, it also revealed the Emotiva's primary shortcoming: transistor sound. With the extremely neutral Technics speakers, the Gen3 sounded hard and 100% masculine disegno.
O. and I Share a Fine Moment
One day, I played for Mr. O. Chesky Records' new MQA recording: tenor saxophonist Camille Thurman's Inside the Moment (CD, Chesky JD397). O. had been in the audience at Rockwood Music Hall the night this live recording was made, so he listened carefully as first Billy Drummond's drums, then Thurman's tenor, and finally Ben Allison's double bass emerged from an unassuming little bunker system comprising the Emotiva XPA Gen3 ($999), the KEF LS50s ($1499.99/pair) on Sound Anchor stands ($599/pair), a Mytek HiFi Brooklyn DAC ($1995), and my stoop-sale Integra DPS-7.2 CD player used as a transport. AudioQuest Cinnamon digital links and interconnects and Type-4 speaker cables tied it all together. Total system cost: under $6000.
O. checked to see that the DAC's blue MQA indicator light was glowing, then grinned in awe. "Wow! This sounds so much like how I remember it . . . and only $1500 speakers and a $1000 amp. Herb, now this is good!"
Joined in mutual admiration, we grinned and shook our heads in high-value wonder.
Obviously . . .
The XPA Gen3 confirms that Emotiva's reputation as a maker of low-cost, high-performance audio equipment is well deserved. Class B sound at a class-H price.
---
Footnote 1:
Tight Lines
. Composed and conducted by Sasha Matson. John Atkinson, prod., CD mastering; Michael C. Ross, eng.; Mike Marciano, mix; Joe Harley & Michael Gray, LP mastering; Art Dudley, liner notes.