Emily Tries but Misunderstands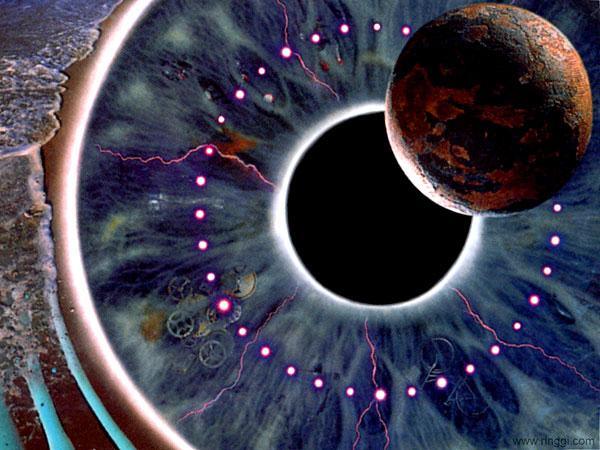 "At last!" I rushed to open the UPS package with the familiar Amazon logo. "It's arrived!"
"What's arrived?" My 13-year-old daughter Emily showed some uncharacteristic curiosity.
"The new Pink Floyd two-DVD set, P.U.L.S.E, which I've had on order for what seems like forever. It contains four hours of music!"
"What's that, like three Pink Floyd songs?"
Emily is big into the Smiths, Green Day, and AFI. She doesn't yet understand why P.U.L.S.E is a contender for the best live music video ever. Or why the Floyd are the most important rock band of all time. Or how what was once called "psychedelic rock" fueled the growth of what is now called "high-end hi-fi," as we improved our systems to get more of what we knew had been placed in those grooves by a band that cared as much as we did about sound. Or how the arc of the band's career echoed our own growth as baby-boom music lovers. Or why this visual document of the Floyd (minus the long-departed Roger Waters), recorded live at one of their final Earls Court, London concerts in September 1994, at the end of what was to be their final tour, is the musical event of 2006. At least on DVD.
P.U.L.S.E—or, to give it its full title, Pink Floyd in Concert P.U.L.S.E (Columbia Music Video 0-7389-0550-X)—includes extras such as a forgettable backstage video, the films that were projected onto the circular screen above the band as they performed, the band's 1996 induction into the Rock and Roll Hall of Fame by the Smashing Pumpkins' Billy Corgan (who joins David Gilmour and Rick Wright in an impromptu "Wish You Were Here"), and a number of bootleg live videos. But it was for the live concert footage, directed by David Mallet in its original 4:3 aspect ratio, that I had been waiting with such anticipation since this set was announced at the end of 2005. Augmented with longtime Floyd associates—underrated guitarist Tim Renwick, bassist Guy Pratt, Jon Carin on keyboards, Gary Wallis on percussion, sax player Dick Parry (of course), and singers Sam Brown, Claudia Fontaine, and Durga McBroom—the band works their way through 145 minutes of classics, including all of Dark Side of the Moon.
As with the 1995 two-CD edition (Columbia C2K 67064), the DVD packaging proudly proclaims "This is an analogue recording," and the owner is given three choices of sound quality: 5.1-channel Dolby Digital at 448kbps; a higher-resolution 5.1 Dolby Digital at 640kbps; and Stereo. The last is what I listened to—I shall leave it to one of Stereophile's multichannel mavens, Kal Rubinson or Jon Iverson, to add some comments on the effectiveness of James Guthrie's and David Gilmour's surround mixes—but both the DVD liner notes and the discs' setup menus are devoid of any information about whether the Stereo track is Dolby Digital or linear PCM. Whichever it is, it sounds remarkably close to the original CD, which was also mixed by Guthrie in QSound.
Some reviews of the CD back in 1995 complained that band appeared tired—the Earls Court concerts came at the end of a four-month tour. Others noted that the (very few) times when the band improvises—Guy Pratt's slapping and popping at the end of "Another Brick in the Wall," for example—seemed a bit out of place. But Gilmour, who carries the lion's share of the lead vocals and guitar solos, is in fine form. The star of the concert, though, is the light show, directed by Marc Brickman, who choreographed what seems a limitless number of computer-controlled spots, light-boxes, lasers, projectors, and pyrotechnics, as well as risers and two inflatable pigs, to create a visually exhausting but totally involving spectacle. When the monstrous mirror ball, 16' in diameter, splits open at the end of "Comfortably Numb" to reveal a 12kW "brute" of a light inside, it seems as if the world itself has split!
There are more than three songs, Emily: 22 in all, though there are some notable omissions compared with the CD, especially Hey You and Astronomy Domine. The latter, of course, was a mainstay of the live show when founding guitarist-singer Syd Barrett, who wrote it, fronted the band.
The week before P.U.L.S.E arrived, I heard the news of Barrett's passing, on July 7, at the age of 60. When Barrett left Pink Floyd in 1968, it was assumed that he was another acid casualty, but as producer Joe Boyd described it in a tribute broadcast by NPR on July 11, it was more as if a "switch in Syd's brain had been thrown." Certainly the photograph on p.211 in Inside Out, drummer Nick Mason's autobiographical look back at his life in Pink Floyd (Chronicle Books, 2006, ISBN 0-8118-4824-8), taken of a shaven-headed, overweight Syd when he synchronistically happened by Abbey Road's Studio 3 during the "Shine On You Crazy Diamond" sessions in June 1975, indicates more than drug abuse. In the photo, Barrett's eyes are indeed "black holes in the sky."
Picking up an amplifier for measurement from Michael Fremer just before writing these words, I listened to a couple of tracks from Barrett's 1970 solo album, The Madcap Laughs, on Mikey's mondo system (Clearaudio Goldfinger cartridge and Continuum tonearm and turntable at the front end, ASR integrated amplifier in the middle, Wilson MAXX 2 speakers at the other). Mikey had an original pressing, of course, but, the superb sound aside, it was a reminder of a direction Pink Floyd had had to abandon post 1968. Check out "Jugband Blues" on the 2001 Echoes compilation (Capitol CDP 5 36111 2) to hear Syd's curtailed genius.
I have written before about how, despite SACD and DVD-Audio both being pushed at music lovers as candidates for the next-generation music carrier, a better case can be made for the CD's replacement being the live-concert DVD-V. P.U.L.S.E reinforces that case, along with David Gilmour's mainly acoustic In Concert DVD (2002, Capitol C9 4 92960 9), recorded live at London's Royal Festival Hall, and Roger Waters' In the Flesh—Live DVD (2000, Columbia Music Video CVD 54185), both with PCM two-channel audio tracks. And, of course, Disc 3 of the Live 8 DVD (Capitol C9 3 41982 9), in which Waters reunites with Gilmour, Mason, and Wright to show the younger folks that a bunch of sextuagenarians can still rock hard (though with a Dolby 2.0 stereo audio track rather than PCM). Shine on, you crazy diamonds.
---
Originally published in the July 2006
Stereophile
eNewsletter.