Ella on Record at 100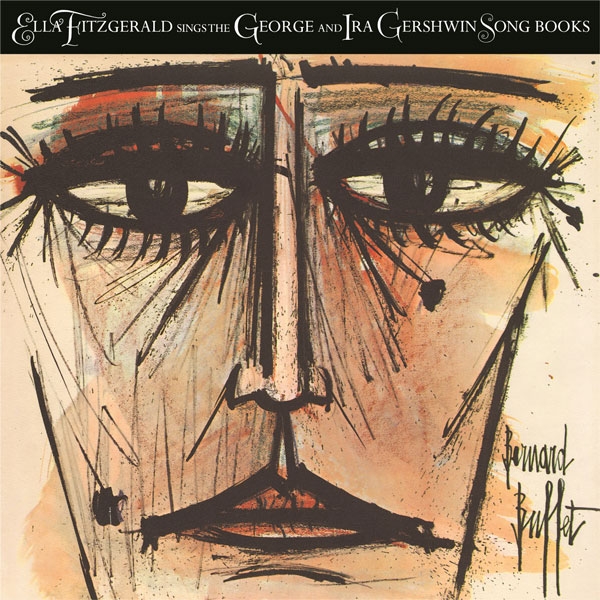 Ella Fitzgerald, who would have turned 100 years old this year, and so is the object of an avalanche of reissues of her work from Universal Music, has one of the most varied and influential catalogs of recorded music in the history of jazz. Live and in the studio, early in the swing bands with Chick Webb, later as a nimble bebopper, and finally as one of the greatest vocal stylists in all of popular music—one who could make the greatest tunes from Tin Pan Alley her own in unforgettable ways—Fitzgerald's influence on jazz vocals is almost unimaginably vast.
With her perfect enunciation, smooth delivery, infallible intonation, and inimitable mix of easy-to-relate-to saloon singer and high-toned sophisticate (a trick replicated by no one else in the vocal world but lifelong Fitzgerald fan Frank Sinatra), Fitzgerald began her career with the hot swing records she made with Chick Webb's band. Her rendition of "Undecided" during that period or her first recorded pass through what would become a signature tune in her repertoire, "A-Tisket, A-Tasket," are available on the new four-CD set, Ella 100, Ella Fitzgerald, 100 Songs for a Centennial, which also contains her more revolutionary bebop experiments, like "Oh Lady Be Good" from the 1947 album Lullabies of Birdland, where she mimics the sound of bebop horns with her voice. Ella 100 is a very rich cross-section of the over 300 singles Fitzgerald released during her years on Decca Records. What makes this flood of Fitzgerald jubilee reissues possible is that much of her catalog resides on three labels, Decca, Verve, and Capitol, all of which are now owned by Universal Music.
While her years with Webb are jumpy and the bebop- influenced records are her lasting contribution to jazz innovation, the "Song Book" records she made beginning in 1956 with Ella Fitzgerald Sings The Cole Porter Song Book that are perhaps the most well-known part of her recorded legacy. All eight of the songbook records will now be available as higher resolution MFiT (Mastered for iTunes) files which is not exactly big news given that many of them—Irving Berlin, Rodgers and Hart, Johnny Mercer, etc—have been available for years as 24-bit/192kHz downloads. For the first time, Ella Fitzgerald Sings The Harold Arlen Song Book and Ella Fitzgerald Sings The Cole Porter Song Book will join the other titles already available as hi-rez downloads.
Every albums' cover art, which have changed over various digital reissues, will be restored to the original design. Verve/UMe is also making available for the first time all of the "Song Book" albums in one 24/96 digital bundle—Ella Fitzgerald: The Complete Original Song Books.
The gem among this flurry of Ella— which may trigger a twinge of cynicism among those who've bought this material several times already—is a limited-edition, six-LP box set of Ella Fitzgerald Sings The George & Ira Gershwin Song Book. It's a replica of the original 1959 five-LP/one-EP set, whose material was recorded from January 5 through July 18, 1959 when Fitzgerald was 41 and just a year from making perhaps her most famous single album, Ella in Berlin. Extra tracks from the same sessions, all of them previously released, have been added to the original six-track EP to make an extra LP's worth of material. The set's original hardcover book, The Gershwins, Words Upon Music, has been beautifully reproduced for this new issue.
The music here is fabulous, of course. Fitzgerald's incredibly smooth delivery, infallible rhythm and tonality, and her flawless ability to enunciate, all make her "Song Books" models of good taste. While the material here—"S'Wonderful," "Someone to Watch Over Me," "I Got Rhythm"—is arguably the cream of the Great American Songbook, I agree to a point with the oft-heard criticism that the "Song Books" can veer over into samey, almost easy-listening music. You find yourself wishing she would dig in more at least in spots.
Part of the sameness in this volume comes from Nelson Riddle, who arranged all 57 tracks here. This album was the beginning of a fruitful collaboration between Fitzgerald and Riddle that would stretch to seven albums between 1959 and 1982. Riddle's default arranging modes, instantly recognizable thanks to his many years and recordings with Sinatra, come in two basic varieties. Ballads like "Embraceable You" are done with lush, string-drenched arrangements taken at an extremely slow tempo that allows Fitzgerald to wring every ounce of emotion from the justly famous lines. Punchy, peerless horn-section parts mark his upbeat numbers like this version of "They Can't Take That Away From Me." It's all very tasteful and predictable. Again, these records were meant to sell to a wide audience, not change the definition of jazz. Occasionally though, as in a personal favorite of mine, "He Loves and She Loves," Riddle will throw in an intriguing curve, here pairing a rumba beat with a loud, brassy accents.
Newly mastered for LP at Capitol Studios and pressed at Rainbo Records in Los Angeles, these LPs, which come in odd textured plastic sleeves, are reasonably quiet. A set of four prints by Bernard Buffet whose original portrait of Fitzgerald graces the cover of the box is also included in the new set. The only quibble here is that this set has already been reissued on LP in 1964 and 1978 and on CD in 1990 and 1998. Too bad there wasn't an alternate tracks set or perhaps alternate tracks paired with an unreleased live set to be released with or instead of this? Nevertheless, it is only available at the Universal Music online store, UDiscovermusic.com, for $149.99.
The other contender for most beloved part Fitzgerald's catalog of recordings, at least in my book, are the three records that she did with Louis Armstrong between 1956 and 1958: Ella And Louis, Ella and Louis Again, and Porgy and Bess Most of this material was released as 24/96 downloads in 2016. Some of it has also been the subject of both an Ultradisc II Gold CD by Mobile Fidelity and an SACD from Analogue Productions. In July, all of the Ella and Pops material will be re-released as a four CD set: Ella Fitzgerald & Louis Armstrong Cheek To Cheek: The Complete Ella & Louis. Would a deluxe multiple LP set of this stuff have been a slam dunk at this moment in history?