Dutch & Dutch 8c active loudspeaker system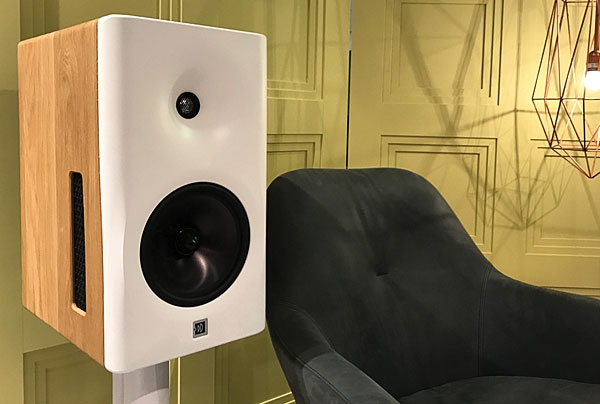 At first glance, this active, DSP-controlled loudspeaker system, with dynamic drivers firing to front and rear, may seem an alien invader from the world of recording and mastering monitors made by such brands as Neumann and Genelec. I wouldn't dispute that perception, but I offer another perspective: The engineering that has gone into the Dutch & Dutch 8c ($12,500/pair) is an all-out attempt to meet the goals that all designers of high-end speakers hope to attain: wide, smooth frequency response; sufficient and linear dynamic performance; crossover management; a cabinet free of audible resonances and edge diffraction; control of the dispersion of sound energy throughout the audioband.
This last challenge is one that is of increasing interest to me, as illustrated by my reviews of Bang & Olufsen's Beolab 90 and Kii Audio's Three speakers (respectively published in January and September 2017), which also employ built-in amps, active crossovers, DSP, etc. It has also been paid vigorous attention by such builders of passive speakers as Bryston, Dynaudio, Paradigm, and Revel/Harman (footnote 1).
What is it?
The Dutch & Dutch 8c is a clean, rectangular box meant to sit on a stand, though it's rather large and heavy for that application. The upper portion of its front baffle, made of injection-molded damped acrylonitrile butadiene styrene and polycarbonate, is formed into an 8"-diameter waveguide, or acoustic lens, for the 1" aluminum-magnesium–alloy dome tweeter; in the lower portion is an 8" aluminum-cone midrange driver. The two 8" aluminum-cone "subwoofers" (D&D's word) on the rear panel are similarly symmetric, although diffraction effects will be minimal at the low frequencies, from 100Hz down, sent to them by the 24dB/octave Linkwitz-Riley low-pass filter.
On each side panel is a small (ca 5" by 2") rectangular port covered with a metal grille. These ports provide precise acoustical venting of the back radiation of the front-firing 8" driver, to cancel much of that driver's forward radiation and shape it into a cardioid pattern. Thus, the front driver, with a bandwidth of 100–1250Hz, radiates most of its energy forward, and minimal energy to the sides and rear, where it would reflect off and interact with walls and other room structures. This dispersion pattern is similar to that created by the 1" tweeter and its acoustic waveguide.
On the 8c's underside are a small vent and a variable-speed fan that kicks in when needed to ventilate the amplifiers. I never heard it.
While the 8c is big for a stand-mounted speaker, its cabinet isn't big enough to develop a lot of bass; Hofmann's Iron Law has not been repealed (footnote 2). The 8c's bass amp is specified to output 500W, but if your goal is to fill a large room with a lot of bass energy, a pair of 8" drivers presents displacement problems.
D&D takes advantage of placing the speakers close to the front wall with what they call Boundary Coupled Bass. When the 8c is positioned from 4" to 20" from the wall, the direct output of the rear drivers is acoustically coupled to the energy reflected by the wall such that they act as a single source. The potential downsides of positioning the speakers so close to the front wall are midrange colorations, but those are minimized by the highly controlled cardioid dispersion of the front drivers.
All connections and controls are on the lower edge of the rear panel. Beginning at far left, there is a plate with the serial number, followed by four signal connectors, the first three XLRs. The first of these is the main audio input, which can function as a balanced analog input or as an AES3 digital input. When used as the latter, the adjacent output provides throughput to another 8c (footnote 3), and each speaker can be assigned the left, right, or both channels of a stereo source. The third XLR is a full-range, DSP-controlled subwoofer output. (At review time, the software supporting this was not yet available.) The last connector, an RJ45, is essential for setting up the 8c's DSP functions and can also support playback via the local network. Next is a small pushbutton for selecting analog and digital inputs, analog input sensitivity, and choice of digital channel; next to this is a column of LEDs that indicate the user's selections. At far right are the inlet for the power cord, the fuse bay, and the main on/off switch.
Setup
It took a bit of wrestling, but I managed to place each 8c atop a sturdy 24"-high Sound Anchors stand. The combination looked top-heavy but felt stable and welded to the floor. I began by placing them where I usually place stereo speakers: about 6' from the front wall and about 8' apart. While that wasn't nearly as close to the front wall as D&D recommends, it was a familiar starting point and made it easy to access the controls on the back panel.
First, I plugged my Audio Research MP1 preamplifier's L/R analog outputs into the D&Ds, but at either sensitivity, even with the MP1's prodigious voltage output, I could barely hear anything. It wasn't going to be that easy. I plugged an Ethernet link into each 8c and, following instructions, I used my computer's web browser to visit lanspeaker.com, the site where Dutch & Dutch's web-base app resides. The website found both speakers and told me that their volume controls had been set very low at the factory. I linked the two speakers so that I could control them as a pair, turned them up, and they sang. The sound was clean and sweet, with a narrow soundstage with solid center fill. Sorta small.
I left the speakers there while I continued to learn how to use them. I learned that I could play a stereo AES3 signal straight from my Baetis Prodigy-X server or from my miniDSP U-DIO8 at resolutions of up to 24-bit/96kHz PCM. I learned that there were controls for boundary distances and bass and treble levels, and options for more parametric filters than I would ever need. I also learned that my review samples included beta-version software that let them function as a Roon Advanced Audio Transport at up to 24/192 PCM for that application.
After this education process, and having cleared the other speakers out of the way, I repositioned the 8c's and Sound Anchors closer to the front wall, positioned as D&D recommends. I switched to the AES3 input (and, ultimately, to Roon via LAN); there's no justification for using an analog connection between my digital server and these speakers—they'd redigitize the signal anyway.
---
Footnote 1: I wrote about my participation in blind listening tests at Harman International in the
February 2019 issue
.
Footnote 2: Josef Anton Hofmann (1924–2010), the H in KLH Audio Systems, defined three desirable parameters in speaker building: bass extension, efficiency, and small enclosure. He demonstrated that any one or two of these can be optimized only at the expense of the other(s): If you want a small enclosure and high audio output, you pay for it with limited bass extension. If you want a speaker with high output and extended bass, you better build it big.
Footnote 3: After the output of the first 8c is connected to the input of the second 8c, a termination plug (provided) must be inserted in the second speaker's Throughput output.