Donald Fagen's Sunken Condos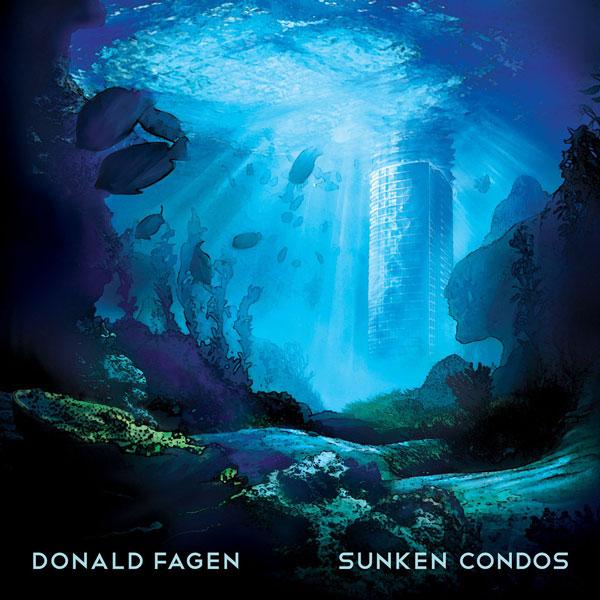 Donald Fagen isn't exactly a jazz musician, but he is a musician who plays jazz and whose music is suffused with a jazz sensibility, whether on his own or as co-leader of Steely Dan, so here we go. His 4th solo disc,
Sunken Condos
(on Reprise), is one of his best and maybe the best-
sounding
since the Dan heyday.
Some have complained that the new album doesn't lay new ground, but whaddaya want? The guy's 65, innovation has never been what he and Walter Becker have been about (at least not since the high mark of Steely Dan, which was one of the most innovative pop bands ever), but—more to the point—Sunken Condos does pave new layers and textures over that ground, and they're subtle and appealing.
Fagen's themes are familiar—an old guy, young girls, zany girls, nuclear madness, gangster ramblings—but the take is different: more reflective, less snarky, as is often the case when he goes solo.
The opener, "Slinky Thing," will remind many of "Hey, Nineteen," but this time out, the narrator isn't contemptuous of the girl's cultural cluelessness, he's just happy to be with her. "I'm Not the Same without You" recalls "The Things I Miss the Most," but there's a neat double twist: at first, you think the singer misses the girl who's left him; then it seems he's actually better off without her ("I'm evolving/ At a really astounding rate of speed / Into something way cooler / Than what I was before"); then it's clear that the guy's miserable to the point of delusional ("I can hold my breath / For a really long time now..."). It's hilarious, and sad.
"Memorabilia" is a sort of flipside to "New Frontier," a look-back at the days of 1950s' impending apocalypse, but its nostalgia is not for the earlier song's lost youth but rather for the "lovely island" in the Pacific that an H-bomb test obliterated. "Weather in My Head" is a low-down blues about the relative misery of global warming and the "ocean of misery floodin' my heart." "The New Breed" is the dark side of "Slinky Thing," though played out in an upbeat catchy tune, about an old guy ("ready for Jurassic Park") getting dumped for a computer whiz ("a keener spark").
"Miss Marlene" is a charming reminiscence about a bowling queen who meets a bad end. "Good Stuff" is a noir-ish short story that harks back to "Kid Charlemagne," but with a backdrop of '30s bootleg gangs instead of '80s coke dealers. "Planet D'Rhonda" is the latest chapter in a very long tale (the last one was "Lunch with Gina") of an infatuation with a frantic girl.
In the middle of all this, there's a cover of Isaac Hayes' "Out of the Ghetto," laced with some klezmer harmonies, as if Fagen is reclaiming the ghetto vibe for the Jews.
Throughout, as usual, the lyrics are witty, sometimes even deep. The music has the skylark guitar solos, Blue Note horn charts, and doo-wop background girl-singers of Dan yore; but those horn charts stand out more, and there's more going on there, perhaps because of Michael Leonhart, who not only plays trumpet (as usual) but also co-arranged all the parts, co-produced and co-engineered the album, and (under a pseudonym) played drums (tastily, though I could have used a little more backbeat).
OK, OK, you're probably thinking, how does it sound? Well, the CD sounds damn good—Fagen's voice is clearer, the instruments more distinct and dynamic, than they have been for a few albums—and the LP sounds better still. The LP—it's pressed by Furnace (which, Michael Fremer informs me, is a Virginia company that outsources to Pallas, a "superb" plant in Germany), and it's a piece of genuine audiophilia: a 180-gram slab of clear vinyl—actually, two slabs. The album is only 45 minutes long, but rather than cram the grooves on two sides of a single disc, Fagen lets them stretch out on...get this...three sides of two discs. Yes, Side 4 is blank. (My fantasy for the reissue would be to fill that side with "Slink Thing" mastered at 45rpm—but hey, a three-sided LP is impressive enough.)
And the LPs sound terrific: everything is clearer still, the instruments more distinct, airier, more rounded, more there, and the bass line! The bass line is deeper, pluckier, funkier.
Just get it.