Devialet Expert 140 Pro integrated amplifier Page 2
Because the Expert Pro is such a versatile product—it's basically a music computer that incorporates everything except the music-data source at one end of the system and the loudspeakers at the other—you have to tell it what you want it to do. If you want to use a turntable, you need to set the analog inputs to phono and set the gain and loading parameters appropriate to your cartridge. If you want to use SAM to make loudspeaker-specific adjustments, you'll need to turn that on, choose your loudspeaker from a long list, and assign that function to a button on the remote control. (Because Devialet has chosen to keep things simple, there simply aren't enough buttons on the remote to go around, so some of them must be used for different things.)
Accomplishing these things is a multistep process. First, you visit Devialet's website and locate the Configurator app. You create an account and sign in. You choose specific settings from an image on the website of your Expert Pro's back panel—just click on icons and make choices. Once you've set things up the way you want them, you save the Configurator file to an SD card—so you'll need an SD card reader. When you plug the card into a slot on the Devialet's back panel, your Expert Pro is immediately reconfigured.
Not every function is set in that manner. Others are adjusted by interacting with the chassis via the remote control: Hold down a button for a couple of seconds and then use the volume knob—monitoring the display on top of the chassis—to make choices.
Listening
When I first started up my review sample, "RoonReady" was the default input choice. Once I had plugged in an Ethernet cable and set up the 140 on my network, I went in to Roon Settings, found the Expert Pro, and chose it as an endpoint. It was time to play some music.
The first thing I played was the first track on Cécile McLorin Salvant's Dreams and Daggers (Mac Avenue MAC1120)—a very familiar cut—delivered via Ethernet and decoded by the Devialet's internal DAC. I immediately noticed a remarkable sense of openness compared even to the excellent amplifiers I'm accustomed to using. Low- frequency extension and weight were impressive. This is not a rich, buttery, midrangey amplifier. It is honest, evenhanded, liquid, open.
Dreams and Daggers is a good-sounding recording, but it is unchallenging; it sounds great on many systems. I needed a more serious challenge.
I switched to Movement V—Im Tempo des Scherzos—from the Benjamin Zander/Philharmonia recording of Mahler's Symphony No.2 (Linn Records CKD-452, 24/192 ALAC download). Mahler gets right to it in that movement, with a massive climax just 15 seconds in. Consider, for a moment, the nature of this system I'm using: Yes, these Revel Salon2 speakers are fairly large, but otherwise the only components are the circa 12lb Expert Pro, an Intel NUC that weighs a few ounces, an Ethernet cable, and some speaker wire—no 100lb class-A monoblocks in sight.
The sound was broad, deep, massive.
Sonata, John Atkinson's recording of Robert Silverman playing Liszt (FLAC rip from CD, Stereophile STPH008-2), is among the most natural-sounding piano recordings I know. The major work on this record is the B-minor Sonata, S.178, a piece that has been recorded by several respected audiophile engineers—including Keith Johnson, who engineered Nojima's version (24/176.4 FLAC download, Reference Recordings 25), another favorite. Both recordings present a mid-hall perspective. JA's recording digs out a little more of the sound of the Steinway, while the Nojima has a rather more precise piano image.
Also on JA's Liszt disc is Orage, for piano (S.160); lately I've been using it more in component evaluations than the B-minor sonata, because it involves a good bit of key-pounding; how well does a system capture that sound? With the Devialet in the system, serving as DAC, preamp, and amplifier, Orage sounded grand and appropriately percussive with intensely satisfying, stirring deep-bass notes.
After the Liszt came "Mezzanine," from the album of the same name by Massive Attack (CD-rez FLAC, via Tidal), which sounded huge, again with intense deep bass. "Night Life," from Bad Influence's album Live at the Bad Habits Café (FLAC rip from CD, WildChild! 03152), was recorded by Mapleshade's Pierre Sprey and reviewed by the late Wes Phillips: I listen to this partly for the imaging but mainly for a party and a good buzz—literally—especially from the tenor sax but also from the vocals. This recording really captures timbre well.
There was slightly less of this (desirable) buzz from the tenor sax here than I hear with some straight class-A amps. I like texture—a lot—but it's likely that the Devialet's rendering is the more technically accurate one. (I'm speculating.) In any case, through the Expert 140 Pro, stereo images on that recording were always razor-sharp, occupying the loudspeaker plane and well back from there.
I made some direct, volume-matched comparisons, first with the Expert Pro doing the conversion vs the Mytek Brooklyn Bridge sending its analog output to the Expert Pro's line input—so, two extra conversions (D/A then A/D) in this signal path. Whether it's because of the extra conversions or because the Devialet's DAC is better, the simpler (Devialet-only) system won on points: transients were sharper with the Expert Pro–only system.
Later, I compared the Expert Pro to a reference system consisting of the Mytek Brooklyn Bridge, the Pass Labs XP-22 preamplifier (Stereophile's Amplification Component of the Year for 2019—see the article elsewhere in this issue), and the Pass Labs XA60.8 monoblock amplifiers (Stereophile's Joint Amplification Component of 2018). That's the $6490 Devialet vs $25,000 worth of components (plus the cost of two sets of interconnects). The Mytek/Pass Labs reference system sounded noticeably darker and richer, with more body, but there wasn't more deep bass. I love the sound this reference system makes, but the Devialet system measured up well—liquid and unperturbable.
SAMIam
The most interesting implementation of DSP in the Expert Pro is what Devialet calls SAM (with a trademark sign of course), for speaker active matching. Devialet uses a laser interferometer to measure the response of loudspeakers' low-frequency drivers and compares the results to an electrical test signal. They use this information to engineer DSP corrections specific to your loudspeakers. Part of this is adjusting for phase delay at the low end of the frequency range—any time a driver is rolling off, its phase is also changing—but apparently that's not all.
SAM has a level control you can access by holding down a button on the remote. You can set it anywhere from zero to 100%. Devialet told me that time-domain corrections are always done, even at 0% SAM. This SAM setting, they said, controls amplitude corrections—but only low-frequency extension: at higher frequencies, volume levels should always remain flat. That wasn't my experience.
I set SAM at 100%, set the volume moderately loud, and played a 20Hz warble tone and toggled SAM on and off. With SAM disabled, the 20Hz signal wasn't loud; with SAM activated, windows rattled at the far end of the room, some 40 feet from the loudspeakers, something I've never before experienced in this room. That's convincing evidence that SAM does, as claimed, increase low-frequency extension. (Revel claims frequency response down to 26Hz; Devialet says SAM can increase it—safely—to 13Hz.)
With the 31.5Hz warble tone, there was no perceptible change in volume, but there was audible beating with SAM turned off; I turned SAM on, the beating went away.
Here's an odd thing though: With SAM at 100%, with the digital version of the new Giles Martin/Sam Okell Abbey Road remix, there was too much bass—not just at the low end but also well into the range of a bass guitar. I made some measurements to confirm: At certain frequencies—not all—up to about 100Hz, pure-tone test signals were louder with SAM engaged. When I asked Devialet about this, they proposed it had to do with room interactions, which I don't understand. In any case, dialing SAM back to below about 40% solved the problem.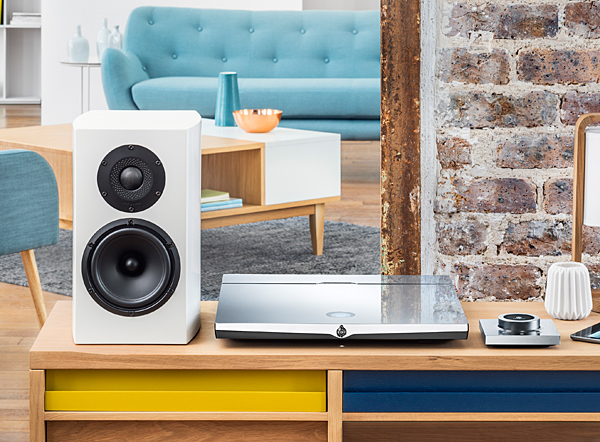 SAM is interesting and fun to play with. I didn't mention it in the listening section, but I heard quite significant improvements in the sound with SAM engaged, in bass articulation in particular, especially in complex orchestral passages. I'd like to learn more about it, and I'd like to play around with it more.
It's a wrap
I wish the Expert Pro 140 came in a finish other than Dark Chrome. I wish its setup scheme were simpler. I wish there were more buttons, especially on the remote, so that it wouldn't be necessary to choose between, say, controlling phono-stage parameters on the fly and a mute button. I wish setup could be carried out entirely from an app, without requiring an SD card. Then again, none of this need be a problem for you: If setup sounds intimidating, just let your dealer do it.
Anyway, those disadvantages pale compared to the Expert Pro 140's overall excellence: It sounds immaculate—in the top tier of amplifiers I've heard. It's dynamic. The 140 may be the least powerful Expert Pro, but it drove the Revel Salon2's with apparent ease. SAM is a fascinating technology, a new parameter to play with, and it can genuinely improve the sound.
There surely are hardcore analogphiles among Stereophile's readers who won't be interested in the Expert 140 Pro because it digitizes incoming analog signals . It's not for people who need more than one analog input, nor those who don't like shiny chrome. It is, however, for anyone else who wants versatility and remarkable sound in a compact package.
The Devialet Expert 140 Pro is an easy recommendation for anyone who appreciates its approach and aesthetic.