Day 1 Ends and Day 2 Starts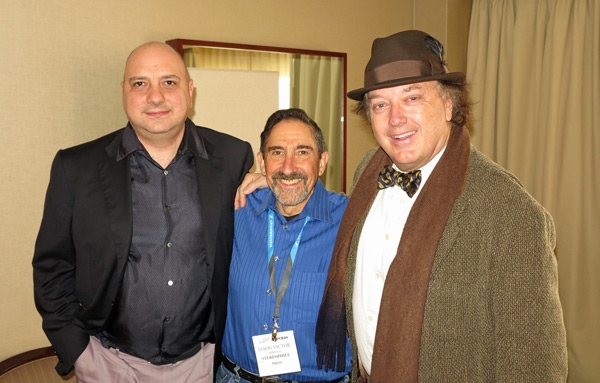 What, Jason, you're still on the 5th floor? How are you ever going to get all the way down to sub-Lobby Level, let alone be able to make some "Best of Show" calls, when you're only doing 18 rooms per day? Get a move on, Serinus! Such thoughts crossed my mind as Day One was drawing to a close, and I still had a few rooms left on the second of AXPONA's seven, not six, floors. But what is there to do but simply go with the flow, even if there's little flow left to go with at day's end?
So thank you, Hanson Audio, for a welcome burst of energy and light. It's not that Stereophile has not already devoted considerable time to covering products from Magico, Octave, dCS, Clearaudio, Critical Mass, Nordost, and Stillpoints. But what I found most interesting about the superb—I repeat, superb—sound in the Hanson Audio room was how different Magico's already sold-out, limited edition M-Project loudspeakers ($129,000/pair) sounded than during my recent visit to the Magico listening room at their factory in Hayward, CA. (Report forthcoming.)
Was it the sound of the maximally transparent Nordost Valhalla 2 cabling/Quantum QB8 line conditioner combo; the Octave Jubilee monoblock amplifiers ($55,000/pair), preamplifier ($29,000), and phono module ($10,300); a dCS three-stack Vivaldi DAC/upsampler/master clock combo ($68,497 without cabling); Clearaudio's Innovation Wood turntable ($11,000) with 9" Universal tonearm ($5500), Goldfinger cartridge ($15,000), and DS Audio DS-W1 Nightrider w/phono stage ($10,000); the Critical Mass Systems rack and amp stands ($45,200); the Stillpoints Apertures ($650/each); or some combination of the above and the room that was responsible? All I know for sure is that the sound was wetter and, to my ears, more compelling than the excellent sound I heard in Hayward.
Hats off to Hanson Audio Video of Dayton, OH for not only assembling such a superb system—a tie with the system from Goerner Communication for Best Sound on Floor 5—but for also having such a young, devoted, and knowledgeable staff. Bravo.
"Beautiful midrange. James Taylor sounds gorgeous. Really lovely. The warmth of the system also comes through on a MoFi LP of Tchaikovsky's 1812 Overture, conducted by André Previn. Climaxes are handled wonderfully."
That's what I managed to write as 6pm approached and energy began to fail. Speakers were an older iteration of the time-proven Bowers & Wilkins Nautilus 802 ($8500/pair). Add in a Balanced Audio Technology VK-32 preamp ($6750) and VK-P5 phono stage ($3000), Oppo 105 Universal Player ($1200), McCormack DNA-750 monoblocks ($10,000/pair), many more components that I don't have the energy to type, and a bundle of all-important, brand new Silnote Audio cabling that, for some strange reason, is not listed on the room price sheet. But regardless of names or model numbers, it's clear that the Silnote Audio cabling was doing something very, very right, because this was one of the finer sounding systems on Floor 5.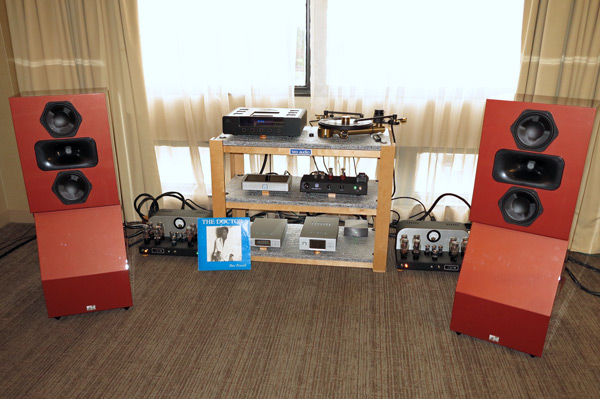 Day 1 ended in the Essential Audio room dominated by AudioKinesis Zephrin 46 loudspeakers ($4900/pair until July 1). The speakers are recently updated with a new Waveguide and new beryllium diaphragm compression drivers ($1000 extra).
Paired with turntable and trimmings from Kuzma, fairly new Aurender N100 music player/streamer ($2499), Exogal Comet Plus DAC ($3000), Atma-Sphere electronics, and cabling from Clarity Cable and Teo Audio, the sound was invitingly warm but a bit hooty on guitar. Hi-hat and brushes on cymbals sounded just right. There also was a bit of midrange boost and extra resonance that many will find to their liking.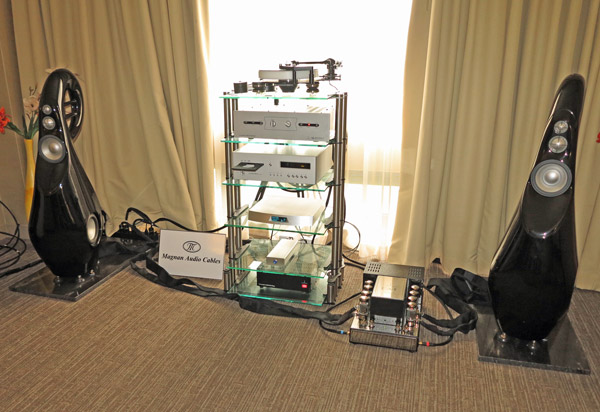 What better way to start one's day than on a new floor, Floor 3, in a room whose sound invites superlatives? Then again, what else would one expect when the set-up team includes a concert pianist, George Vatchnadze of Chicago's Kyomi Audio (top left), and a music lover with impeccable taste, Philip O'Hanlon of On A Higher Note (top right), sandwiching yours truly?
No sooner was I in the door than George asked me to choose a title from a prized box set of SACD remasters of Von Karajan opera recordings. It's only 10:15am, and I have to choose between death by firing squad, death by suffocation in a pyramid, or live out my life in a nunnery? Oy veh, what have I done to deserve such a fate?
Okay, George, rather than living and dying for art, Aida's Tomb Scene it shall be. Tenor José Carreras sounded gorgeous, but Mirella Freni sang with far too little girl freshness and innocence for someone about to die. Timbres were extremely natural and true, and the ring on Carreras' voice just right. Most important, every emotion these artists' voices conveyed, whether appropriate or not, went straight to the heart. What more can one ask from an audio system?
Yes, there was a bit of dryness, caused by a component not fully broken in, and the last iota of sparkle on top was absent. But there's no question that this system sounded heavenly. Tonal distribution from top to bottom was superb on every voice and instrument I heard. And when we switched from the Lumin A-1 Network Player ($7200) to the brand new Luxman D-08u CD/SACD player/USB DAC ($18,000), the top grew more lively, the sound more liquid, and the leading edge of voices and instruments even more lifelike.
On vinyl, "Bye Bye Blackbird" from Analogue Productions' reissue of Ben Webster Meets Oscar Peterson sounded gorgeous, and Frank Sinatra world-weary perfect for the material he was singing in 1965. As far as emotional truth was concerned, both digital and analog came out on top.
Three cheers for a system that, in addition to the two aforementioned components, consisted of Vivid Giya G3 loudspeakers ($40,000/pair); CAT JL5 amplifier ($13,000) and CAT SL1 Renaissance Black Path Edition preamplifier with phono ($12,000), Townshend Rock 7 turntable ($3900), Helium Omega tonearm ($3100), Symphonic Line RG-8 Gold Mk.II ($7000), Magnan Signature interconnects ($1600), Magnan Signature speaker cables ($1000), and Magnan Signature power cables ($1100). One of the floor's and show's best.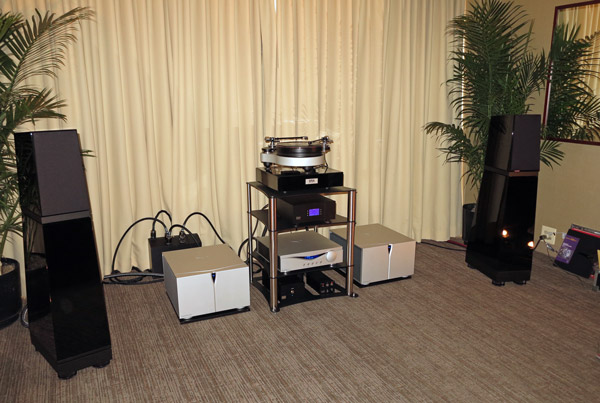 The partnership of Jeffrey Catalano of New York City's High Water Sound and Paul Manos of Hingham, MA's High Fidelity Services was not only felicitous, equipment-wise, but also provided some of my finest musical experiences at AXPONA. The analog system, which included two premieres—the Verity Audio Amadis S loudspeakers ($33,995/pair), which were released last fall, and Audia Flight's new reference series, 500 watts/channel, handmade in Italy Strumento No.8 monoblock amplifiers ($65,000/pair), as well as a new mat on the TW-Acustic Raven GT SE turntable ($12,500) that was developed in collaboration with Zanden—produced absolutely right on timbres and gorgeous sounds.
First up, courtesy of Jeffrey, was violinist David Oistrakh's mono LP of Bruch's Scottish Fantasy. Of the set-up, which included two 10.5" TW-Acustic tonearms ($11,000), and two Miyajima cartridges, the Madake ($5900) and Zero Mono ($2000), Catalano said, "It's the proper mono cartridge, and the proper London Decca EQ."
It was also, hands down, the most intimate and emotionally revealing experience I have ever had of a violin reproduced so up close and personal. The clarity with which Oistrakh's violin sang his heart out was extraordinary. You can quote me.
As wonderful as 88 Basie Street sounded, another musical epiphany was yet to come. I had read about Betty LaVette for years, but the first time I actually sat down and heard her astounding artistry was on her Interpretations LP rendition of "No Time to Live." What a brave woman to bare her soul as she does, and dive, head first, into the heart of music. And what an incredible system to present her voice in such a naked and truthful manner.
Also doing the honors: Audia Flight Strumento No. 1 preamplifier ($17,500), TW-Acustic Raven Phono preamp ($17,000), Unity Audio Design Reference Series cables ($15,200), Custon Design UK Definitive XL Series rack ($1595), and Silent Running Ohio Base XL isolation platform ($2800). In my opinion, if you've got the cash, and you love analog, this is a system to grab. It produced more than one of the best sounds of the show—it demonstrated how the marriage great electronics, set-up expertise, and musical taste can move us to the core. Next time you run into an audiophile denialist, sit them down in front of a system like this, and discover if the real problem is that they can't tell the difference between music and Muzak.
Remember Carlos Estevez, my unofficial poster boy for AXPONA/AudioCon 2015, who flew to Chicago from Ames in search of new speakers? Well, after hearing the Harbeth Super HL-5plus loudspeakers ($6795/pair in cherry, more in other woods), which Art Dudley reviews in the May Stereophile, he had this to say:
"I love the smoothness of the range and how good and grain-free they sound at the top," the veterinary vaccine researcher told me of our joint audition in the room sponsored by Walter Swanborn's Fidelis AV. "I also liked the more expensive Bowers & Wilkins 802s, which do a much better job in the bass; the over-my-price range Sonus Faber Lilliums; and Robert Woods Acoustic Zen loudspeaker. But I'm going with the Harbeths."
The sound of Ella & Louis together on 45rpm was very beautiful. A file of Mozart sounded a little ultra-smooth and restricted in dynamics—it may have been the recording—but quite beautiful in the midrange. The room was too packed to hear more—it was a Saturday, after all—but what I did hear confirmed the wisdom of Carlos' decision.
Doing the honors, in addition to the Harbeths, were Vinnie Rossi's LIO integrated amplifier with DAC and phono modules ($5495 total). The LIO includes a tube input preamplifier, phono preamplifier, DSD/PCM DAC, and ultra- capacitor power supply that runs, according to Swanborn, "totally off the grid." Also present were Tellurium Q Black Diamond speaker cable ($4495/3 meter pair) and interconnects ($1900/meter); Resonant Woods Custom Speaker Stands ($695/each), and Stein Music Harmonizers and new Blue Sun room acoustic treatment ($750/each, and best used in combination with the Harmonizers).
I thought the brand new, 101dB-sensitive Soundfield Audio D1 Open-Baffle loudspeakers ($12,000/pair) with front and rear planar-magnetic horn mid-tweeters, horn super-tweeter, and 12" active Rhythmik Servo sub a standout for the price. Paired with brand new Belles MB60 mono amplifiers ($9995/pair) and newly updated VT01 V2 preamp ($5495), as well as Viero cables, there was a bit of booming on bottom, but a fine midrange and top. Bela Fleck & the Flecktones sounded mighty fine streamed wirelessly from Tidal.
Next up was the new Scaena Mainframe Server ($4900), paired with Mosaic Acoustic Illumination loudspeakers ($19,850/pair); Scaena Speaker Maximizers (subwoofers—$8900/pair); Allnic's A-500 DHT mono amplifier ($19,900), L-5000 DHT linestage preamplifier ($22,900), and DAC D-500 DHT ($11,900); Theorem Science Wave Bridge power conditioner ($9850), and WyWires and Mosaic Audio Nu cabling. This direct heated triode system produced lots of bass slam and show, but lacked warmth.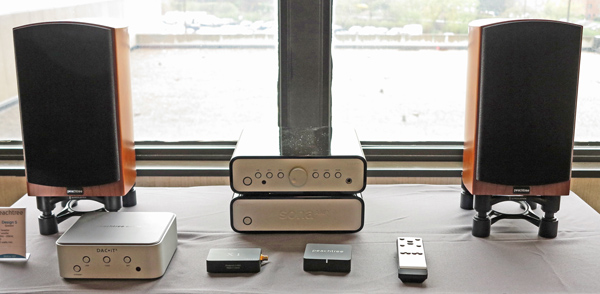 Debuting in Munich in two weeks, and seen at AXPONA in static display, were Peachtree Audio's new 150Wpc class D stereo digital preamp, the sonaAMP, and companion 32/284/5.6 DSD digital stereo preamplifier/headphone amplifier, the sonaDAC. Both are slated to ship in July.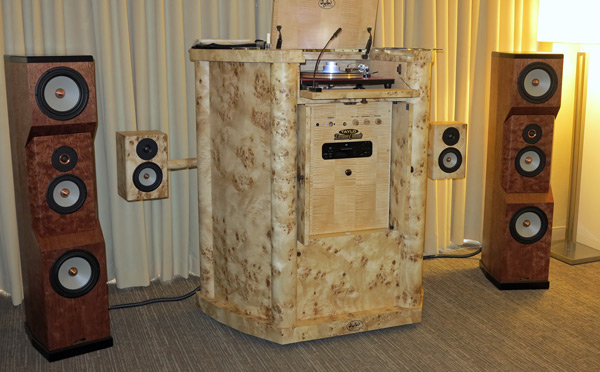 Let's end this blog with a definite conversation piece, The Taylo Dream Console ($28,000) from Tyler Acoustics of Owensboro, KY. There was too much talking to evaluate this baby, which includes a Tyler Acoustics Taylo full-range speaker system, a VPI turntable, and other components from Rogue Audio, Teac, Musical Fidelity, and DH Labs. But it's certainly a contraption that could haunt you in your sleep, or bring back memories of putting all your spare change in the jukebox and asking Ellen Schmidt to go steady.