GALLERIES
You are here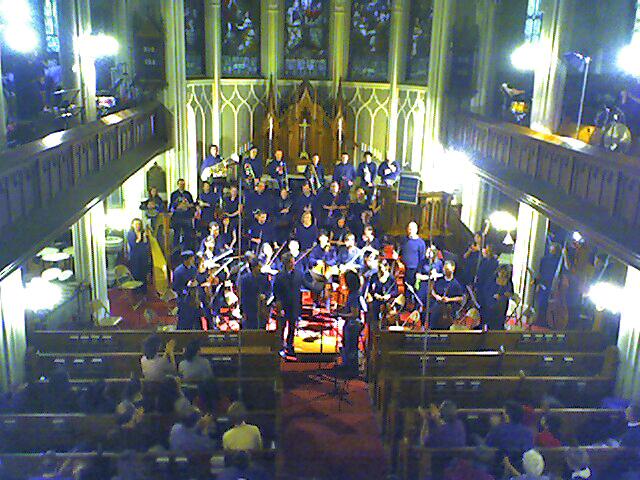 David's new work, "Urbanicity," is subtitled "Assault of the Senses" and Sunday's concert at the Church of St. Paul in Manhattan's Chelsea district was indeed an assault, as a full symphony orchestra, with doubled woodwind and brass sections, a harp, and no fewer than 9 percussionists filled the tiny church with sound.
Captured with my cellphone from the balcony, David, with his characteristic mane of hair, can be seen at the right in front of the Chelsea Symphony Orchestra, with conductor Yaniv Segal in the canter. "Urbanicity, says David, "is an attempt to capture the diversity and energy of New York City" with "driving funk rhythms... overlaid with dissonant, twentieth-century classical harmony." Blending elements of jazz and urban music with Stravinsky-esque moments and even a classical fugue, I'd say David succeeded: if Gershwin could paint a musical portrait of an American in Paris, David did equally as well at portraying the shock and splendor of an American finding himself in New York. Even with minimal rehearsal, the young players of the Chelsea Symphony managed to pull out all the stops. A gloriously physical experience.
David Chesky Premiers "Urbanicity"
Views: 2823
Dimensions: 640x480
Size: 384kb