Ciamara & The Audio Doctor: Taking the Intimidation out of Buying Audio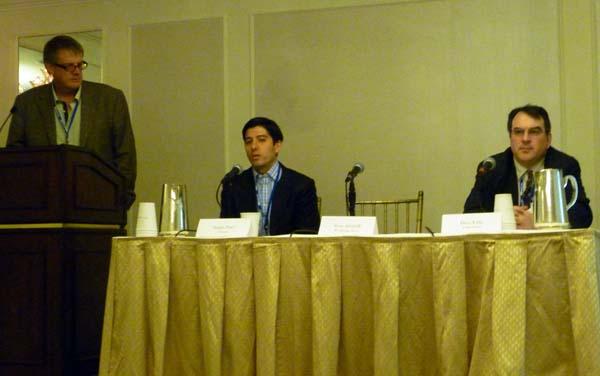 The New York Audio Show was highlighted by several outstanding seminars, providing additional value and even greater joy to a weekend-long event that was already packed with entertainment. I wish I could have attended all of the seminars, but, somewhat sadly, I actually missed most of them. I did, however, make it to the Saturday afternoon session of one well-attended seminar titled "Take the Intimidation out of Buying Audio," moderated by Sound + Vision's Brent Butterworth and with representatives from two unique NYC-area dealers: Ciamara's Sanjay Patel and the Audio Doctor's Dave Lalin.
When asked why a dealer is necessary to the hi-fi shopping experience, both Patel and Lalin cited their intimate knowledge, not only of individual components and brands, but especially of building complete systems that work well in a number of environments and with a wide range of music. Both dealers take a "system-oriented" approach to achieving high-quality sound in the home, and neither are shy about mixing and matching components from different companies. To that end, both Patel and Lalin carry a wide range of products from many different manufacturers.
But neither Patel nor Lalin want to put too much emphasis on the equipment. "We're not in the equipment business," said Patel. "We're in the relationship business." After any purchase has been made, the customer should expect support and guidance from his or her dealer to ensure long-term satisfaction with the system. A customer should be able to rely on his or her dealer to work through any problems or general concerns that may arise throughout the course of the relationship.
When asked to discuss the prices of high-end audio equipment, which often seem exorbitantly high to non-audiophiles, Lalin made the point that, in general, better performance can be found from higher-priced products, but only when those products are partnered together in an intelligently built system. He compared the purchase of a high-end audio system to that of a kitchen renovation, which, while similarly expensive, doesn't come with the same sticker shock. "We spend far less time in the kitchen than we do in our entertainment rooms," he said. "Hi-fi is an investment in the quality of our lives."
Patel agreed, but added, "I don't necessarily think there's a linear relationship between price and performance."
When asked what steps, if any, a prospective buyer should take before meeting with a dealer, Patel smiled and said, "A little bit of knowledge can be dangerous, but too much knowledge can also be dangerous."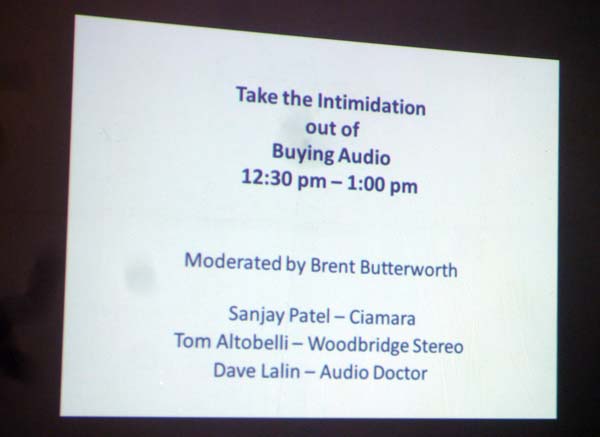 Butterworth quipped, "Exactly what amount of knowledge isn't dangerous?" But Patel wasn't fazed: "Knowing what components you're interested in can be great, but you should definitely approach your dealer with an open mind."
"It's not a good idea to go to a dealer thinking, 'I want to spend a certain amount of money,'" Lalin added. "Definitely keep an open mind."
Before concluding the discussion, Lalin addressed what he sees as one of the biggest problems facing the high-end audio industry: a lack of marketing, specifically to the younger generation. "The high-end audio industry is doing a terrible job of reaching out to youth."
But Lalin and Patel agreed that new-found popularity in desktop audio, computer audio, headphones, and vinyl can change that, if the high-end embraces those markets aggressively and intelligently. "Vinyl is extremely popular to young people," Patel said. "It's been a long time since hi-fi was considered 'cool,' but it's happening again."
He added, "Sometimes, we can take this all a little too seriously. It should really be fun."
---
For more on the Audio Doctor, see
my report from December 2011
. Visit Ciamara
here
.