Chord Electronics Mojo D/A headphone amplifier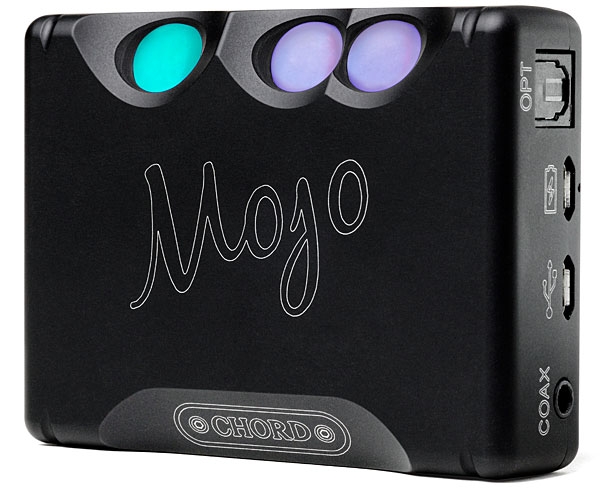 Like all men, I learned at an early age to resist the allure of a pretty face.
Okay—I learned that I should try to resist the allure of a pretty face.
Okay, I confess: I have never been able to resist the allure of a pretty face. Which is why, when I first clapped eyes on the Mojo D/A headphone amplifier from English company Chord Electronics, at an event hosted by Manhattan retailer Stereo Exchange (see photo a few paragraphs below), I had to borrow a sample for review.
Yes, at $599, the Mojo—the name is short for Mobile Joy—is a little more expensive than some similar products. But with its matte-black finish of anodized aluminum and its three illuminated, matte-surfaced glass balls, set in machined recesses on the top and controlling power and volume, it is drop-dead gorgeous. The nonslip feet, and Chord's laser-engraved logo and name, all add to the luxury feel, as does the fact that the on/off glass ball changes color according to the data's sample rate: red for 44.1kHz, green for 96kHz, blue for 192kHz, white for DSD. The volume up/down balls also change color, in a range of brown to white, according to the level—at my preferred listening level with 88.2kHz-sampled data, all three balls glowed a soft orange.
But as all men know in their hearts, beauty is not just skin-deep. Inside the Mojo's elegant exterior beats a heart of modern silicon. As with Chord's Hugo TT, which Jon Iverson reviewed in November 2015, the Mojo's digital circuitry is realized with a field-programmable gate array (FPGA) chip, in this case a low-power-consumption Xilinx Artix-7. The Mojo will work with PCM data sampled at rates from 44.1 up to an astonishing 768kHz—which would seem overkill, given how little music is available sampled at even half that rate—and its USB input is compatible with DSD data sampled at 2.822MHz (DSD64), 5.64MHz (DSD128), and 11.29MHz (DSD256). In short, in terms of the digital file formats it will accept, the Mojo is fundamentally future-proof. The icing on the technological cake is that it uses veteran Chord designer Rob Watts's high-resolution digital reconstruction filter.
Got my Mojo Working
On one end of the Mojo are two Micro-USB B ports: one for data, the other to charge the Mojo's lithium-ion polymer battery. Although no charger is included, the Mojo can be recharged from any 5V, 1A USB supply, or from a computer's USB port. Using the supplied USB cable, I used the supply for my iPad 2 to give my review sample its first charge. A tiny LED glows white while the battery is charging (this takes about four hours), and goes dark when charging is complete. The same LED glows blue, then green, then red during use, and the battery is claimed to provide eight to ten hours of continuous use, which is what I found. The Mojo gets warm when its battery is being recharged, considerably less so when it's being used.
To turn the Mojo on or off, you press and hold the power ball for two seconds. Once you've turned it off, you have to wait five seconds before it can be turned on again. When you do, the Mojo remembers its most recent volume and brightness settings. If you press down both volume-control balls when you turn the Mojo on, its maximum output will be set to a fixed 3V, with both volume balls illuminated light blue, for use with a separate preamplifier.
As well as the USB input, there are two other digital inputs: optical S/PDIF on a TosLink jack, and electrical S/PDIF on a 3.5mm jack. The optical input will work with data sampled at 192kHz, the electrical input up to 384kHz. No setup is required when the Mojo is used with Mac computers; as always with Windows machines, a USB driver program, which can be downloaded from Chord's website, needs to be installed. The computer's USB port needs to conform to the 2.0 specification if high-sample-rate data are to be correctly sent to the Mojo. No setup is required with iOS 6 or later or Android 5 smartphones or tablets, but an "on-the-go" cable is needed with Android devices, and a Lightning–USB "camera connection kit" with Apple devices (footnote 1).
At the Mojo's other end are two short-circuit–protected 3.5mm stereo headphone jacks. These have a very low specified source impedance, and are said to be compatible with headphones having impedances from 8 to 600 ohms.
Listening
I used three main sources with the Mojo: via USB from a MacBook Pro running Pure Music 2.0; via USB from an iPad 2 running iOS 9.1 and using Apple's camera-connection kit; and via a TosLink optical connection from my Astell&Kern AK100 portable audio player. I used either AudioQuest NightHawk or Audeze LCD-X headphones at home, and Ultimate Ears 18 Pro in-ear monitors (IEMs) on my commute.
My comments are mainly an amalgam of my experience of all three sources with all three headphones. But with the Ultimate Ears IEMs, the low frequencies sounded a touch thickened, which may be due to my being more used to their balance when they're driven by the A&K player, which has a higher output impedance. Even so, with the AudioQuests, the bass sounded a little overcooked in Rachmaninoff's Symphony 3, with Leonard Slatkin conducting the Detroit Symphony Orchestra (DSD64 file, Naxos/Acoustic Sounds).
The Audeze headphones proved to be the best match with the Mojo, as Jon Iverson had found they'd been with Chord's Hugo TT. The pipe organ's 32' register on my recording (as yet unreleased) of Jonas Nordwall performing the Toccata of Widor's Organ Symphony 5 (24/88.2 AIFF file) was reproduced with the appropriate low-frequency authority. The double basses in Mozart's arrangement of J.S. Bach's Adagio and Fugue in c, with the Scottish Chamber Orchestra conducted by the late Sir Charles Mackerras (24/96 ALAC file, released on SACD as Linn CKD 211), sounded suitably gutsy, and the Mojo's reproduction of this was, overall, notable for its smooth, grain-free highs. With the Chord DAC driving the AudioQuest NightHawks, the high frequencies were still silky smooth, but there was a slight reduction in HF air.
Even so, with Eriks Esenvalds's Northern Lights, sung by the Portland State Chamber Choir on their Into Unknown Worlds (24/88.2 AIFF file, CD Baby), while the soundstage was, of course, confined within my head with this conventional stereo recording, the Mojo/NightHawk combination finely resolved the spatial information. Images of individual singers were both stably positioned and set within the warm, supportive acoustic of Portland's St. Stephen's Catholic Church, where I had made the recording. The eerily dissonant sound of the sustained wineglass chorus surrounded the choir, and at the very end, when producer Erick Lichte had made it sound as if the tenor soloist was receding into the background by fading down the solo microphone I'd placed close to him, the effect was uncannily real.
And with my 1980 binaural recording of the Battle of Britain Memorial Flight—propeller-driven Spitfire and Hurricane fighters, and a four-engine Lancaster bomber—streamed from this link through the Mojo-Audeze combo, the airplanes (sorry, aeroplanes) were unambiguously placed in front of and above my head. Again, uncannily real.
Chord's Mojo combined authoritative, well-defined low frequencies with smooth, detailed highs and excellent soundstaging. But its sound needed to be put into a competitive context.
Comparing
Jon Iverson reviewed the Apogee Electronics Groove USB DAC–headphone amp ($295) in January 2016. The Apogee offers much the same functionality as the Chord Mojo, except that it doesn't indicate sample rate. It does have a rudimentary level meter, but it won't play DSD files, and it maxes out at 192kHz sampling with PCM data. Jon had very much enjoyed his time with the Groove, and instanced a cover of Pink Floyd's "Shine On You Crazy Diamond," from Christy Moore's Listen (ALAC file ripped from CD, Sony BMG 88697480002), as demonstrating the DAC's strengths: "Right off the bat, through the Sennheiser HD600s, the Groove revealed every detail of Moore's great voice, each breath and reverb tail clear to the end."
As I'd bought a pair of Sennheiser HD600s years ago, I set up the Apogee with them, and played the Moore track from my laptop via Pure Music. This is, indeed, a great-sounding combination. Moore's baritone brogue sounded rich, the solo guitar was bathed in a gentle amount of reverb, and the background organ, recorded in stereo, was set well back on the soundstage. When I plugged the Sennheisers into the Mojo and matched the level by ear, both DACs sounded very similar at high frequencies. However, the reverb on Moore's voice and the solo guitar was more clearly resolved than it had been through the Groove. The double bass in "Shine On" was better differentiated from Moore's lower register, with more midbass weight.
I then repeated the comparison with the Audeze LCD-Xes. The overall balance was a touch more forward than with the Sennheisers, but the same differences again favored the Mojo. The Apogee is very good indeed, but the Chord DAC undoubtedly performs at a higher level—as it should, at almost twice the price.
My next comparison was with the Aurender Flow D/A headphone amplifier ($1295), which I reviewed in June 2015. The Flow offers more functionality than the Mojo, as it should for another doubling of price, and it also handles DSD files and PCM files sampled at rates up to 384kHz. I had concluded my review of the Flow by saying that "its light tonal balance will be a better match with relatively dark-sounding headphones like the Audeze LCD-Xes." I was reminded of that conclusion when I listened to the Christy Moore track with the Flow driving the Audezes: clarity combined with a tonal quality that was evenly balanced from top to bottom. The same qualities were true of the Portland State Chamber Choir's recording of Northern Lights, with both the hall's reverberation and the sound of the chorus of wineglasses well differentiated from the images of the singers.
When I then had the Chord Mojo drive the LCD-Xes and again matched levels by ear, the balance of Northern Lights was warmer, with a more fleshed-out midrange than with the Flow. The resolution of the recording's reverberation was very similar. My impressions of the differences between the two DACs were identical with Christy Moore's Pink Floyd cover. On balance, I preferred how the Mojo reproduced music.
Mojo Rising
Yes, Chord's Mojo is beautifully styled. But it also produced beautiful sound quality with all four of the headphones with which I tried it. All I can say is "Wow!"
---
Footnote 1: Although Chord's manual for the Mojo says that the iDevice needs to have Apple's Lightning connector rather than the older 30-pin port, my iPad, which has the 30-pin port, worked fine with the appropriate camera-connection kit.