Chick Corea: Pioneering Jazz Pianist Page 2
Micallef:
What do you and he discuss regarding sound?
Corea: Well, Bernie understands the part of sound that's got to do with what microphone and what processor and what gizmo is used, things I don't know much about. I want to hear certain things in the mix. When we mix, especially small groups—duet, trio, quintet, even the Spanish Heart Band—we listen for size. We use the term "size." Have you listened to trio records where the drums are in the kitchen? You can't hear the damn drums! And the piano is in your face. And the bass is so loud. You've heard those kinds of records.
So the way I make my music with my trios, which is the basic unit of any group I put together, is everyone has to be the same size in the mix. So when you're looking at the sound and you're listening, whether in the headphones or up on the external speakers, we envision the size of the musicians. Is the drummer or bassist too small? What I try to do is get the musicians to be in equal size just like in live performances where you hear all the instruments evenly. Bernie knows how to get that.
Micallef: You're on the mountaintop, but is jazz in a healthy state?
Corea: You can't use that word anymore, man. If you want to go into a conversation that makes no sense at all, use the word "jazz." The reason is, it's a total marketing term, and it's not real. If you come out on the road with me, and you meet the musicians and you see all of the various bands and the young artists and the old artists and you see the combinations of music that they play, you can't call it anything. A promoter of a concert or a guy who runs a record company trying to sell records, the ones who sell music, they use that term. Very often I'll get low-balled by people who sell music when they consider that I'm a jazz musician. "Chick is a jazz musician! So he can't bring in that many people since his music can't reach that much of a public. So we'll pigeonhole him." That's why I hate those terms, because they're so unreal, they don't apply to real life.
But, having said that and gotten that out of the way, there is a factor of what an audience can understand and like and how you communicate to an audience.
Micallef: And you are great with an audience.
Corea: It's easier for me to communicate live to an audience because I connect with my audiences and say hello to them. "Hello. How are you doing?" We get in a good rapport, and I can go out on any limb musically that I want and they'll come along with me. Because after I've returned from Mars and I've landed back on Earth again and the song is over, I can see what their response is and I can talk to them a little bit and bring it back down to earth. But you can't do that on a record. See, it's hard to do that on a recording, people listen and they either get it or they don't. Then there's the media and how jazz is presented to the public. And that's a factor in your first question, why Asians and Europeans respond more to fine music, it's because of what is presented to them on radio and TV. "Jazz" is a tricky word.
Micallef: Antidote sounds like an expanded version of the original My Spanish Heart record, even though that was two LPs. Why did you return to that theme, and what did you want to do differently with the music?
Corea: It started out as a tour, not a record, because I wanted to do something special for this summer tour, and I came up with the idea. I noticed sometimes bands that have been around a while, they'll take a recording that they made that stays in the public eye. They'll return to it and do a tour based on that recording and play all the music from that recording. I thought doing that might interest people. I can't play them all the music from all of those records, but I could do something like that. So I chose My Spanish Heart, and I put a band together in the spirit of that music.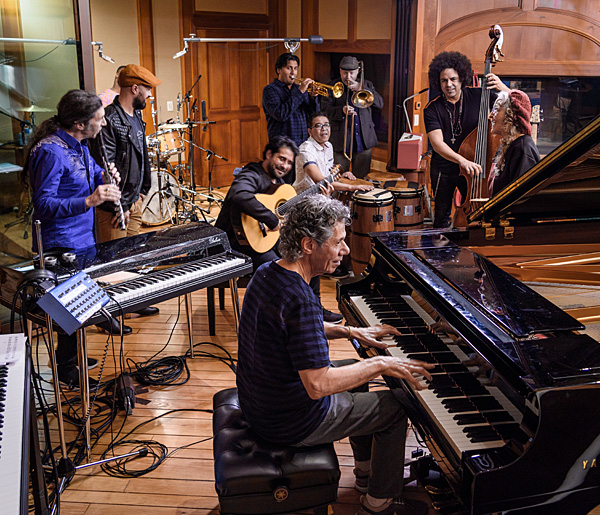 I gathered this amazing group together which includes Ruben Blades, Jorge Pardo (saxophone, flute), Niño Josele (flamenco guitar), Michael Rodriguez (trumpet), Steve Davis (trombone), Carlitos Del Puerto (bass), Marcus Gilmore (drums), and Nino de los Reyes (flamenco dancer). And when I started writing, I drew music from My Spanish Heart and my album Touchstone, but I also wrote some new pieces. I added pieces by Jobim and Paco de Lucía and rearranged everything. Everything on the record is brand-new arrangements.
Micallef: You revisited a couple songs from the original record with your new band. Did you go back and listen to the original record?
Corea: I listened to it a little bit. I think it holds up pretty good. The spirit of it is certainly all there. Me and [engineer] Bernie Kirsh would have probably remixed it a little bit. Actually, I would have probably rearranged it into the record I made this year. [Laughs].
Micallef: You've recorded so many iconic records. Do you know off the top of your head what is your best-selling record?
Corea: I'm not completely sure about that. I know the records from the early '70s, maybe one of the Return to Forever Records is my best selling. Romantic Warrior continues to do very well and Light as a Feather and then My Spanish Heart. I'm going to look into that!
Micallef: Blue Note Records just reissued Now He Sings, Now He Sobs as part of their Tone Poet series. Have you heard that vinyl?
Corea: I haven't listened to that. I wish they had consulted me a little further. I would have maybe remixed it or done something special to it. But I'm glad they put it out again.
Micallef: What's your hi-fi setup at home?
Corea: Most of my audio equipment at home is way out of date and out of regulation because I don't use it much as I'm a working, touring, gigging guy and as a composer, I'm always moving around. So unfortunately my audio source is my iPhone.
I've got some PMC speakers I've had for many years, which I use for my mixing, where I have my computer. I use Logic and Sibelius as composing tools, and my keyboard is there; it's sort of my workstation. The PMC speakers have served me pretty well through the years. Great speakers. I also have the PMCs set up in 5.1 in my listening room. But I haven't tuned that up in a while. I've got an old turntable as well; it's a Technics, a real old one, like 40 years old. It's the only one that works that I have. But when I get a little bit more time in one long stretch at home, I plan to upgrade my audio system. You can give me some tips.
Micallef: Do you recall the amplification?
Corea: Over at my office I have a magnificent old McIntosh tube amp, with the blue lights. Great, warm sound. I use it with a CD player and that amp really warms up the sound of it. I really love the sound that comes out of that one.