Chick Corea at the Blue Note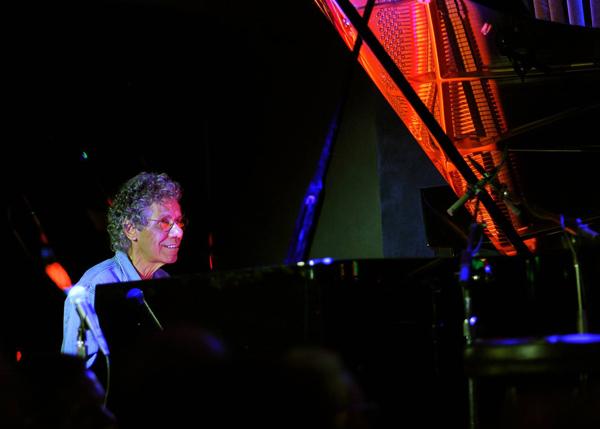 Photo: Dino Perrucci/Blue Note Jazz Club
Chick Corea is at the Blue Note in New York City all for the entire month, celebrating his 70th birthday by riffling through all the chapters of his wildly eclectic career, playing different music with different bands, shifting casts and moods each week, sometimes from night to night.
I caught the early set Thursday, a trio with bassist Gary Peacock and drummer Brian Blade, and it was a thorough delight. Last time Corea played the club, in May of last year, with Eddie Gomez and Paul Motian, in a set he titled "Further Explorations of Bill Evans," I called him "the most insouciant virtuoso in jazz piano," and I'll stick with that.
They played mostly standards and a few pieces by Evans, Monk, and Charlie Parker, first-time out, no rehearsals, with peerless authority but also a loose-limber swing. I was seated at a table with a fellow jazz writer (an old friend) and his brother, who was also an aficionado. The brother complained at the end of the set that it lacked a certain emotional intensity. I saw what he meant, but disagreed. There's something extremely pleasurable in watching, or listening to, a group of masters—whether in basketball, cooking, or jazz—doing what they do, playing off one another to their strengths, at a peak level, even if at a casual pace, for the sheer joy of it.
Originally Paul Motian was billed to be drummer, and no doubt he would have added some intensity. Motian stretches rhythm, corals it to uncharted corners, prodding the band, whipping up a tension that only real artists can resolve, and Corea and Peacock are real artists.
Then again, Brian Blade is no mere time-keeper (though he's that too); he's the force, after all, that makes Wayne Shorter's quartet swing and storm. But he is different from Motian, and in ways that Corea seemed to want that night. It's the same sort of difference as when Roy Haynes briefly stepped in for Elvin Jones in Coltrane's "classic quartet." Talk about intensity: Jones drilled into a rhythm, sent the rocks flying in a dozen directions, somehow keeping all of them under control (though just barely), sending Trane and the others into their own controlled frenzy; some of those tracks can make you sweat, just listening to them. (Check out The Complete Live at the Village Vanguard.) By contrast, Haynes spread out the rhythm, in waves. He lent the ensemble a lithe lyricism that they otherwise couldn't attain.
The same is the case here with Blade. He spreads, shuffles, throws the occasional tom-tom bomb, always surprises, but stays more in the background, serving the rhythm more than turning it topsy-turvy.
All the sessions in Corea month are being recorded, at 24/96. (Are you reading this, David Chesky?) Some will doubtless be released. And, by the way, highlights from the "Further Explorations" sets of last year, which have been available on CD only in Japan, get a US release from Concord in January. Get that one.