Charlie Haden & Gonzalo Rubalcalba, Tokyo Adagios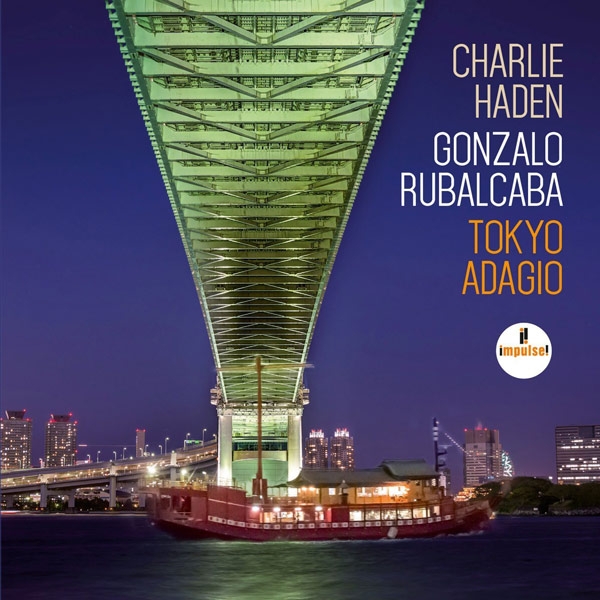 Charlie Haden, the most inventive bassist of his generation, died at the age of 76 a little more than a year ago, but his widow (and producer-manager), Ruth Cameron-Haden, says he left behind many unreleased tapes of live concerts. So it's likely, thankfully, that we haven't heard the last of him.
The first nugget from the archive, Tokyo Adagio (on the Impulse! label)—live duets with the pianist Gonzalo Rubalcaba, taken from a four-night gig in 2005 at the Blue Note jazz club in Tokyo—is a gorgeous album, an auspicious beginning.
As Ruth tells it, Haden listened to a number of these not-so-old tapes in his final months, was particularly taken with this one, urged Jean-Philippe Allard, his longtime record producer and friend, to take a listen and put it out, and so here it is.
Haden first saw Rubalcaba play at a jazz festival in Havana, in 1986, when the pianist was 23, and ran up to meet him afterwards, plotting some way they could play together, which they soon did in Canada, a gig that eventually led to a recording date, for the album Nocturne, also featuring Joe Lovano, Pat Metheny, and, on some tracks, strings. (For all the marks he made as a free-jazz pioneer and left-wing activist, Haden was nothing if not a romantic, at times a sentimentalist.)
The new album features some of the same tunes from Nocturne, notably "Transparence," a lovely ballad composed by Rubalcaba, but these live duet tracks make for, I think, the better album, certainly the more bracing one.
Haden always loved duets, lured by both the intimacy and the danger (there's only one other person to play off, with no place to hide, no time to rest). As the title suggests, Tokyo Adagio consists entirely of slow songs, and Haden loved those too. (One of the most versatile bassists of his day, the only musicians with whom he didn't quite meld were be-boppers, whose focus on structure and rigid chord-changes reined him in more than he liked. I'm thinking, for instance, of the few sessions he did with Art Pepper.)
Rubalcaba, 42 when these sessions were recorded, was (and is) an extraordinarily fluid player, but not a racer for its own sake; he maintains an agile grip on the spirit of a song. Haden's role, as usual, is at once subtle and fundamental: you can listen casually and barely notice what he's doing; but listen closely, and you hear that he's the heart of the music. Rubalcaba is cruising down the highway; Haden's nudging, or careening, the steering wheel, shifting the gears, modulating the ride.
The album doesn't match the magic of Haden's 2007 sessions with Keith Jarrett, Jasmine and Last Dance (released on ECM in 2010 and 2014, respectively). But I'd place it on the same level of quiet swing and serenity as Night and the City, his noir-ish sets with Kenny Barron, recorded live in 1996.
The new album sounds better than it should. The source is a stack of CDs that the Tokyo club's soundman gave him at the end of the gig. After listening to them eight years later, Haden took them to Jay Newland, his longtime recording engineer, who transferred the material to 24/88.2k files, then mixed them and applied some EQ, mainly to give the bass a jolt of Haden's big, rich sound. The results don't sound as present or vivid as Nocturne, Night and the City, the Jarrett sessions, or many of Haden's other albums—Charlie was something of an audiophile—but it sounds pretty good: the piano sparkles, the bass snaps, there's a trace of ambience in the space in between; there's nothing to distract you from the music. Don't pass this by because it's not a demo disc for your high-end stereo. This is gorgeous music.