C.F. Kip Winger: From Rock to Ballet in Hi-Rez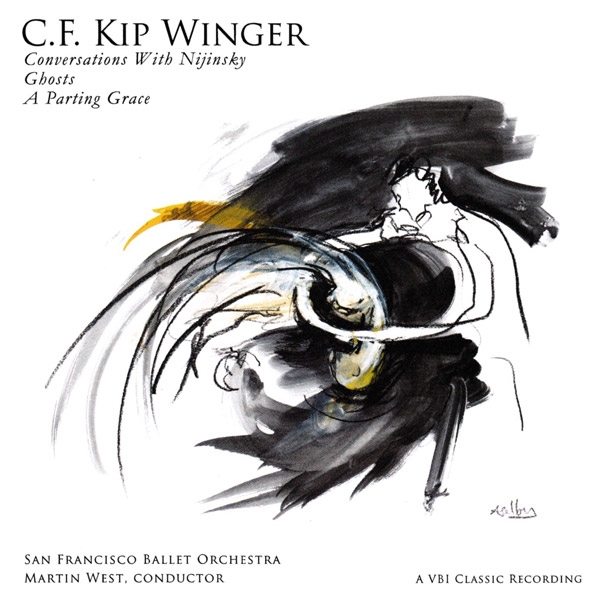 This release from VBI Classic Recordings,
C.F. Kip Winger
, is not only for all the rock'n'rollers amongst us, but also for lovers of classical music and ballet. That's because it showcases three ballet-inspired scores by the very same of C.F. Kip Winger who founded and lead the rock group,
Winger
. He's also the same Kip Winger who played bass with Alice Cooper from 1985–1987, and performed and recorded with Alan Parsons, Roger Daltrey, and Bob Dylan.
You might be tempted to think of Winger as a dabbling dilettante of sorts, one who is following in the classical footsteps of Paul McCartney and Neil Sedaka. In point of fact, Winger's debut classical recording shows him adept at creating beautiful and intriguing music that sounds light years apart from rock.
Expertly recorded at Skywalker Sound by Leslie Ann Jones, with help from a team than included Sean Royce Martin of Reference Recordings, the album was initially released on CD. Now, months later, it is about make a second coming as a hi-rez, 24/96 download that will be available on all the major sites.
The lead work, Conversations With Nijinsky, is inspired by the fabled dancer who premiered Stravinsky's Rite of Spring. The work was composed while Winger was studying composition with his composer/teacher, Richard Danielpour. Begun in 2012, it grew organically out of Winger's life path, which at age 16 took him from an initial interest in martial arts to the study of ballet. At the same time that he was playing covers of Led Zeppelin, Aerosmith, Van Halen and others, Winger was listening to ballet scores by Tchaikovsky, Ravel, Stravinsky, and Debussy. and allowing them to inspire his flights.
When the final movement of Conversations With Nijinsky was performed by the Tucson Symphony a few years back, it made such an impact on Tamara Nijinsky, daughter of the famed dancer for whom it is named, that she declared, "Kip Winger has captured my father's heart and soul. Many have been inspired by Nijinsky in words and dance, but no one, until now, in music. Nijinsky was inspired by the music he heard. And now, Kip Winger reminds us of Nijinsky's genius with his work."
Of course, it is fair to say that unless the music was a total travesty, Nijinsky's 90+ year-old daughter would have been prone to love it. But the score really is quite wonderful.
In four movements, Winger imagines how Nijinsky's career might have developed had he not suffered a nervous breakdown in 1919, when he was 29, and been diagnosed with schizophrenia. Vividly performed by the San Francisco Ballet Orchestra under Martin West, Conversations with Nijinsky's extremely colorful first movement, "Chaconne de feu" (Chaconne of fire), shares some of the vital rhythms and percussive excursions that helped set afire Stravinsky's Rite of Spring. Quite lively, and more than a bit carefree, it revels in the drama central to so much ballet.
The second movement, "Waltz Solitaire," seems cut from the same cloth as Shostakovich's grotesquerie. As I listened, I kept imagining elephants waltzing away in the middle of a three-ring circus. "Souvenir Noir," with its misty dark opening, returns to Stravinsky land before bring us to a final "L'Imortal" (the immortal one) movement that starts with the tolling of a bell, then gets very big, and develops from there.
Winger's most widely known ballet score, Ghosts (begun 2006), is a four-movement fantasy that he considers his first piece worthy of publication. The roots of the piece lie in the fact that the studio in Nashville where he wrote it was originally a hospital morgue.
Winger claims that he sensed ghosts around him when he was working. "This may sound kooky to disbelievers, but I was open to the idea that there were some people from the spirit realm in the room," he says in the liner notes. "I used it. I saw images of some of the people and superimposed them on dance characters."
The choreography to Ghosts is by Chris Wheeldon, former Resident Choreographer for the New York City Ballet. Wheeldon first met Winger in 1997, when the rocker was pursuing ballet, and watched his career unfold. In 2007, when Winger sent Wheeldon a recording of one movement of Ghosts, the choreographer bit. Ghosts eventually premiered at San Francisco Ballet in 2012. Since then, it has been performed in Lincoln Center, Sadler's Wells, and Théâtre du Châtelet, the very same theatre in Paris where Nijinsky caused a sensation (and a sensational riot) in Rite of Spring.
Most compelling, to these ears, are Ghost's extremely beautiful Adagio and Finale. The latter picks up energy and indulges in syncopation before ending in a strangely lingering, haunting manner. It's as strong a work as the final piece on the program, A Parting Grace, which is an adagio that may become part of a future concerto for guitar and orchestra. Supremely lyrical, with an undercurrent of quasi-melancholic, nostalgic retrospection, its beauty is wonderfully conveyed by Jones and forces. Winger may envision A Parting Grace as a pas de deux that will eventually become part of a ballet, but it can stand on its own as a lovely instrumental fantasy.
Winger's music seduces with its rhythms, atmosphere, and imaginative excursions. Despite its occasionally derivative nature, it has much strength and variety. For those open to exploration, but who do not feel the need to go to the harmonic ends of the earth to find satisfaction, Winger's freshman foray into the world of classical music is recommended.