CES 2017: An Unlikely, Impromptu Duet at the Venetian.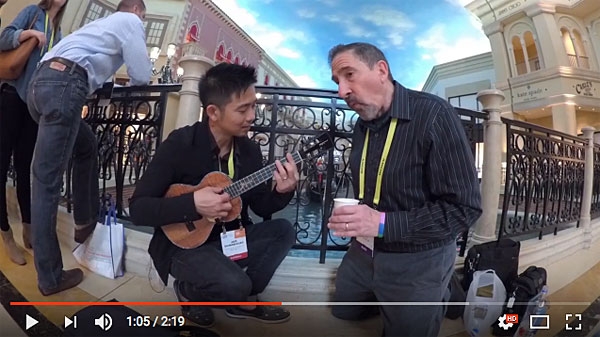 On the final day of the show, our special guest, ukulele virtuoso
Jake Shimabukuro
and our very own
Jason Victor Serinus
came together to form the most unlikely of duos. We originally attempted to film this while in a moving gondola but were sternly prohibited from doing so by the gondola ride manager.
Though you may only know him as an invaluable member of Stereophile's writing staff, Jason also happens to be a whistler extraordinaire! He's "the Voice of Woodstock" in the Peanuts cartoon, She's a Good Skate, Charlie Brown, was inducted into the Whistler's Hall of Fame, and has been dubbed "The Pavarotti of Pucker" by the San Francisco Chronicle.
Watch Jake and Jason perform an enchanting, unrehearsed rendition of the classic "Ave Maria" together: