Harmonic Resolution Systems VXR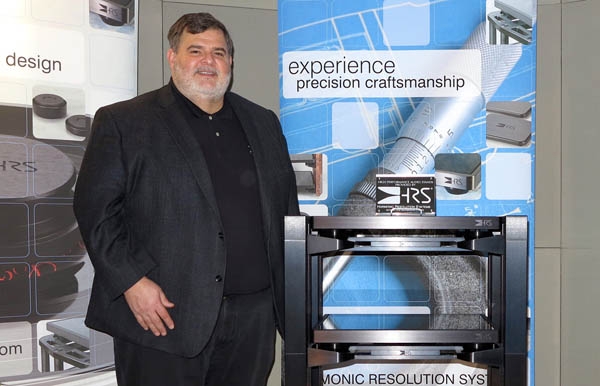 Harmonic Resolution Systems (HRS) showed its new top-of-the-line VXR Audio Stand ($25,000-$31,000 for a four-shelf stand). The stand, which sports a new frame system, was shown by company founder/designer Mike Latvis. The VXR allows the user to adjust the amount of space between each component shelf, as well as choice of isolation base. Those choices have now been increased with the release of the new HRS S3 isolation base ($2195).
Mike, a mechanical engineer and specialist in aerospace vibrational control and control systems, says the VXR offers higher stiffness and mass than their MXR, as well as maximum adjustability and customization. "It can be reconfigured however the customer wants," he said. "It's infinitely changeable. We can get the customer where they need to be at any time without the need to ship the rack back to the factory." The rack can even be made into a double-sided rack with different shelf spacing on each side.