Cardas Celebrates 30 with New Cables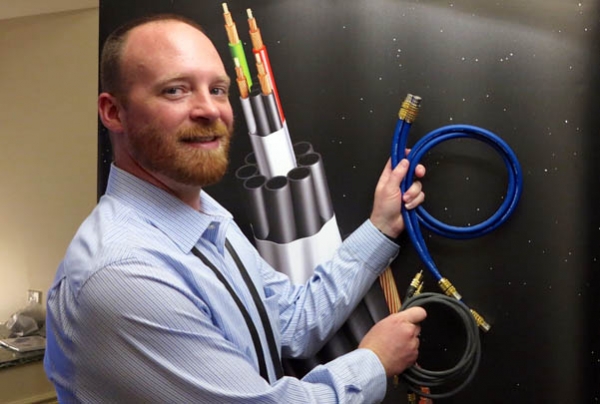 For the start of its 30th anniversary year, Cardas introduced new cables at both ends of its line. At the more affordable end, and replacing their Twinlink speaker and Microtwin interconnect, lies the new Cardas Iridium speaker cable ($320/1.5m pair), Iridium interconnect ($250/1m pair), and Iridium phono cable ($220/1m). Among the improvements are a new star-quad geometry, upgraded terminations, and a far-more-flexible-than-before rubber housing.
"Far better flexibility is the key," said the company's Brian Von Bork (above), as he held up both the Iridium interconnect and the company's new Clear Beyond flagship interconnect ($3750/1m pair). The latter employs a new four-conductor geometry with an air-tube dielectric that creates a virtual air-suspension environment. "The Clear Beyond interconnect builds on the success of the Clear, with better low-frequency dynamics and superior propagation technology," he said.
Cardas also has issued new Anniversary Edition earspeakers. I've left coverage of those to Tyll Hertsens at InnerFidelity.com.