CE Week: Headphones Galore, A DAC, A Small Hi-Fi, and Avoiding Bluetooth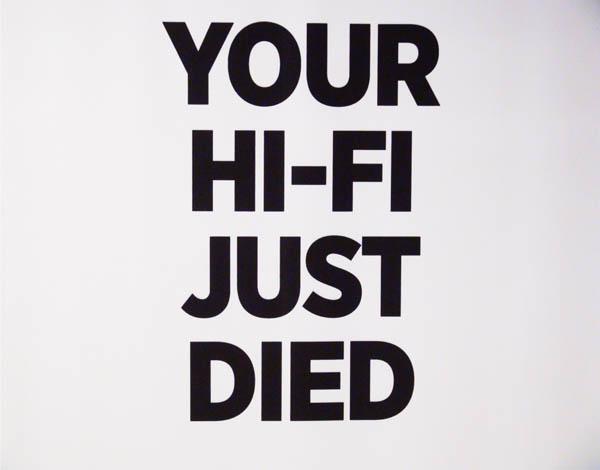 Before leaving for CE Week, a trade event showcasing a general representation of the consumer electronics market, JA cautioned, "I'm worried you may not find many things applicable to our readers." I love a challenge.
Within these table-lined alleys littered with business cards and quesadillas, I aimed to uncover as much two-channel audio as possible. This would include headphones. This would also include an attempt to avoid Bluetooth, as Bluetooth is lossy and has been an unreliable connection for long-term listening in my experiences so far. Would this general representation of the consumer electronics market have products an audiophile could enjoy?
Yes.
Monitor Audio
Monitor Audio exhibited an impressive 2.1 system including the brand new A100, a slim-line class A/B 50-watt integrated amplifier with WiFi, Airplay, DLNA, and VPNP connectivity, RCA and optical inputs, and a low cost of $499. The A100 starts shipping in September.
The A100 powered a pair of tiny stand-mounted Monitor Audio Radius 90 loudspeakers ($499) and a Monitor Audio Radius 380 subwoofer ($699). The Radius 90 loudspeakers use C-CAM (ceramic coated aluminum magnesium) drivers, the same technology used in the Monitor Audio Silver RX6 floorstanding loudspeakers that BJR enjoyed. The tiny system cast a surprisingly large image with well-defined instrument placement that took me away from the surrounding madness for just a minute.
Gefen
The GefenTV High Resolution USB to Analog and Digital Audio Decoder is a USB-powered DAC that handles sample rates up to 192khz. It features an unbalanced output, optical output, and headphone jack. The DAC is offered as part of the $999 Gefen Compact Pro Audio Package, which also includes the GefenTV 2.1 Audio Amplifier and a pair of GefenTV speakers. The Gefen spokesperson mentioned an individual price of $129 for the DAC.
In their press release Gefen's Director of Marketing, Randy Wilson, states, "You can't tell the difference between the music coming from your computer compared to the original CD," and he set out to prove it. At their display, one could compare playback between a lossless CD-rip of Junior Wells' Live at Buddy Guy's Legends through a Macbook Pro and GefenTV DAC versus a CD of the album played on a Denon DBP-2012UCI. One could switch between channels via a Marantz PM-5 integrated amplifier listening through a set of Grado SR325is headphones. Playback through the Macbook and DAC was more relaxed with smoother transients while the CD was brash in the lower treble. Though the test was hardly scientific, in this situation, playback through the GefenTV High Resolution USB to Analog and Digital Audio Decoder was not only different from the CD, it was better.
Pioneer
You'll read plenty here and in the September issue of Stereophile about the over-achieving $128/pair Pioneer SP-BS22-LR bookshelf loudspeakers designed by the highly-talented and nearly inescapable engineer Andrew Jones. I heard them paired with the $150 Pioneer SW8 MkII subwoofer, and the combination was potent. Even while crouching in front of a closely positioned pair to get my ears even and equidistant from the tweeters, the SP-BS22-LR provided stable imaging with ease and tonal accuracy. The SW8 added well-controlled, deep bass. This is a market-threatening combo for under $300.
Just before the Monster press conference, Pioneer announced a soundbar/subwoofer system also designed by Andrew Jones.
Monster
Following Pioneer's white paper press conference, Monster pumped the room with the house music and paneled the backdrop with forceful black and red billboards. Monster CEO Noel Lee was straight killing it as he glided to the stage on his Segway fitted with gold rims and flame decals. His passion towards his brand was endearing and electrifying. "Always Lead, Never Follow!" he exclaimed. Lee's energy even got the usually unimpressed press hyped: a physical altercation between a reporter and a photographer started in the front row.
Lee stated that headphones are projected to occupy 33% of all household consumer electronic purchases for 2013. Thus, Monster will continue to "invest in margins" with headphone market.
Monster announced a variety of new colors of their on-ear DNA headphone ($199.95 in standard finishes) including tuxedo, gold/rose, and different combinations of neon, a new Nick Cannon sponsored N-Tune Candy Colour headphone ($69.95) that comes in rich, sugary hues, and the iSport, an exercise-friendly on-ear headphone with ear-pads impregnated with Ægis, an antimicrobial solution that keeps your headphones disinfected.
The most exciting announcement was the Monster Sound Machine, a headphone co-designed with Miami sound producer Emilio Estefan targeted specifically towards the Latin American community. How does a company position headphones towards the Latin American community? In their design process, Estefan and the engineering team tried to craft a sonic profile that accurately "reproduces the rich, percussive nature and vocals of Latin music and rhythms of the world". Estefan mentioned an emphasis on midrange clarity. The on-ear version of the Monster Sound Machine costs $149.99 and the over-ear version costs $249.99.
Klipsch
OK. I know I promised no Bluetooth, but it was everywhere. This is just a taste of what may have occupied forty percent of the event. And check out all these colors!
The Klipsch KMC 3 Wireless Music System is a Bluetooth speaker the size of a breadbox. It contains two 2" stereo-configured full range drivers, an individually chambered 5¼ sub, and two dual rear ports. It is recommended primarily for at-home use but can provide up-to 26 hours of moderate volume playback with eight "D" cell batteries. The KMC 3 costs $399 and is available now.
We played "The Mountains Win Again" by Blues Traveler with the iPhone at full volume and the KMC 3 at 75 percent to compete with the boisterous environment. The KMC 3 got loud with weighty bass, airy highs, and minimal distortion. This was interesting. Most Bluetooth speakers I've experienced so far distort when turned up to loud volumes. To help minimize distortions, the KMC 3's built-in DSP brings down the subwoofer's volume as you turn up the KMC 3. When we turned up the KMC 3's internal volume all the way, this introduced some noise, but at this point, the KMC 3 was uncomfortably loud.
I mentioned my quest to find a Bluetooth speaker with minimal distortion at high outputs. The Klipsch representative recommended with the Klipsch Stadium—a 2.1 system with Tractrix horn-loaded speakers, Airplay, DLNA, and Bluetooth connectivity, and one set of unbalanced inputs. It costs $2000. You could get a bad-ass hi-fi for $2000 or this all-in-one Bluetooth stereo system. Do you prefer convenience or experience?
HiFiMAN
HiFiMAN exhibited their RE-400 ($99) and RE-600 ($399) in-ear headphones each plugged into a clunky $999 HM-901 portable high-resolution music player. I selected a FLAC version of "While My Guitar Gently Weeps" from the Beatles' The Beatles. I pressed play but didn't hear any music. I pressed play a few more times. Still no reaction. I turned the volume all the way up and a terrible screeching came through the RE-600s. Time to change files.
On a FLAC of Radiohead's "Feral" from King of Limbs, a track with which I am intimate, I noticed the dramatic differences between in the RE-600 and the more affordable RE-400, which I wrote about earlier this year. The RE-600 had more inner detail, bigger and rounder images, a wider soundstage, and more extended high frequencies. The additional $300 for these in-ear monitors go a long way.
Audio-Technica
As PR rep Frank Doris explained so succinctly, "We have two new headphones."
The new CKX in-ear monitors all feature a C-shaped mold that rests on the concha of your ear. The CKX5 ($44) and CKX9 ($94) both feature a rotating driver position that lets you carefully thrust the monitor in your ear canal to the best-fit angle. The CKX9 ($94) houses a larger driver and thus does not feature the rotating driver but does offer expanded frequency response. Add $5 to each model for their is version that adds iPhone remote and controls.
I also got a chance to listen to the new ATH-ANC70 ($199), an active noise-cancelling headphone. There was a horrible whistling sound around 3khz, which got louder if I put my hand close to the right ear-cup. No bueno.
808
Part of the much larger Voxx International, which owns Klipsch, RCA, and Acoustic Research, 808 is a new headphone brand. The 808 Studio headphone ($100) provided nice noise isolation from the surrounding environment to hear BIG bass that didn't interfere so much with somewhat-shelved highs. They also offered enjoyable force and dynamics.
VP of Product Development Greg Urban based the design of the smaller 808 Drift ($59) on the lightweight Sennheiser PX100. They were ultra-lightweight and comfortable.
Outdoor Technology
While the company was happy to promote the Bluetooth capabilities of their headphone lines, I was more interested of how the headphones sounded with their line-in.
The Privates ($99) have a touchpad on the side of the ear cup to control calls and music. They were incredibly comfortable and available in warm shades of olive green, mustard, and turquoise. They sounded decent with enjoyable midrange energy. The Privates will be available in July 2013 for $99.
MTX
For years, the guys at MTX have focused on car audio, even known to car audio enthusiasts as one of the "first four", but they've dabbled in home audio for the past 20 years. They decided to hit the portable market with their 1X1 on-ear headphone.
The MTX 1X1 is a noise-isolating, foldable on-ear design available for $199 in four different finishes: black on black, red on gray, white on black, and gray on pink. The MTX 1X1s gave a lot of bass and had a super-snug fit. They seemed to transform compressed recordings nicely making "Jesus Etc." from Wilco's dreadfully squashed Yankee Hotel Foxtrot sound natural with a fun sense of space.
Kicker
Designer John Crisco represented Kicker, a car audio company from Stillwater, Oklahama. Crisco spent twenty years of his life at Polk designing drivers and was added to the Kicker staff to help with their future portable and home audio endeavors. The $69.95 Kicker Cush had an inoffensive sonic profile for the price. On display, they also had the Ampitheater IK5 Bluetooth speaker, but Crisco complained, "No one is into the Bluetooth." Strange, I couldn't not see Bluetooth speakers at ever corner at CE Week, but it does seem like a market that is easier to saturate. Differentiation is less important with Bluetooth speakers. While headphones are a statement of personality, a Bluetooth speaker plays a functional role to be integrated to the landscape of your life. In the end, it fades to the background.
Marc Ecko
Totally rad.Music comes from this Bluetooth speaker shaped like a spray paint can from Ecko Unltd.
Bello Digital
Bello International A/V began as a furniture company. They too are jumping in the headphone game. I listened to their BDH821 and I heard very little evidence of midrange or highs. Admittedly, the surrounding environment in this show-floor area was very loud. The Bello rep asked me to guess the price, assuming I was thinking on the Beats $200-headphone economy. "$60," I estimated. Her smile evened, "Oh. No. You're close: $49.99." Sounds about right.
Velodyne
Velodyne's vQuiet noise-cancelling headphones were the best sounding headphones I heard at CE Week. On Steely Dan's "Deacon Blues", while the cans were not-so-dynamic, they provided even bass response and a relaxed and nearly neutral presentation. Quite a surprise! The vQuiets are available for $299 starting July 15th.
Velodyne also offered the $299 vFree, which featured different skins to cover the headphones. The headphones felt a light and ramshackle for the price, but they sounded relaxed and more dynamic than the vQuiet.
Myth Labs
The first words out of the Myth Labs representatives were as follows:
- "We are a high fidelity headphone company."
- "We don't do wireless."
Be still my stodgy and slowly hardening audiophile heart.
Myth Labs is out there to make good sounding headphones or to make your lesser-than-good sounding music sound better. They offer modular, detachable headphones personalized based on your music library's sound quality and genre. After installing the MythLabs app on your mobile device, the app scans your music library for bit rate of songs, dynamic range, and genre. MythLabs then decides which of their two models will work best for you.
The $170 Genesis is made to enhance lower-quality sounding files by "muting out distortion". I tested out a home recording I made of the theme from the Legend of Zelda, the pinnacle of lo-fi. It honestly made this recording sound awesome by fleshing out the midrange, dulling the harshness of my Yamaha keyboard snare, and bringing out the body of my direct input and miked Ovation acoustic/electric guitar. The $260 Eclipse model sounded more accurate, detailed, and faster.
Braven
OK. One more Bluetooth speaker. They were unavoidable! Seriously, there were more boomboxes than quesadillas, and there were a lot of quesadillas.
About the Braven BRV1:
You can throw it from a fifty-foot building.
You can pour water on it.
You can shoot it with sniper. (Although, I question this one. I think the bullet hits the ground.)
The Braven BRV1, the ultimate survivalist's Bluetooth speaker, retails for $179.99 and is available now.
Wrap Up
Your hi-fi isn't dead. It's on your head.