All:
I have recently entered the would of Redbook.... and have some early and interesting observations to make. To provide a background, I have purchased an entry level and "Stereophile Approved" cd player, the NAD 516.
Here was my main logic in arriving at the purchasing of a $225 CD refurbished cd player with a budget of $1500:
1. Dedicated audio circuity to maximize performance; from NAD's website:  
The C 516BEE gets the full measure of NAD engineering experience with enhanced audio circuitry to maximize performance, resulting in better stereo imaging, tighter bass, and clean, accurate, distortion-free sound. The painstakingly engineered circuit layout extracts the best possible performance from audiophile-grade component parts for minimal noise and maximum detail retrieval. This focused effort results in a vivid, musically rewarding experience.
2. No unused DVD or BluRay components getting in the way of audio circuitry.
3. Two separate power supplies ; one for the analogue, the other for the digital. Results in a cleaner signal.
4. An improved, beefier transport. NAD themselves stated the transport was improved vs. their previous model, the 515.
5. NAD fine-tuned the analogue stage for lower distortion.
6. Again from NAD's website regarding isolating the Digital from the Analogue circuits:
The analogue output has been fine-tuned for even better audio performance, while digital outputs are buffered and isolated to ensure perfect matching and minimal 'jitter'
Finally, endorsements from the likes of Stereophile journalists/reviewers certainly don't hurt:
I do know, however, that the NAD wasn't out of place when matched with more expensive equipment. Partnered with the Croft Phono Integrated ($1895), the C 516BEE contributed to some of the best sound I've heard at home.
So here we have a seasoned reviewer claiming the NAD 516BEE as some of the *BEST* sound he as *EVER* heard at home.
In fact, the only weakness I see in this unit is the choice of a Cirrus Logic DAC; though it is modern as opposed to older tech, and it does support 192/24.... it still isn't a Wolfson, Burr-Brown, or Sabre 32-bit. However, I am thinking the surrounding circuitry will make up for it; and worst case, especially at this price point, I can use it as a transport and use the DAC of my choice!
Here is my own direct take on it:
I find its build quality to be excellent; and I truly again lucked out in that it aesthetically blends in quite nicely with my Creek Integrated. Though the remote is small and cheap feeling, it does a good job. The unit scans very quickly with audible cues over the disc...and Skips to songs very quickly..in fact it is very fast once loaded and a joy to use. The unit is also slightly slow to initially read the CD as mentioned in the Stereophile review, but I find that very minor and worth the speed of skipping and FF/REV through discs. I expected Redbook to be slightly grainy/metallic sounding and so I really can't fault NAD for that; and when there are several Rock instruments playing at once, the sound does get a touch distorted; though again, I think that may be alleviated or resolved with tuning and tweaks. In fact, if I was not conducting a critical reference listening of a song with a higher resolution FLAC, I would be delighted with this player either with or without the external DAC as an excellent entry level though audiophile grade CD player. It is only through these intense listening sessions where I can nit pick it. If I want to just jam Led Zeppelin or Miles Davis, I just sit back and enjoy the music. I would back up Stereophile's recommendation of this player as an excellent entry level audiophile unit; and DEFINITELY recommend it if one is using a dedicated external DAC.
I will leave listeners with this comment:
The built-in DAC did a decent job in projecting a soundstage with width height and depth through my Creek.. though my external DAC improves on it, this is a great way to get back into Redbook or to replace a broken player even without an external DAC. I can now go to a music store and scan for bargains in Vinyl OR CD, so that it a major plus! I can always convert the CD over to FLAC as well. So, for $225, it was a wise purchase.
Here is a picture of it with my Creek Integrated. I feel I was again extremely lucky in how much it matches the Creek and am very pleased with the aesthetics! I feel a very fair review may now be conducted of CD vs. FLAC; as I am using the cd player as a transport, and sharing the exact same DAC (PS Audio NuWave) with FLAC. So as not to clutter things, I will end this first post here, and begin my analysis with an additional post.... I just want folks to primarily see what it looks like first and give a brief background before setting into a detailed discussion.
NOTE: I have recently moved the CD player to the left of the Integrated; as placing it on top blocked the cooling vents of the Integrated, and I believe interferes with the sound on many levels. Although aesthetically it is quite pleasing, it is also pleasing "next to" the amp. :)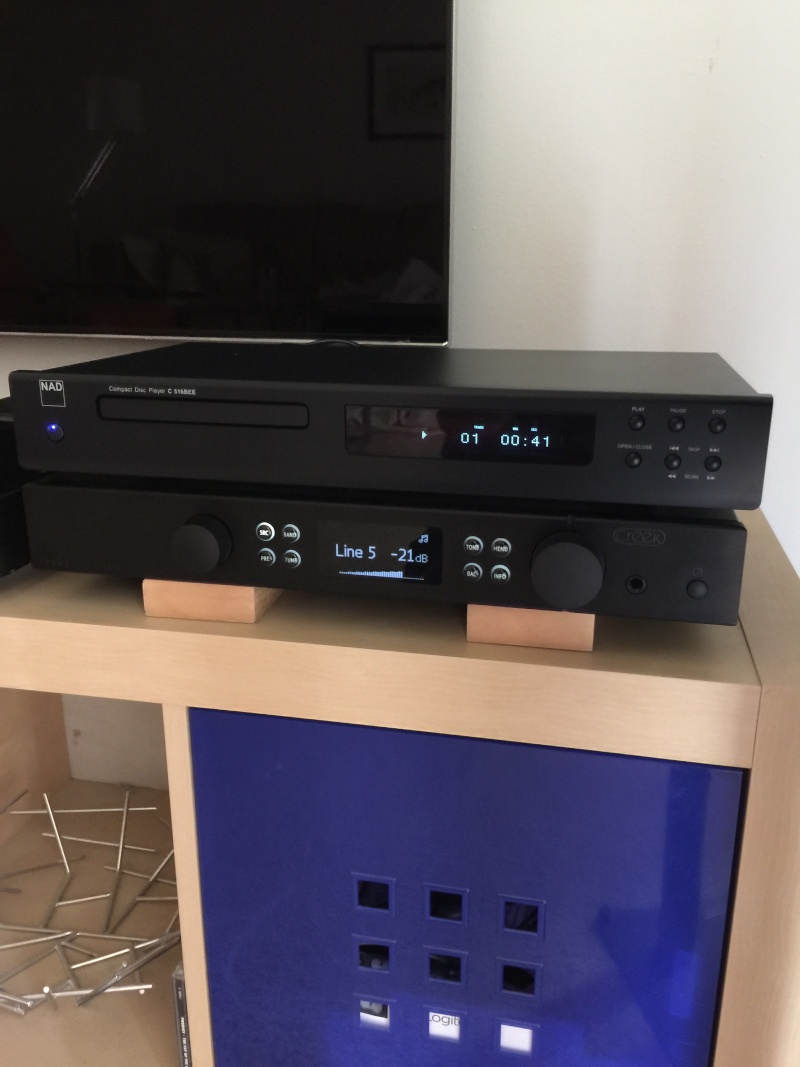 And here are the internals; two separate power supplies isolating the digital from the analogue... a lot of dedicated audio components..and the improved transport mechanism as written by NAD over their previous 515 model...nice...: