CAS Day 2: In Full Flight
In the beginning, there was . . . No, this is not a Bible study course, but I do wish to pave the way (with gold, I wish) to the Genesis Advanced Technologies room hosted by Gary and Carolyn Koh and Joe Pittman. Mostly exhibiting Genesis products, the system was headlined by the hardly small Genesis G2 Juniors ($85,000/pair), driven by Genesis GR1440 monoblocks ($22,000/pair), unheard Genesis Muse Server/DAC ($12,000), Genesis SMC-1 preamp (prototype model—$18,000) with Absolute Fidelity Balanced Interface ($5500 for 6 meters), Genesis phono preamp ($12,000), Genesis cabling, and a prototype Genesis Foundation Equipment Stand ($12,000).
The big debut came via the US premiere of the striking UK-sourced Vertere RG-1 turntable ($22,000) with Vertere SG-1 tonearm ($3200–$5200). The designer is Touraj Moghaddam, the founder of Roksan. I am told that the newness of the Genesis phono cable ($3200), which takes a very long time to break in, was responsible for the brittle nature of the system's top, and the lack of midrange warmth. While I couldn't return for a second listen, one attendee told me that when Gary switched to a tape source to play Lynn Stanley's master tape, the sound was fantastic. Favorite moment of the whole show: watching Carolyn Koh dancing adorably to Count Basie and his Orchestra's music, whose brassiness, I might add, sounded really good on this system.
No sooner did I get started than I had to pause for the more lively of the two Ask the Editors sessions on which I participated. Pictured, with thanks to Mark Finer for crossing the line from working as a consultant to Sony and other industry leaders to expertly doing the honors on my Canon G1-X camera, are yours truly, Neil Gader of The Absolute Sound, Jack Roberts of DaGoGo.com, Steven Rochlin of EnjoyTheMusic.com, and John E. Johnson of Secrets of Home Theater and High Fidelity (hometheaterhifi.com).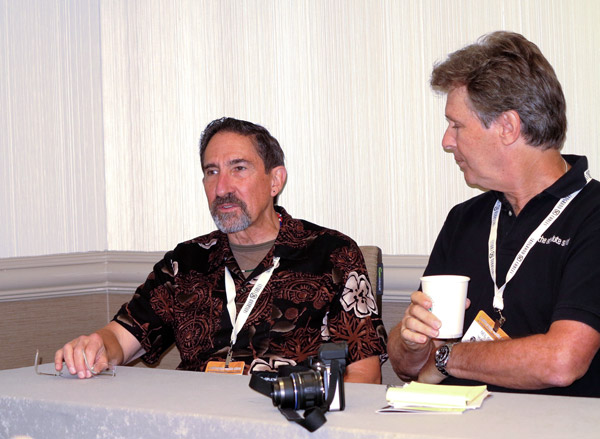 Things got into full swing fast, as I responded to an assertion that the forthcoming Pono Player was a low-end product with a cheap DAC. Lord almighty, not only has no reviewer even put the final product through its paces, but its DAC section is engineered by high-end company Ayre! I don't want to get into a debate on abortion here, but this really was a case of throwing out the baby even before the bathwater could be drawn.
The most tantalizing aspect of the session: Steve Rochlin's intimation that, come September 7, Apple will unveil a portable product platform (for iPhones, iPads, etc) that will play hi-res. Expect iTunes to follow suit with hi-res downloads. The most valuable non-panelist: Finer, who enlightened everyone present as to the extent the major labels (UMG, Warner, Sony), CEA, and hardware manufacturers are developing a common standard and nomenclature for High Resolution Audio (HRA). For more on this, click here.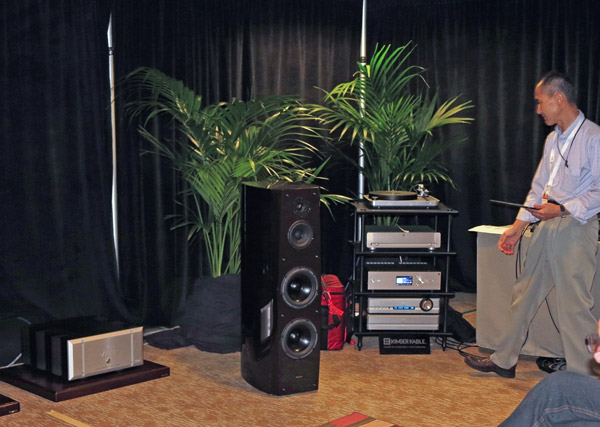 I was just starting to assess how good Sony's big system sounded when a five-minute power outage stopped Blue Coast Records' Valerie Joyce in the middle of a marvelous recorded-direct-to-DSD performance of "Day Dream." One of my big regrets of CAS is that I never could make it back to Blue Coast Records' part of the room they shared with Sony to hear Joyce perform live, and then explore the free download of her performance (coming ca September 3 once the OTR Studios are reassembled).
The outage, however, did give me a chance to compare the same music on Sony's big and small systems. On both systems, Sony's Yuki Sugiura provided a rip of mezzo-soprano Anne Sophie Von Otter's marvelous 16/44.1 performance of Grieg's "Spring." The recording transcended its fairly early digital provenance to sound as fresh and lovely as springtime itself. Of course, the big system provided a fuller interpretation—the notes of the piano sounded especially lifelike—but we're comparing SS-NA2ES loudspeakers ($10,000/pair) driven by the Sony TA-A1ES integrated amplifier ($2000) and Sony HAP-Z1ES file player ($2000) to the bigger SS-AR1 loudspeakers ($27,000/pair) driven by priceless, unavailable Pass Labs VFET 40th Anniversary monoblocks (Nelson Pass's one-of-a-kind gift to Sony) and the HAP-Z1ES, plus, in the big system, a host of Kimber Kable KS cabling and PK Gold power cabling.
When we returned to the big system, a 16/44.1 rip of Saint-Saëns' Le Deluge Prelude sounded amazingly full and warm. Bottom line: Both systems were very fine and extremely musical. Only a fool would turn their back on either of them.
At the end of the listening session, Yuki Sugiura (pictured on the left) introduced me to Sony's Takaaki Hashimoto (center), developer of Sony's new PCM-D100 PCM/DSD/MP3 audio recorder, and Yoshiyuki Kaku (right), designer of the SS-AR1 loudspeakers. As someone who owns the PCM-D100's predecessor, I hope to someday hear the new baby and try out its reportedly superior microphones.
Unless you didn't like the color of Magico's excellent SF loudspeakers ($32,400/pair), which I did, I am certain you would have joined the many others who lingered long in the room where they were driven by Constellations Audio's Inspiration preamp 1.0 ($9000), Inspiration amp 1.0 ($10,000), Berkeley Audio Design's Alpha DAC RS/Alpha USB combo ($17,895 total), Aurender W20 music server ($16,500) and MIT products. The latter, in my striving-to-be-but-not-always-succedding-in-being humble opinion, were essential: MIT SL-Matrix USB ($499), SL-Matrix 50 ($4999) and SL-Matrix 90 ($9999), as well as Z-Powerbar, Z-Strip, and Oracle Z-Cords.
Abetted by lots of bass traps that unfortunately flattened the soundstage a bit, Diana Krall's "The Girl in the Other Room" sounded just as smooth as did the music in the Sony room, but came through with more life-affirming top. The timbres were spot on, and the music beautifully smooth and warm. A second track from the marvelous Reference Recordings' rendition of Rutter's Requiem was mesmerizing, with the texture and detail of massed voices, impressive range from low organ to high soprano, and ideal liquidity marking this as one of the best systems at the show. Hats off to MIT, Magico, Constellation, Berkeley Audio Designs, and Aurender for putting the music first.
In his dark room, where video through a Sim 2 projector and audio through VTL amplification, Krell surround processor, an old Oppo player, and "whatever cabling I could find" overpowered everything else, Steven Lester enabled Rodrigo y Gabriela to provide an alternative to the audio-only experience. Amy Winehouse and her back-up singers were totally amazing. Could the sound of not-always-top-quality video compare with the Sony/Pass/Kimber, Magico/Constellation/BAD/MIT, Wilson/ARC/Transparent, and YG/Bryston/ART, and Dynaudio/Octave/Nordost experiences I've already recounted? Of course not. But fun it most certainly was.
Many loved the sound in Brian Ackerman's room jointly sponsored by his Aaudio Imports and AudioVision San Francisco, but I initially found it overdriven and less comfortable than on the admittedly the far more expensive systems I had just heard (see above). On Sarah McLachlan's "Shine On," Jimmy Lee Robinson's "See See Baby," and pianist Murray Perahia's Handel, I found the midrange over-emphasized, and the sound insufficiently free in space. It's important to note that the only room treatment was supplied by what was inside the shipping box of the BMC Purevox bi-polar loudspeakers ($6490/pair).
The remainder of the all-BMC system included the BMC amp CS2 ($8390), BCDC1.1 belt drive CD player/transport ($5990), DAC1 pre (HR) ($6290), and other products. Add in HB Cable Design's PowerSlave Marble power distributor ($8995), Stage III Concepts power cords, and Thales interconnects and speaker cables.