Capital Audiofest: Hitting the Ground Running
By the time I arrived in Rockville, MD—a personal commitment kept me away until around 2:00pm on Friday— Capital Audiofest 2018 was already in full swing, with brisk traffic in the halls of the Rockville Hilton, and standing room only in some of the exhibits.
My first stop was the room sponsored by a new loudspeaker manufacturer called IMC Audio. Designed by Paul Paddock and manufactured in North Wales, PA, the IMC Forty-10 ($21,000/pair factory-direct is the projected price) uses an array of "bending-wave" (as opposed to cone-and-dome) dynamic drivers to handle frequencies between 100Hz and 20kHz, while tones below 100Hz are reproduced by an open-baffle woofer. Two stereo amps (or four monoblocks) are required, but the midrange–high frequency drivers in particular is described as easy to drive, with a claimed sensitivity of 97dB—in the dem I heard, the upper arrays were driven by a Pass Labs XA-30 (30Wpc into 8 ohms). The sound was open and uncolored, with lots of spatial detail and good scale, and on the Proprius Records audiophile chestnut Cantata Domino, there was impressively strong bass—although the choir's loud entrance brought with it a trace of strain on peaks.
In one of many rooms sponsored by Falls Church, VA-based retailer Command Performance AV, DeVore Fidelity Super Nine loudspeakers ($9990/pair) were driven by Doshi electronics, including the Doshi Stereo amplifier seen here ($19,995) plus the company's Line Preamplifier ($17,995), Phono Preamplifier ($17,995), and Tape Playback Preamplifier ($17,995), the latter fed by an open-reel deck whose provenance I didn't catch, with cables by Transparent and IsoTek AC-conditioning products. While I was there, John DeVore offered to put on the Punch Brothers' new All Ashore, the LP of which he played on J.Sikora Standard Max turntable ($18,995 is the projected price) with Crystal Cable-wired Kuzma 4Point tonearm ($6675) and Koetsu Jade Platinum cartridge ($9995). The system played it with a tremendous sense of ease, the music simply existing between the speakers without apparent effort. Chris Thile's voice had well-defined, full-bodied presence in the room, and the limber, graceful phrases played by banjoist Noam Pikelny were breathtaking in their realism. A real treat.
In another Command Performance room, a system based on Naim electronics—NAP 300-DR amp ($14,995), 282 preamp ($8995)with Supercap DR power supply ($2595), and NDX2 streamer-DAC ($7495)—made a decidedly muscular and very well-textured sound through prototypes of Dynaudio's forthcoming Confidence 20 loudspeakers ($12,000/pair is the projected price, including stands). Of particular interest was a specially priced phono front end in which a J.Sikora Initial Black Turntable was bundled with a Kuzma Stogi S CE arm and an Audio-Technica AT-OC9/III cartridge for a total price of $10,000. That last product caught my attention: I remember well when the original OC9 was the affordable moving-coil cartridge to own—and though it's impossible to say which components in this player were responsible for which aspects of the sound, singer Jennifer Warnes and double bassist Rob Wasserman sounded very fine indeed on their version of Leonard Cohen's "The Ballad of the Absent Mare," from an LP of duets with Wasserman.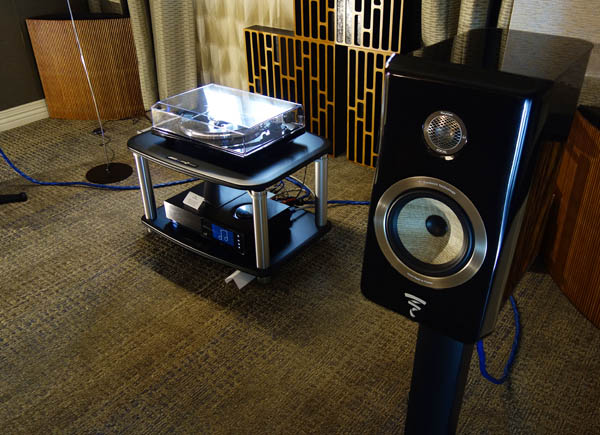 That same Warnes-Wasserman track sounded fine on a more affordable system, built around Focal's Kanta No.1 loudspeaker ($5999/pair), Naim Uniti Nova 80Wpc integrated amp with music player ($7495), EAT B-Sharp turntable ($1595 with arm), and Clearaudio Nano v2 phono stage ($495), with Wireworld cabling and IsoTek power conditioning. Here, the bass was a little less powerful but still clear of pitch and surprisingly rich of tone.
The sign outside the room sponsored by Vancouver-based distributor VK Audio read, simply: 300B amplifier kit inside. How could I resist? Produced in Japan, the Elekit TU-8600—seen here without its included transformer cover and tube cage, and with its optional Lundahl output transformers—is an assemble-it-yourself single-ended triode amp that uses one 12AX7 dual-triode, two 12AU7 dual-triodes, and two 300B directly heated power triodes to produce 9.2Wpc. Prices start at $1185, tubes not included.
An assembled TU-8600 sounded amazing driving a pair of AER twin-paper-cone, full-range drivers in shallow, cleverly made Plexiglas horns (3900 Euros/pair for the drivers, 3200 Euros/pair for the enclosures). Judging from the smooth, wide-range, and altogether non-problematic sound I heard from those 106dB-sensitive, easy-to-drive (16 ohm) German-made loudspeakers, I can only conclude that the best Lowther-like drivers are no longer made by Lowther—far from it.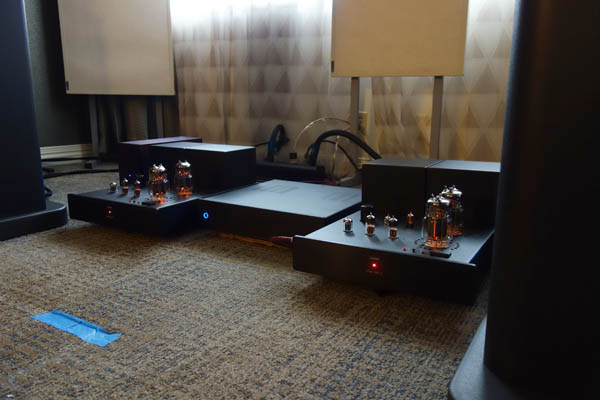 In a room sponsored by Rollo Audio Consulting, the Apollo loudspeaker system from Arion Audio (price to be determined) was driven by a pair of Lamm ML2.2 monoblocks ($43,590/pair). The Lamm is one of my all-time favorite amplifiers: a single-ended triode amp with an enormous proprietary output transformer, delivering approximately 20W from one Russian 6C33C tube. (The second 6C33C on each amp is used as a series regulator for the first.) It can sound magical, downright psychedelic, on the right loudspeaker, and while this system, used with an Aqua Acoustics Formula xHD DAC ($17,000) had many strengths—baritone sax on a live jazz recording was to die for—a slightly grainy cymbal sound led me to wonder if the nominally 4 ohm Apollo system, which uses nine Heil-style dynamic drivers per side in a line-source configuration, was an ideal match.
Known for assembling music systems that combine refurbished vintage-audio components with vintage-inspired (and -fueled) original designs by the talented Aldo D'Urso, Deja Vu Audio of Fairfax County, Virginia always brings something interesting to Capital Audiofest. This year's show was no exception: I saw store owner Vu Hoang in the hall outside one of his rooms, and he led me inside to hear a stereo pair of custom-made loudspeakers built using original Western Electric 32a horns driven by rare WE 713 compression drivers, supported by 18" field-coil woofers from GIP of Japan—they specialize in making faithful reproductions of original Western Electric drivers as well as complete loudspeakers—with GIP reproductions of the Western Electric 597a horn tweeter on top ($120,000/pair is the approximate system price).
Sources included an Aldo D'Urso-made DAC and a lovely Thorens TD 124 turntable in a Deja Vu plinth with contemporary Ortofon arm and Koetsu Rosewood Signature cartridge; amplification, as well as the power supplies for the drivers' field coils, were designed and built by D'Urso—who was too busy building amplifiers in his workshop in Italy to attend the show! With a solo recording of guitarist Stefano Grandona, the sound was extraordinary, in the truest sense of the word: Difficult though it was to believe, those enormous speakers disappeared.