Building a Better Hi-Fi Shop with a Little Help from Indiegogo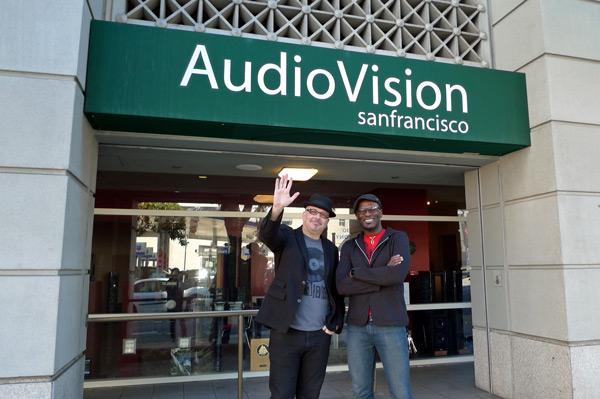 When high-end audio retailer
AudioVision San Francisco
got hit with an unexpected eviction notice, Antonio Long and Randy Johnson realized they had to either raise funds fast for a move or close up shop. That's when they decided to generate support via what is undoubtedly the
first high-end retailer Indiegogo fundraising campaign
.
"We got inkling of the move right before the holidays," Randy told Stereophile. "About a year and a half ago, the non-profit that owns the building told us they might eventually want to reclaim our retail space. But because they weren't at all certain if they could proceed, and we had a personal relationship with them, we decided to continue without a lease until they could figure things out. At the least, we were expecting someone to come by and talk to us if and when the time came. Instead, we received a 30-day notice."
The men were so stunned by the certified letter they received that they thought it had been sent by accident. After negotiations, the owners offered them three months to work things out. Antonio and Randy, in turn, asked for an extension until at least June.
"People don't buy during Christmas, because that's when they're taking care of their families," Randy explains. "They buy after tax season. If we tried to move during our big sales period, we'd be forced to close."
The question was, what to do. Antonio chimed in, "When this all came down, Randy and I looked at each other and asked, 'Do we still want to do this?' And we came back to each other with a resounding 'Yes!'"
Was it Randy or Antonio who spoke next? It's hard to tell, because after being best friends for 28 years, and then becoming business partners, they sometimes seem to speak with one voice.
"No one runs a h-ifi shop because they think they're gonna get rich," says the personality we'll call Randonio. "They run it because they love music way too much. We really have created a close-knit community. We have regular customers who have coming here for years. And there are also all these great manufacturers who make our efforts worthwhile. We love the community, and that's why we're going to keep doing this."
That's when Antonio got the idea for an Indiegogo campaign. "No other shop has done crowd-funding for an emergency move," says Randy. "It's unique, and it's kinda cool."
They also got the idea for a questionnaire directed at their existing customer base, to help them design their future space and establish priorities. Donors will find a link to the questionnaire on AudioVision's Indiegogo page.
"We have to be out of here soon, and this is not something we planned for," says Randy. "Honestly, if we were going to do something like this voluntarily, it would have been years in the planning, because the move is going to be very expensive, especially in San Francisco. To find the proper spot not too far away rather than way out in the boonies was hard. We get a lot of foreign customers—English, Danish, German, everyone really—because a Holiday Inn is across the street and the cable cars run so close by. We want to continue in a location that's accessible for everyone, and this part of town is not cheap."
Thus, the boys have set a fundraising goal of $50,000. Even if they reach that, they'll actually clear far less. That's because of their generous contributor perks.
Thanks to more than a little help from manufacturers Nordost, KEF, AudioQuest, Arcam, Gallo, Triangle, Micromega, and Ultrasone, supported end up with gifts worth more than their contributions. Each contribution of $20 nets the donor a Nordost System Set-up and Tuning CD that retails for $25. At the other end of the gifting spectrum, a contribution of $6000 is rewarded by a "full complete and unique consultation with both Randolph and Antonio" plus a $7000 open-ended gift certificate for new, regularly priced items.
Beyond monetary contributions, AudioVision SF's campaign has already generated far more dividends than Randy and Antonio ever envisioned. Their new space at 1628 California Street, just a block and a half away from their current location, came to them because of their close relationships with customers.
"One of regular customers is our future landlord, another is our architect, and a third is one of the contractors who will work on the space," says Antonio. "The architect and contractor are trading their services for gear. That's one of the ways we've been able to do this. We're high-energy people, and we work really hard, but in the end, we got really lucky."
Although the new space, which is expected to open June 30, is actually smaller than AudioVision's current location, its "ridiculous amount of on-site storage space" promises an end to the rows of boxes, speakers and sundry other components that currently clutter and clog the hallways and listening rooms at AudioVision's existing store. Upon entry, visitors will immediately encounter a big headphone section, viewable through the store window. Three listening rooms—"good, better, best"—all floated and sonically isolated from each other, will offer a far more listener-friendly environment than at present.
"Now, the big thing is to get the world out to our friends, who in turn will get the word out to their friends," Randonio said in conclusion. You could almost hear the Beatles playing in the background (in high-resolution, of course) as the boys extended a big thank you to all, and returned to selling equipment that plays the music they love.