Bowers & Wilkins CM5 loudspeaker Page 2
At the opposite end of the spectrum, the late Donald "Duck" Dunn's thumping bass-guitar line in "Hip Hug-Her," from
The Best of Booker T. & the MG's
(LP, Atlantic SD 8202), had a clarity and solidity that reminded me of when I heard Dunn perform with Crosby, Stills, Nash & Young in New York, earlier in this century. The bassist's unique phrasing was very apparent through the CM5s.
However, I occasionally noticed a slight thickening in the upper bass that called attention to that range. This raised its head rarely, but when it did, it was a noticeable deviation from the speaker's otherwise pure reproduction of timbres. A good example was "Ladies and Mercedes," from Carla Bley and Steve Swallow's Duets (LP, Watt 120). Swallow is unusual among jazz bassists in preferring to play electric bass, and with a pick, and while I'm quite taken with his composing and playing skills, I'm not a big fan of the sound he gets from his instrument; it tends to lack definition, both on record and in concert. Although it was clear through the B&Ws that the rich, woody timbres of Bley's piano in this recording are those of a good Steinway, the middle register of Swallow's playing had a slightly muddy, thumpy quality. Even some of the playing of hand-drum percussionist Nana Vasconcelos, on Egberto Gismonti's Dança das Cabeças (CD, ECM 1089), occasionally had a bit of "thuddy" quality through the CM5s. This recording also spotlighted how well the B&W's transient articulation could accommodate the broad range of Vasconcelos's virtuosic playing throughout the audioband. But this anomaly in the CM5s' upper bass was not noticeable with the great majority of records I listened to.
I also enjoyed the CM5's coherent completeness of sound with recordings of electric jazz and rock. "Vertical Invader," from Weather Report's I Sing The Body Electric (LP, Columbia KC 31352), is the tune that ignited my interest in jazz-rock fusion, which I followed intensely throughout the 1970s. With the CM5, the solid anchor of Miroslav Vitous's double bass and Eric Gravátt's drum kit provided a churning backdrop for the growls of Joe Zawinul's distorted Fender Rhodes piano and percussionist Dom Um Romao's wild, frenetic chatter.
Gerry and the Pacemakers were probably the most underrated band of the British Invasion. I'm glad to see the group is still gigging, with 40 dates in the UK this fall—for their tour with the Animals. The CM5 presented the rhythm section in "How Do You Do It" as a tuneful, rhythmically coherent unit, and the speaker's resolution of detail made it easy for me to focus on Les McGuire's piano solo.
It was that same resolution of detail that made it easy for me to study the engineering of studio recordings, though the results were not always pleasant—in a careful listening to "As Tears Go By," from the Rolling Stones' December's Children (LP, London 3451), Keith Richards's delicate acoustic-guitar playing, overlaid by syrupy strings, sounded completely disembodied. Moreover, the excessive and unnatural reverb added to Mick Jagger's voice entirely detached singer from instruments. The CM5s revealed the song's production and engineering to be an incoherent mess.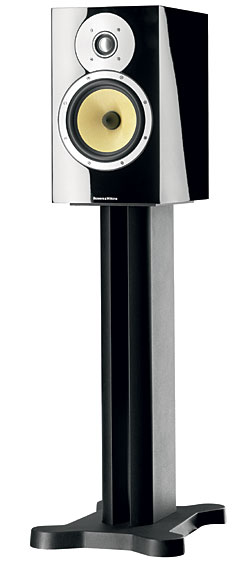 Comparing
I compared the B&W CM5 ($1500/pair) with the Dynaudio Excite X12 ($1200/pair), the Monitor Audio RX6 Silver ($1250/pair), and the Epos M16i ($1998/pair).
The Dynaudio Excite X12 had a midrange as clean and clear as the B&W's, but resolved much less detail. The Dynaudio's midbass was warmer, but its high-level dynamic capabilities were equally impressive.
The Monitor Audio RX6 Silver resolved significant detail and air, if not in the same league as the CM5, and its high frequencies seemed less delicate and sophisticated. However, the Monitor's bass was more extended, and it had superior high-level dynamics.
The Epos M16i was crisp, clean, and uncolored throughout its frequency range, but I felt the B&W CM5's bass was a bit more extended. Finally, although the Epos presented a coherent and integrated sound overall, it wasn't as detailed, refined, or involving as the CM5's.
Concluding
Over my past decade of listening to many affordable speakers, both bookshelf and floorstanding, I've enjoyed an embarrassment of riches. Although I have some favorites, I can't recall the last time I reviewed a speaker that didn't impress me in at least some areas.
The B&W CM5 touched me in a unique way. With every recording I played, this neutral, dynamic speaker revealed layers of detail that let me hear into the recording process, but in a way that made it easy to forget about that process, kick back, and enjoy the music. Just as paradoxically, its high level of resolution let me differentiate among great, good, and not-so-good recordings, but in a way that didn't lessen my enjoyment of music that had been poorly recorded. If I had to, I could live with this affordable bookshelf model as my only loudspeaker. I can't remember the last time I said that about another speaker in the $1500/pair price region. A tremendous achievement by Bowers & Wilkins.