Boulder Amplifiers 2150 monoblock power amplifier Measurements
Sidebar 3: Measurements
Because of the Boulder 2150's bulk and weight—319 lbs in its shipping crate—I wouldn't have been able to get it down the stairs to my test lab, much less back up those stairs. So I packed up my Audio Precision SYS2722 system (see the January 2008 "As We See It") and the PC I use to control it, along with analog and digital oscilloscopes, test loads, and all the cables I would need, and drove to Michael Fremer's lair, in deepest, darkest New Jersey.
There, I had a couple of problems. Usually, before doing any testing of a power amplifier, I precondition it by running it at one-third power into 8 ohms for an hour. (With an amplifier having a class-B or -AB output stage, this power level results in the highest thermal stress on the output devices.) However, one-third of the Boulder's specified maximum power of 1000W is 333W, and I don't have a test load that could handle that power level for an hour without overheating. Therefore, I wasn't able to precondition the 2150 before testing it.
My second problem, too, was related to the 2150's power. The only practical place to perform the measurements was in Mikey's garage, which adjoins his house. However, the only electrical outlets within reach of the long extension cords I'd brought with me were on a 15A circuit. (I have two 20A circuits in my test lab.) While this allowed me to test the amplifier's distortion and clipping power into 8 and 4 ohms, the circuit breaker tripped at powers above 800W into 2 ohms, which is well below the specified maximum power of 4000W into this load.
The Boulder 2150's voltage gain into 8 ohms was 25.9dB: a little below the norm, but conforming to the specified 26dB. The amplifier preserved absolute polarity (ie, was non-inverting), with pin 2 of the XLR jack wired as hot. (The review samples were not fitted with unbalanced inputs.) The input impedance at 20Hz and 1kHz was 194k ohms, which is close to the specified 200k ohms, and at 20kHz dropped inconsequentially to 130k ohms. The output impedance, including 6' of speaker cable, was extremely low, at 0.02 ohm at low and middle frequencies; this rose only slightly, to 0.026 ohm, at the top of the audioband. As a result, the variation in frequency response with our standard simulated loudspeaker (fig.1, gray trace) was virtually nonexistent. The frequency response into resistive loads was flat in the audioband, and down by just over 3dB at 200kHz (fig.1, blue, magenta, and red traces). The Boulder's reproduction of a 10kHz squarewave featured short risetimes, and was free from any overshoot or ringing (fig.2).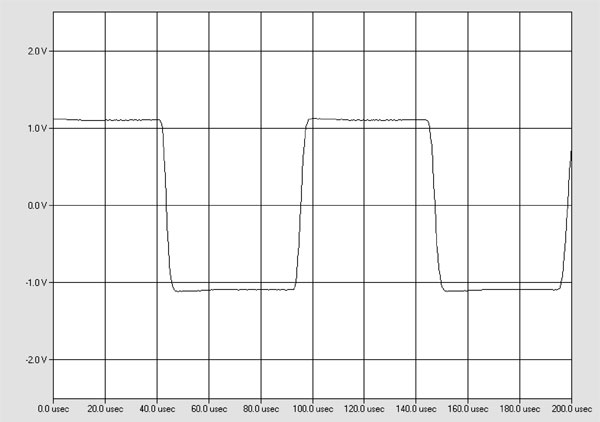 The 2150 was extremely quiet—its unweighted, wideband signal/noise ratio with the input shorted to ground measured 78.5dB ref. 2.83V into 8 ohms. This improved to 94.3dB when the measurement bandwidth was restricted to the audioband, and to 97dB when A-weighted. Spectral analysis of the Boulder's noise floor while it reproduced a 1kHz tone into 8 ohms (fig.3) indicated that the only power-supply–related spuriae were all very low in level, and primarily comprised the 60Hz AC frequency and its third and fifth harmonics, all of which were close to or below –110dB (0.0003%). This spectrum was not affected when I experimented with the grounding between the Boulder and the test system.
Not only was the Boulder 2150 quiet, it offered very low distortion and very high power. Fig.4 plots the percentage of THD+noise against output power into 8 ohms. The downward slope of the trace below 200W or so indicates that whatever distortion is present lies below the noise. The 2150 clips sharply, reaching 1% THD+N at 960W (29.8dBW). This is 0.2dB lower than the specified 1000W (30dBW), but this is most likely due to the fact that I didn't hold the wall voltage constant during this test. Fig.5 is a similar graph for 4 ohms: The 2150 clips at 1450W into this load (28.6dBW), but again, note that I didn't hold the wall voltage constant.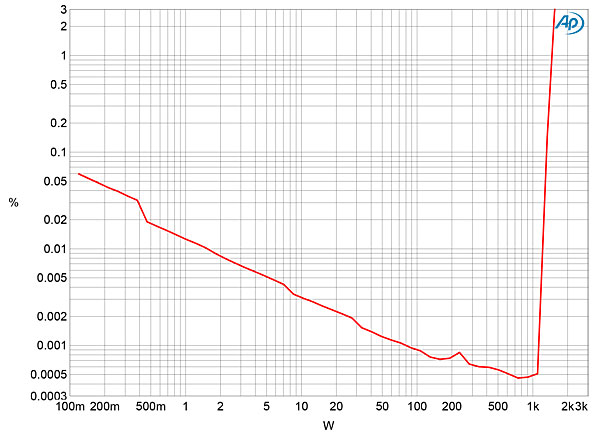 Not only was the Boulder's distortion very low; into 8 ohms, it hardly changed with frequency, even at 40V (fig.6, blue trace). There was a rise at higher frequencies at this same level into 4 ohms (fig.6, magenta), but to no higher than 0.004%. And at 1kHz at 40V into 4 ohms, the distortion waveform was mainly noise, with the faintest hint of third harmonic (fig.7). Spectral analysis (fig.8) indicates that the third harmonic at this level lies at –119dB (0.0001%), which is about the same level as the third harmonic of the AC supply frequency. Intermodulation distortion is also extraordinarily low (fig.9).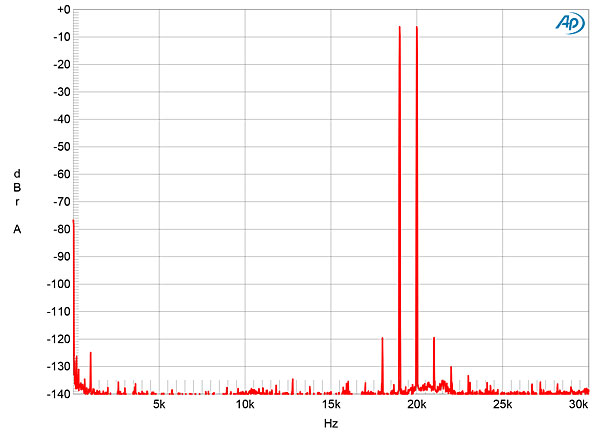 Boulder's 2150 is an extraordinary amplifier. It measured so well that it taxed the capabilities of my Audio Precision SYS2722 (footnote 1).—John Atkinson
---
Footnote 1: The SYS2722 has been superseded by the higher-performance APx555, but it's going to be a while before I can afford to buy one.—
John Atkinson