Bonus Recording of March 2019: Vivaldi Arias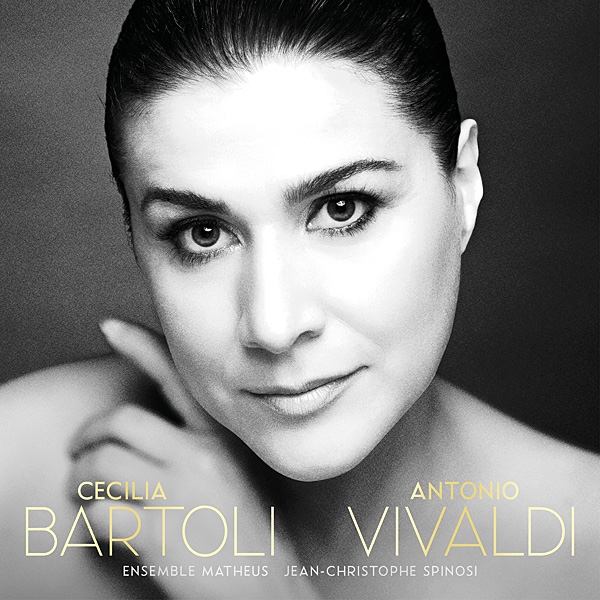 Vivaldi: Arias
Cecilia Bartoli, mezzo-soprano; Jean-Christophe Spinosi, Matheus Ensemble
Decca 002932502 (24/96 download, CD). 2018. Arend Prohmann, prod., ed.; Philip Siney, eng.; Claudio Becker-Foss, asst. eng. DDD. TT: 58:27
Performance *****
Sonics ****
Stereophile occasionally awards a Joint Recording of the Month, and Cecilia Bartoli's second recording of Vivaldi arias deserves no less.
Though we don't know over how long a period Bartoli recorded this album's 10 tracks, she finished the project with Jean-Christophe Spinosi's Ensemble Matheus, a baroque group, in 2018, when she turned 52. I defy you to hear any trace of age in her voice. The singing is limpid and seamless, with rapid, wide-spanning coloratura runs flawlessly dispensed, and the longest of long-breathed lines produced with little to no apparent effort.
When Bartoli sings softly and sweetly, as she does in a number of these arias, the beauty of her pure, sweet tones could tear your heart out. And when she rages in echt Bartoli manner, as in "Se lento ancora il fulmine" (If the thunderbolt delays in avenging), from Argippo (1730)—one of many Vivaldi operas you've never heard—her bubbling vibrato and intentionally darkened and weighted tone give the sense that she could fly off the handle in a heartbeat.
She doesn't. But your heart may skip a beat at her slow, soft, lyrical singing in "Leggi almeno, tiranna infedele" (At least, you cruel and faithless woman), from Ottone in Villa (1713). Playing the male role of Caio Silio—coincidentally sung in the opera's premiere by soprano castrato Bartolomeo Bartoli—today's Bartoli sings with a virtually indescribable beauty that left me holding back tears. Her concentration in her long, softly voiced lines is as wondrous as the spell she weaves. This kind of singing makes me feel grateful to be alive.
Just when the melodic cousinhood of several of these arias becomes apparent, Bartoli changes the energy by singing Rosane's "Solo quella guancia bella" (Only for that lovely cheek) from La verità in cimento (1720), with a smiling, teasing, classic soubrette voice that's adorable and just a bit dangerous. Ensemble Matheus's accompaniment perfectly echoes the character's feelings. Bartoli twice executes adorable a little slides on the final note of a phrase in a way I've heard from no other artist, once again affirming her interpretive brilliance and willingness to push the envelope.
Another of this recording's many highlights is Bartoli's fleet, trill-sweetened coloratura duet with baroque trumpeter Serge Tizac in "Combatta un gentil cor" (A tender heart must fight), from Tito Manlio (1719). Baroque trumpet is as difficult to play as this music is to sing, but Tizac nails it. Another is the string echo effects in the final aria, the almost 10-minute "Se mai senti spirart° sul volto" (If ever you feel your cheek caressed), from Catone in Utica (1737). Traversing two octaves with ease, and with no noticeable "bump" between registers, Bartoli sings parts of this aria so softly as to defy belief. She also risks a quiet ending rather than a rip-roaring finale. It works.
Because Cecilia Bartoli does not have a big voice and often sings sotto voce, you won't hear much resonance or classic audiophile air from the 116-seat Max-Littmann-Saal in Bad Kissingen, in Bavaria. Regardless, voice and instruments sound clear as bells. As in Brava, bellissima.—Jason Victor Serinus