Bonus Recording of December 2018: La Fenice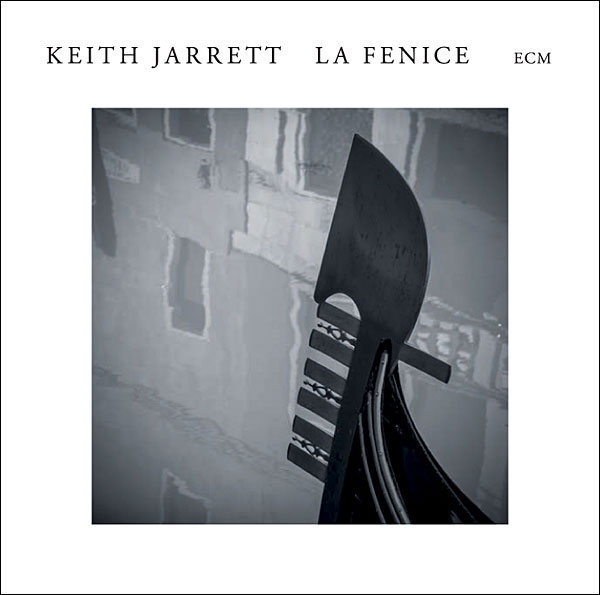 Keith Jarrett: La Fenice
Keith Jarrett, piano
ECM 2601/02 (2 CDs). 2018. Keith Jarrett, prod.; Martin Pearson, eng.; Christoph Stickel, Manfred Eicher, mastering, exec. prod. DDD. TT: 97:47
Performance *****
Sonics *****
This July 2006 concert, performed in Venice's Gran Teatro La Fenice, is Keith Jarrett's seventh recording of the shorter solo-piano improvisations he's explored since the early 2000s, after chronic fatigue syndrome robbed him of the stamina needed to improvise for unbroken stretches of nearly an hour. Despite their many high points, none of its six predecessors—Tokyo Solo, Radiance, Carnegie Hall, Testament, Rio, Creation—matched the cumulative power and depth of his best long-form improvisations: Köln, Sun Bear, Bregenz München, Paris. This one does.
Part I begins violently and for 10 minutes gets more so, its fury, precisely dense counterpoint, and bracing polytonality unseduced by the crooned or mellifluous. Still, faint wisps of Impressionism echo like memories of more harmonious times. Then come eight minutes of constant modulation, a vast span of suspended resolution whose very length is its destination. In Part II Jarrett's hands fiercely counter each other, punctuating with high chords snatched on the fly and parallel two-handed runs. It ends in three fast down-chopping chords savage in their austere finality.
Part III is familiar Jarrett turf: a medium-tempo gospel churn, his left hand subsecting the rhythm minutely while spicily simmering. Six minutes in, the swing turns angular, the tonality modal under what could be a keened chant from a Kashmiri mountain tribe.
Often emerging in a Jarrett solo concert is what sounds like an instant standard ballad. Part IV seems a merging of Randy Newman's most tender moments with Richard Rodgers's most acerbic: an exemplar of poignance distilling the hundreds of ballads Jarrett has played since his teens. His apparent reluctance not to let this one go till he's explored it to the last exquisitely unexpected modulation is palpable. I don't blame him.
Part V is a cubist bebop rag. Jarrett's humor, energy, and wit, the brilliance of his chops, his 3D overlays of styles, are so much fun I defy you to hear it without laughing aloud in delight. VI is a stately procession of spare chords à la Copland and Bernstein, achingly aspirational modernist Americana in earnest thirds and fourths and single top-octave notes, all grounded in noble bass chords: music of dignity and sorrow that evanesces in a dusting of soft-chiming high notes. VII embodies that other archetype of the piano ballad—a richly virtuosic turn à la Bill Evans—while VIII is a slow, sly blues delighting in its own balletic ungainliness as it lurches toward the final winking chord. Imagine Fats Waller dancing as deftly as he played.
Encores: Jarrett recorded "My Wild Irish Rose" for The Melody at Night, with You (1998) while recovering from CFS and still able to play only the most essential notes. Here that old chestnut is in full leaf, from delicate filigree to winsomely sincere high solo lines to 12-fingered organ-like chords to a feast of false endings. He takes "Stella by Starlight" fast, as if Thelonious Monk and Wynton Kelly attacked it four-hands while trying to cut each other off the bench. Jarrett-Monk plays crabbed, skewed bottom rhythms that find awkwardly brilliant corners everywhere; Jarrett-Kelly soars above in full hard-bop flight. Then Monk goes boogie-woogie. Both win. "Blossom" is sweeter, less lonely in this solo than as played by Jarrett's European quartet on Belonging (1974). Over oscillating chords, broken then healed, Jarrett's right hand sings in long-lined arias perfectly paced and built.
"The Sun Whose Rays," from The Mikado, is one of the simplest, most distinctive arias Arthur Sullivan ever composed to W.S. Gilbert's words. Jarrett plays it almost straight, if with more rubato than any soprano would dare, reharmonizing here and there. A tender re-creation of this most crystalline of G&S tunes, which Jarrett clearly trusts and respects.
The sound is lovely, dark and deep and wet, the piano full-throated, its low end a great cat's purr, its top just the right blend of sweetness and chalky chime, its midrange pure and bell-like. La Fenice (The Phoenix) compresses into 90 minutes all that Keith Jarrett has ever done best as a solo improviser: a grand summation of his entire career.—Richard Lehnert