Bigger and Warmer as Jason's Day Two at RMAF Ends
Oh my, what a difference a few feet can make. I am talking, in this case, about the 6'7.8"-tall, 573.2-lb Focal Grande Utopia EM loudspeakers ($195,000/pair), each of which houses a 16" woofer, an 11" midbass driver, two 6.5" midrange drivers, and a 1" pure-beryllium, inverted-dome tweeter. This loudspeaker throws one of the largest and most realistically proportioned soundstages I have ever heard. When playing my SACD of Iván Fischer and the Budapest Festival Orchestra performing Mahler's Symphony 9 (Channel Classics), the Grand Utopia EMs were actually capable of suggesting the huge scale, dynamic extremes, and sheer volume that a full Mahler orchestra can produce. Which is no mean feat.
Indeed, in the symphony's first movement, when strings, brass, and then timpani and bass drum got going full tilt, I was impelled to write in my notes, "I have never heard it so big." The drum's visceral impact was the closest I've experienced to hearing the real thing from an ideal seat in a symphony hall. Yes, folks, no matter what Dr. Ruth may say, size does matter . . . sometimes.
The system also included a TransRotor Orion turntable ($30,000) with SME 5009 arm ($3500) and AirTight PC1 Supreme cartridge ($11,000), Accuphase DP-720 SACD player ($27,000), new VAC Master Mk .II preamplifier with its massive power supply ($41,000 with phono, $27,000 without), four new VAC Signature 200 iQ amplifiers ($14,000 each) operating in mono mode and outputting 200W each, and Shunyata Anaconda cables. That's quite the package.
Alas, the system was plagued by an overall grayness, lack of openness on top, and over-emphasis on bass that rendered bass not only out of proportion to everything above it, but also booming. After my listening experience, Kevin Hayes of VAC told me that the problem was that the room had been tuned with both doors open, and that having to close the doors due to excessive noise in the hallway—audiophiles are a schmoozing bunch, aren't we—over-pressurized the space and over-emphasized the bass. This certainly seems plausible. And it's hard to imagine the dealer, Apex Audio Denver, moving the Focals around ½" at a time 'til they got it right, only to discover that they had to do it all over again once the doors were closed.
What isn't clear to me, however, is why the system didn't sound more vibrant and alive. I've heard VAC components on many occasions, and have found them supremely colorful, musical, and open on top. VAC makes great electronics. Ditto for Shunyata Anaconda cabling, which has never failed to please. I'm not sure what was up . . . other than the towering Focals, which were monumental in their impact.
By contrast, the Zu Soul Supreme loudspeakers ($4500/pair), Rega P6 and Luxman PD444 "decks" with Zu DL-103 pickup ($450), Peachtree Sona amp ($1000), and Zu Mission cables ($1000) seemed dwarfed by their room's large expanse. They were also at the other end of the price range from other systems in rooms of this size. But what this system shared with the mammoth Focal/VAC/Accuphase/Shunyata presentation was huge amounts of gut-seizing energy undercut by pervasive grayness.
What Zu had to offer that was totally unique was the always adventuresome taste in music of Sean Casey, Zu's irreplaceable proprietor and DJ. No one else but Sean could have played me Nick Cave's "Evil" and Nick Zammuto's "Good Graces" in near-seamless sequence. How's that for a deliciously diabolical juxtaposition of yin and yang?
Up the Tower I went to the far, far, far smaller hotel room shared by Emerald Physics, Exogal, and Core Power Technologies. The system, assembled by Underwood Hifi, consisted of the final version of Emerald Physics KC II open-baffle, controlled-dispersion loudspeakers ($2500/pair), Exogal Comet Plus DSD/PCM DAC/preamp ($3495 with optional power supply), Emerald Physics EP-100.2 SE 100Wpc power amplifier, Emerald Physics DSP2.4 digital crossover, and two Gallo Classico CLS-10 power subwoofers ($11,450 total, but always discounted to $6995), plus Wyred 4 Sound MS-1 server, Cambridge CDP as a transport, PC laptop, cabling by Wireworld, and balanced AC power source by Core Power Technologies.
The sound, save for far too much subwoofer (that easily could have been turned down), was exemplary, and far more impactful than I expected from speakers this size. Recordings by Mara Gomez and Rosa Passos may not have been totally tight on the bottom end, which from the mid 20s to the mid 40s was supplied by the subs, but voices and other instruments were absolutely clear and colorful. Definitely a thumbs-up system.
Making their world debut were Core Power Technologies' Equi=Core 50W ($499/2.5', 150W ($599/2.5') and 300W ($799/2.5') AC balanced power sources. (Longer lengths cost more). Designed to be used anywhere you would normally insert a power cable, these power cables plus balanced power transformer shunt noise to a "drain" and purportedly remove "all the yuck that comes out of the wall." I am told that Equitech and Furman make units that work similarly, but cost far more.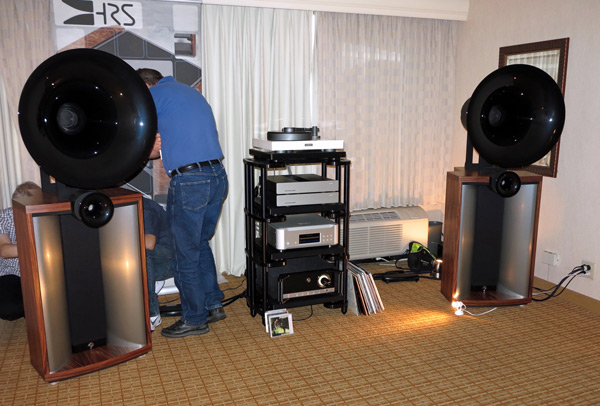 Distributor Audio Pathways Inc. chose a very small room in which to showcase the new Avantgarde XD Series Duo Mezzo 2-way horn system ($63,000/pair) with active digital short-basshorn woofer, 670mm horn with 1000 XD series amp, and first-time-employed DSP controller and digital equalization software. Completing the chain were the new Avantgarde XD series XA 120Wpc integrated amplifier ($18,800), Bergmann Audio Magne air-bearing turntable ($18,000 up), new Sutherland Argentum phono stage ($14,000), a laptop computer with JPlay and Tidal, Transparent Audio cables, and HRS stand.
Ron Sutherland, who was in the room, took me aside to explain that the Argentum is the first phono preamplifier he has made with point-to-point solid silver wire. (The symbol for silver in the Periodic Table of the elements is "Ag" for "argentum.") The 3D circuit board, another first for Sutherland, features parts on both sides and a copper ground plane, and sometimes includes parts soldered to each other to shorten the signal path and maximize sound quality via a "rock solid" connection. The preamp comes complete with a bag of plug-in resistors that audiophiles can use to easily adjust gain and loading. Ron reports that some customers are even switching resistor brands to tweak the sound, as one would roll tubes.
Musically, some extra resonances on certain notes of Oscar Peterson's piano pushed up against my eardrums and prevented me from sinking into the music. Nonetheless, despite excessive warmth to the piano, there was a lovely, seductive intimacy to the playing that this system communicated marvelously. Switching to Reiner's Scheherazade confirmed that the room was simply too small for the Avantgardes. I was so close to the speakers that the different registers did not cohere. I suspect that, in a larger space, everything would have been of one piece, and there would have been no resonance issue.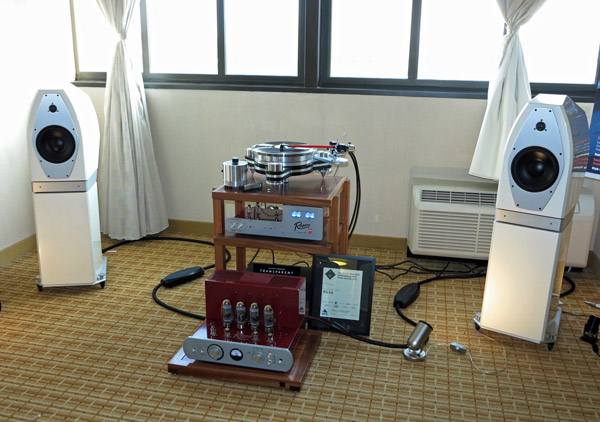 Before the daily de-briefing/reconnaissance session with my cohorts, Sasha Matson and Herb Reichert, and the 6:30pm Mytek/MQA press conference, I ended my room-to-room explorations with the system co-sponsored by Rogers High Fidelity and EgglestonWorks. This $62,000 system, which included the Rogers High Fidelity EHF-200 MK2 Class A integrated amplifier ($16,000), Rogers PA-1A phono stage ($7300, and winner of one of the RMAF 2015 HiFi Press Awards), new EgglestonWorks Camilla loudspeaker ($17,200/pair, and making its US debut), VPI Avenger turntable w/3D-printed tonearm ($9000), Ortofon Cadenza Bronze MC cartridge ($2400), Transparent Cable premium series ($7275 total), and Box Furniture Company 3-shelf rack and amp stands ($3000), was the most colored I encountered at RMAF.
Some may love what the electronics did to Ozawa's recording of Tchaikovsky's Swan Lake, but I personally don't desire to view dying swans through rose-colored glasses.