Big News, Big Sound from PSB and NAD
There was a lot to see and hear in the PSB/NAD suite. Here we see JA rocking PSB's first headphone, the noise-cancelling M4U 2 ($400). The M4U 2 uses battery power in active mode, but also works passively without battery power. The oval ear pads are thinner at the front, thicker at the back, for increased comfort and an effective seal. The headphones come with a tangle-free cord and protective travel case. I popped them on my happy head, listened for a bit, and was impressed by the lightweight, comfortable feel.
PSB's Imagine Mini loudspeakers ($760/pair) use technology trickled down from the company's Synchrony Series and filled the room with a big, bold sound. Look for a Stereophile review sometime in 2012.
Meanwhile, NAD's Master Suite provides "computer audio without the computer." (Thank goodness.) The system seems extremely logical and user-friendly: NAD's M2 Digital Direct amplifier can now be partnered with the M50 Digital Music Player ($2500) and the M52 Digital Music Vault ($2000) to create a 24/96-capable audio system. The M50 is basically a 3TB hard-drive with Raid 5 array; the WiFi-enabled M50 adds an asynchronous USB input, HDMI output, ripping software, and iPad and Droid music management app. Complete the suite with NAD's M51 Direct Digital DAC ($2000). Add music and stir.
Also now available is the NAD DAC1 ($300), a point-to-point wireless audio USB transmitter compatible with 16-bit/48kHz music files. The MDC DAC module ($250) adds digital inputs to NAD's C 356BEE or C 375BEE integrated amplifiers, replacing the existing Disc input.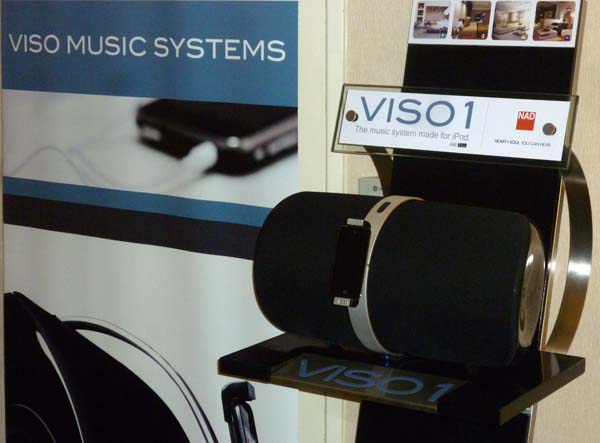 Finally, NAD's Bluetooth-enabled VISO 1 ($700) is a good-looking iPod music system. It employs NAD's Direct Digital Amplifier Technology driving an internal bi-amplified speaker system designed by Paul Barton and PSB. We listened for about 15 seconds, but the sound was big and very impressive.