B&W's Dr. John Dibb Page 2
Dibb:
I think the
Silver Signature
, the
Matrix 800
, and the CI 800 range. It's difficult to put an exact time frame around any project, but each of the above would have been two to two-and-a-half years.
Lander: The CI series comprises speakers for custom installations, and your 800 models are at the top of the range. Did the problems/challenges of installing speakers in walls and ceilings add much development time?
Dibb: In-wall/ceiling placement was certainly a contributing factor, although we did spend a great deal of time investigating speaker-platform materials and their construction. When we have great drivers, the trick to producing a great-sounding system is to minimize the acoustic radiation from everything that surrounds them. Walls and ceilings have always been a major problem in this respect due to their large area and relative flimsiness, so the trick with custom-installation speakers, which we partially realized some time ago with the Signature 8 model, is to minimize the transmission of vibration into the wall. If you can do this, the theoretical advantages of wall/ceiling mounting, such as low-frequency enhancement, zero diffraction, and no rear-wall reflections, become apparent. And we can do it by acoustically isolating the mid- and high-frequency drivers from the baffle, which in turn is manufactured from a very heavy and nonresonant composite material.
Lander: What was your brief when you started on the Matrix 800?
Dibb: The Matrix 800 was to be a replacement for the 808, the flagship model at the time. The brief asked for high efficiency, around 93dB, using two 12" bass drivers, two 5" mids, and a suitably sensitive dome tweeter. I imposed on the [industrial] designer, Kenneth Grange—he's now Sir Kenneth—some other requirements that affected the appearance, such as widely spaced bass drivers and minimum width of the mid/HF section. [The Matrix 800 was reviewed by Lewis Lipnick in the June 1991 issue—Ed.]
Lander: The Matrix 800's appearance is far more surprising than some of Kenneth Grange's other designs—his 1960s-era Kodak Instamatic camera, for instance, and the latter-day version of the traditional London taxicab that he styled in the mid-1990s. It's a 75"-tall, three-cabinet stack with a narrow midrange/tweeter box sandwiched between two imposing hexagonal woofer housings, each of which juts out dramatically on one side, forming a point. What's the acoustic rationale for the driver placement, the enclosure configuration, and the cabinet shapes?
Dibb: The bass drivers are spaced apart so that each interacts differently within the floor-to-ceiling space, and the result is a mutual smoothing out of the individual bass responses. The angular shape also limits the number of parallel cabinet walls, to minimize internal standing waves. The mid/HF section was kept as small as possible for optimal stereo imaging and minimal cabinet radiation. It was also hung on isolation mounts, on a separate steel backbone, to prevent cabinet vibrations from reaching the larger sounding board of the bass cabinets, a technique that still benefits the 800 series—in today's 800 Series Diamond speakers, the midrange head is vibration-isolated from the bass cabinet, and the tweeter, in turn, is isolated from the midrange head, to prevent transfer of energy.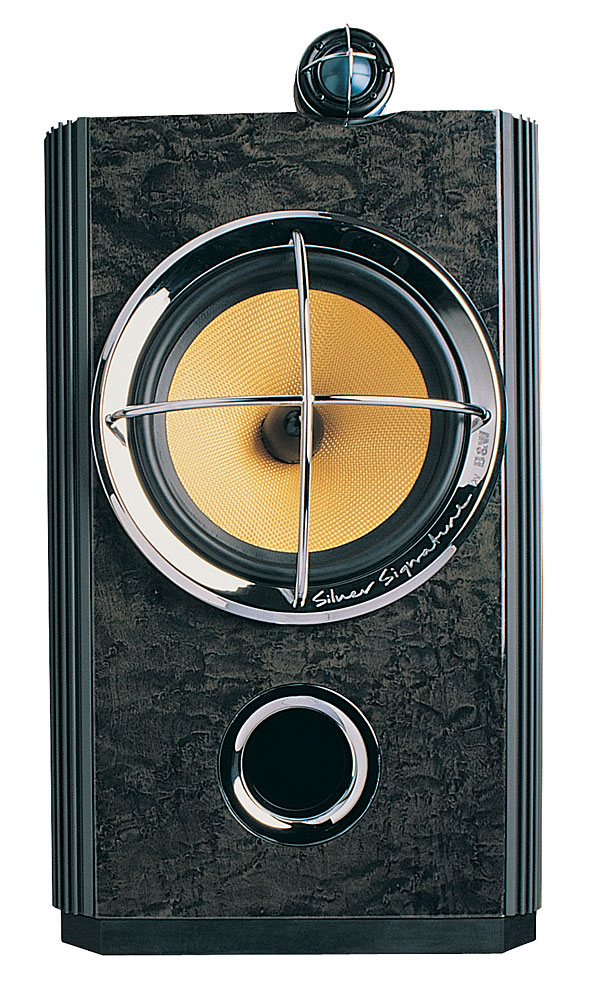 Lander: You've said that the Matrix 800 was meant to be a distillation of everything B&W felt was acoustically desirable at the time. Where do you begin with such a speaker?
Dibb: The process starts with individual drivers—do we have anything that's already suitable, or any particular area of research that might generate a step forward in performance? In the case of the Matrix 800, the bass and mid drivers from the 808 formed the basis of the driver designs, but required significant adjustment of the driver parameters to meet the high efficiency requirement and to align with the available cabinet volume. The high-frequency driver needed to be designed from scratch, as the 808 HF was a soft-dome type of lower efficiency. The appearance designer also had to be involved early on so that we were able to assess the drivers in the size and shape of enclosure he proposed. When any specially produced cables are involved, as they were with the Matrix 800 and Silver Signature, the cable manufacturer needs to be contacted as soon as possible so that any listening tests include the correct wire.
Lander: Designing a no-holds-barred speaker is one thing; bread-and-butter models are another. How have limitations imposed by projected price points tended to affect you?
Dibb: Where a small increase in cost would give a significant improvement, we would not be totally rigid on pricing, but it's certainly frustrating to know that an improvement is possible though not affordable. By perseverance and lots of listening, we often find synergistic combinations to maximize performance within the imposed limits. After so many systems, and such a large proportion of our time spent listening to components, we're aware of most of the favorable combinations of drivers, crossover components, and cabinets, but there have been cases when some of these have, in most respects, equaled a more costly solution.
Lander: Your 1991 John Bowers Silver Signature, which marked B&W's 25th anniversary, employed silver in metal parts all the way to its cabling. It was very expensive for a modestly sized two-way of its time. In retrospect, do you feel the cost of the silver was justified? [The John Bowers Silver Signature was reviewed by John Atkinson in the June 1994 issue.—Ed.]
Dibb: Silver must be used carefully, and throughout the electrical system, if the benefits are to be fully realized. For instance, if a system is properly optimized using copper speaker connections and the cables are then changed to silver, the balance would change and would therefore no longer be optimal; any benefit the silver might have added would be reduced. In the case of the Silver Signature, the contemporaneous drivers and crossover components were not capable of the resolution we enjoy with newer speakers—the Signature Diamond, for instance—but we could hear benefits with silver cabling, and we felt that its cost was justified.
Lander: Do you have any particular favorite or favorites in today's arsenal of design and testing tools?
Dibb: I would say that, of all the testing tools we currently use, the Klippel analyzer is probably the most invaluable. It measures all the mechanical and electrical parameters of a drive-unit, thereby allowing us to optimize the performance in relatively few steps.
Lander: Is there some specific next frontier in speaker technology that you feel warrants exploration?
Dibb: I'm not aware of any major changes in the way sound can be generated that have not been tried over the last 80 years or so. Experience has shown that, at any level, the ubiquitous moving-coil loudspeaker is by far the most viable. Through improved testing and more accurate computer modeling techniques, we're continually advancing our understanding of how drive-units behave, and from this we'll continue to see a steady improvement in sound quality. If there's any other area that might benefit from more exploration, it's that involving isodynamically driven, lightweight diaphragms—electrostatic, moving-coil, and ribbon types. Each has its own complex acoustic problems.
Lander: At Abbey Road Studios a few years ago, you conducted some consumer listening sessions sponsored by B&W. What was their aim?
Dibb: They were aimed at bringing back the sense of occasion listening to music can have, by reminding people how to listen in order to get the most from it. This involves such things as removing background influences, relaxing, and closing one's eyes. It's a disheartening fact that, for most people, music is something that happens in the background. What we tried to convey was the concept of music as the primary focus. The most rewarding aspect of the project was that everyone got the message. The sessions were invariably successful—especially people's realization that simply closing their eyes enhanced the experience enormously—and they resulted in some very good press, urging readers to try it for themselves. I think all manufacturers should consider doing this type of educational session. Everyone likes music of some sort, and it's such a pity that so many people are missing out on the joy of hearing it well reproduced.