AXPONA: Race to the Finish Line
Slam and visceral impact were superb, highs transparent and extended, and percussion extremely impressive in the ENIGMAcoustics room. Headlined by ENIGMAcoustics' Mythology M1 hybrid electrostatic monitor system ($14,690/pair, including Sopranino super tweeter and stand), the system also showcased Questyle Audio's R200i wireless audio system ($4000, including two class-D monoblock/receiver/DAC units at 200Wpc and one T2 5GHz preamp/transmitter) and Questyle Audio's QP1R portable music server ($1000) streaming 44.1K wav files.
The fine sound on Gustavo Santaolalla's "The Last of Us (You and Me)" suggested that my days of dark and color-compromised rooms on the 4th floor were coming to an end. (Perhaps I should have asked ENIGMAcoustics' Wei Chang to play Handel's Hallelujah Chorus?) But the clock was ticking, which meant: on to what is becoming my annual visit with…
Joseph Hesse, affable proprietor of Joseph Audio Video Solutions, Inc. of Midlothian, IL, combined Mark Levinson's new No.536 monoblock amps ($30,000/pair) that output class-A up to 30Wpc, No.585 200Wpc integrated used as a preamp/DAC ($12,000), and No.512 CD/SACD player ($15,000) with Dynaudio Confidence C1 Platinum loudspeakers ($8750/pair), Flow Master Reference and Organic Reference cabling, Flow Power Distribution Center ($11,400), and AudioQuest Niagara 7000 power conditioner ($7999) with NRG-1000 power cable ($1279). A recording of the famous chorus from Orff's Carmina Burana—the Hallelujah Chorus of the 20th century, perhaps?—showcased the components' huge dynamics and great control of massed forces.
The sound was so impressive that I left feeling that the Dynaudio loudspeakers are virtually bulletproof. (Not that I advocate anything other than strict gun control.) Earl Wild playing Rachmaninoff's Rhapsody on a Theme of Paganini was equally impressive. (It may not have been Wild, but that's what my SoundHog app declared.)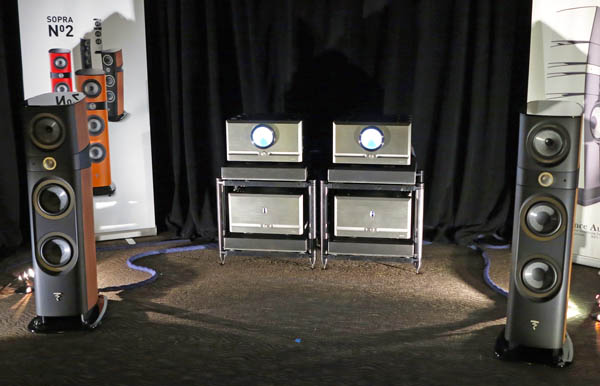 The second Quintessence Audio/Musical Surroundings room on the high-ceilinged 12th floor showcased all the beauty of tone for which Pass electronics are so highly prized. (I have loaner 200.8 monoblocks in my reference system, and I kiss the ground frequently in gratitude for their supreme musicality.) Here we heard the top-of-the-line Pass Labs Xs 150 mono amplifiers ($65,000/pair), Pass Labs XP-30 preamplifier ($16,500) and XP-25 phono preamplifier ($10,600) paired with the new Clearaudio Performance DC Wood turntable ($5000), Berkeley Audio Designs Reference Series Alpha DAC ($16,000), Aurender N10 digital music server ($8000), and Focal Sopra No.2 loudspeakers ($14,000/pair).
Reference Recordings' 45rpm rendition of "Baba Yaga" displayed fabulous depth but slightly muffled percussion. This does not surprise me, in that, to my ears, the Sopra No.2 has never succeeded in transmitting percussion and low bass with anywhere near the control and depth of the slightly more expensive Wilson Audio Sabrina. Turning to digital, a redbook version of Reference Recordings' overture to Candide (Bernstein) confirmed suspicions that the good old BAD DAC is a bit dark. Which is not to say that the sound, overall, was anything but very, very good.
Who would have expected to hear Alan Hovhaness's Mount St. Helens Symphony at an audio show? Then again, besides the great music, who would have expected so much chatting in the back of this Quintessence Audio-sponsored room that, besides being able to note the airy presentation, I couldn't really focus on the sound of the Sonus Faber II Cremonese loudspeakers ($45,000/pair)? The Cremoneses were driven by an AMG Giro G9 turntable with 9W2 tonearm ($10,000) and AMG Teatro MC cartridge ($2750) allied to a host of Audio Research products—the Reference Phono 3 phonostage ($14,000), Reference CD9 CD player/DAC ($13,000), Reference 6 line stage ($14,000), and GS150 stereo amplifier ($20,000).
I had more luck listening in silence when we turned seats 180 degrees to audition the Sonus Faber Venere Signature loudspeakers ($5500/pair in walnut finish) driven by a Wadia A315 150Wpc amplifier ($3500) and Wadia Di322 DAC/Pre ($3500), the latter two resting on a Solidsteel rack. The sound was a bit spatially constricted on both a Reference Recordings track by Dick Hyman and Peggy Lee's "Fever."
There goes Serinus, zipping back down eight flights of stairs to floor 4 in a grand race to the finish. First up, the Ryan Speakers/ModWright Instruments room, in which Ryan Speakers R630 ($5000/pair) totally disappear as they transmit an excellent midrange on a 24/176.4 Reference Recordings file of Doug MacLeod's "Too Many Misses." The effect, albeit wondrous in that "Wow, so this is what the audiophile experience is all about" sort of way, would have been even more wondrous had there been more color in the presentation.
Similarly, the spacey effects on A Filetta's and Karma Tensing Nyima Lama's "Norbu" were mesmerizing, but the overall presentation was again compromised by a lack of color. The rest of the system: ModWright SWL 9.0 Anniversary Edition tube line stage ($2900) and KWA 150 Signature Edition amplifier ($8995), Aurender N10 music server ($7999) and PS Audio DirectStream DAC ($5999), cabling from AudioQuest and Cardas, Shunyata Venom PS8/Venom Defender power conditioner, Massif Audio Design equipment rack, and GIK Acoustics room treatment.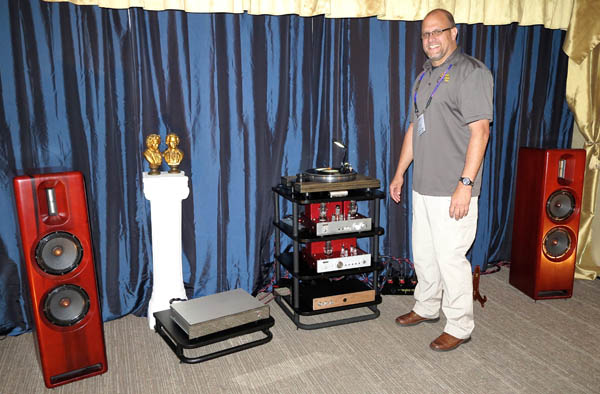 OMG, it's almost 4pm. But here's Jonny Wilson of Snake River Audio, keeping alive the artistry of the late Randy Bankert by continuing to manufacture Sonist Audio Concerto 4 three-way, 97dB-sensitive loudspeakers ($6495/pair in mahogany red finish). The cabinets are solid wood, the woofers made in MN, and internal wiring all Snake River pure gold/silver/copper. Even more important, they sound really good and very, very musical. In addition, when the Concerto 4s are paired with the Triode Electronics TRX-1 preamplifier ($3200) and TRV-300 SER 300B triode 8Wpc integrated amplifier ($3500), Jonny says he's never seen the amplifier need to output anything close to 8 watts to fill a room.
Sources were the Pear Audio Kid Howard turntable with Tom Fletcher tonearm ($4495) and Ortofon Cadenza Bronze MC cartridge ($2309), Pear Audio Classic phonostage ($1995) with Ortofon Verto step-up ($1017), and Burmester 150 digital music server ($15,000), all connected via Snake River Audio cabling. Count Basie and his Orchestra played with beautifully warm and smooth colors. On John Grant's "Pale Green Ghosts," the system did an amazing job with percussion, electronic sounds, and vocals. I hope this system drew full houses, because it sounded really, really good.
I would have loved to stay for more, but it was after 4, and thoughts of Pear Audio reminded me that the company's US distributor—Michael Vamos of Audio Skies—had specifically requested a visit. So away I went, sadly skipping my oft-blogged friends at Nordost who had been doing cable demos for three days straight while awaiting a visit from yours truly, as I made a mad dash down the hall for my final listen, to Michael's Gamut system in Room 438. But not before vowing to visit Nordost and a host of other companies in Munich in—gasp!—something like two weeks!