AXPONA: More Adventures with JVS on Day Two
While ubiquity is not necessarily synonymous with high quality, the fact that Aurender's music servers/streamers appeared in at least 12 exhibit rooms at AXPONA 2017 certainly indicates that they're doing something right. In fact, in the third-floor room in which Aurender partnered with GamuT and Grand Prix Audio, their A10 caching music server and player with analog outputs ($5500) was the crucial source of excellent sound.
Aurender's sole all-in-one lifestyle product—their only server that includes a DAC—the A10 was just updated in February to offer MQA playback. Heard in a room that could be easily overdriven, and that was a bit too resonant in the midrange, the A10 joined GamuT's RS3i speakers ($19,990/pair) and Di 150 limited-edition dual-mono integrated amp ($12,990). All those components were arrayed on a Grand Prix Audio Monaco Modular three-Shelf rack ($7500) with Formula platform ($2590), and connected by GamuT cabling. The sound on Tidal's MQA-encoded stream of George Benson's "Breezin'" sounded quite beautiful, while Bill Calahan's "Rococo Zephyr" sounded really mellow with a nice midrange.
"MQA is most noticeable in the high frequencies, and in its greater detail," said industry veteran John-Paul Lizars of Aurender.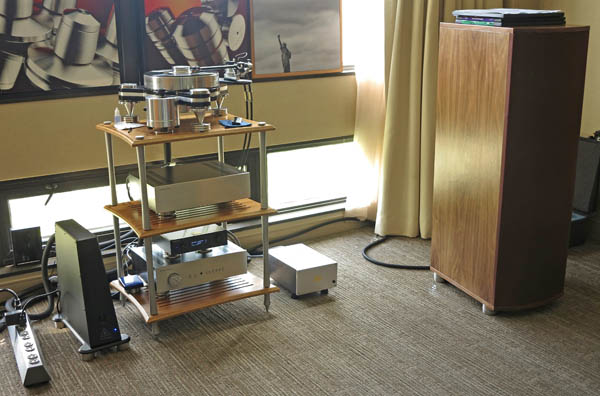 John Tucker of Exemplar has just released his Exception phono stage ($6950). "I spent 10 years on it," he said of the single-ended, active-loaded, shunt-regulated tube unit that includes nude Vishay resistors and Stillpoint circuit-board isolators. Equipped to handle both MM and MC cartridges, its MC component is servo-controlled solid-state, and offers 30dB gain. Dual-mono all the way, it also has a separate power supply.
The rest of the system included a VPI Avenger turntable ($15,000) with Mysonic Eminence cartridge ($5800), and an Exception Integrated amp ($5950). The Exemplar-upgraded Sonica (Oppo) DAC ($2495) sported a new analog section, clock, and more, which suited the Exemplar XL-III loudspeakers ($8995/pair) just fine. A Quadrasphere rack ($900), Stillpoints Ultra 6s with base ($939 each), and Shunyata cabling (various prices) and Denali 6000T conditioner ($4995) completed the chain.
London Grammar sounded a little bright on top, but other tracks were far mellower. John had just picked up a bunch of Mobile Fidelity pressings in the Marketplace, but was so unhappy with their sound that he conjectured that the stampers were worn out. (Others have told me that was doubtful.)
Harbeth and Vinnie Rossi score again! Here, the Harbeth Super HL5 Plus 40th Anniversary Edition loudspeaker ($7495/pair), which includes a new supertweeter and a 40th anniversary magnetic grille badge, joined a Vinnie Rossi LIO Super Integrated ($11,675 as configured), Acoustic Signature WOW XXL turntable ($3495) with TA-700 tonearm ($1295) and Ortofon 2M Black Cartridge ($850), and Triode Wire Labs cabling to produce a very smooth and nice sound. The midrange was lovely, the top fine, and the soundstage wide. In short, what's not to love?
On my 24/96 tell-all track of the last movement of Seattle Symphony's recording of Stravinsky's The Rite of Spring, I could listen well into the soundstage. Bass, which is prodigious on this track, was excellent and fast. Image size may have been diminished from what I'm accustomed to, but the mids were simply gorgeous.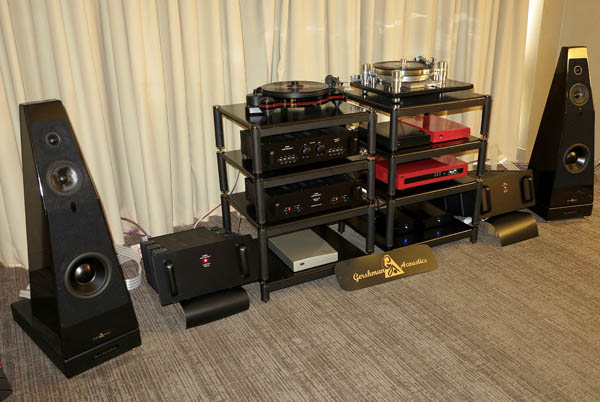 Of Gershman Acoustics' two new loudspeakers, the Studio 2 stand-mount ($3500/pair) and Grande Avant Garde G2 ($12,999/pair), I heard the latter. Paired with an Oracle Audio front end (see below), Lamm Industries LP2.1 Deluxe phono preamplifier ($8890) and M1.2 Reference monoblock amplifiers ($27,590/pair), and frequently encountered Nordost Valhalla 2 cabling, the system rendered the voice of Diana Krall so smooth, warm, and gorgeous that there was everything to love about this much aligned, admittedly overplayed artist.
Ignore the hyperbolic PR that Gershman distributes for its products and that may cause you to roll your eyes rather than listen: The sound was very clear, open, and warm without seeming overly colored. Truth be told, cymbals were a bit glassy, but the new sealed-box speaker with new double-magnet aluminum woofer and special bass trap moved acceptably fast. The Avant Garde G2's frequency response is 22Hz-20kHZ, its sensitivity 89dB, and its nominal impedance 6 ohms.
The "from Oracle" list is where things gets muddy. I'm not talking about the sound. The sheet proclaims an $18,660 table package that include Origine turntable with Oracle tonearm and Ortofon cartridge ($2000), PH 100 phono amplifier ($720), Oracle Delphi 2nd Generation with optional Granite base ($10,160), oracle SME 345 tonearm ($3100), Corinth Reference phono cartridge ($5600), Oracle PH 200 phonostage ($1500), and Oracle Paris CD 250 player ($3320). I have no idea which of those was actually in use, and I was too busy closing my eyes and taking in the sound to even attempt to recall what was what. I do know, however, which was up, and that included me at the end of my short listening session.
Southern California-based Natural Sound paired its own loudspeakers with the Audio Tekne TEA-2000 stereo phono equalizer-amplifier ($12,000) and I'm not sure what else. When I asked about the components, I was told that all the information is available at www.natural-sound.us. Given that a half-speed mastered original pressing of Santana's Abraxas (I think) delivered brittle highs and a lack of midrange warmth, I invite you to check out the website if you'd like to learn more.
Let's end on a high note called "CH Precision." Bargain basement these Swiss-manufactured components are not, but their sound is exemplary.
Let's start with the CH D1 SACD/CD drive with 1x digital out ($38,000) and optional clock synchronization board ($1500). Add in the new I1 Universal integrated amplifier ($38,000) with optional clock master Ethernet streaming board ($5000), Phono II current-mode phono input with EQ filters ($4500), and Sync I/O clock synchronization board ($1500), and assorted CH cables. Then move on to Magico S1 MkII loudspeakers ($16,500/pair), and a Kronos Sparta turntable ($21,000) with Kronos Helena tonearm ($7000) and Kubotek Haniwa HCTRO1 MKII cartridge ($11,000), and you, like me, may end up hearing a "Blue in Green" from Miles Davis that was totally mellow and absolutely clear, with laudably neutral timbres.
My BIS SACD from the Bach Collegium Japan, which includes Carolyn Sampson's virtually perfect rendition of Mozart's "Et incarnatus est" from the Great Mass, exhibited wonderful spatiality and spot-on timbres. Maybe it was a hair bright, but the sound was so open, fresh, and clear that it was a source of wonder. Besides, neither the mirror nor the TV that faced each other on opposing side walls were covered, as they were in most others, so that may have been the source of the brightness.
Given sound this good, I lingered. With playback controlled via an iPad equipped with CH Precision's proprietary remote control app, a 24/44.1 FLAC file of Agnes Obel's "The Curse" sounded just fabulous in the bass. This was one of the finest systems I encountered at AXPONA 2017.