AURALiC VEGA D/A processor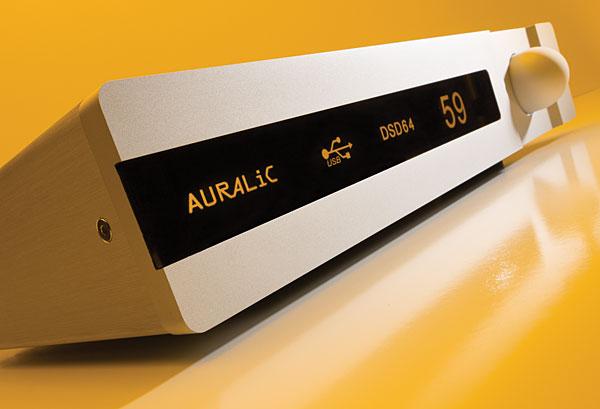 I was alerted to the new VEGA D/A processor from Chinese manufacturer AURALiC by Michael Lavorgna's
rave review
for our sister site AudioStream.com in April 2013: "Everything I played through the Auralic Vega was equally wow-inducing. Everything. . . . Music I've heard hundreds of times was presented with a crisp, clean, and delicate clarity that was simply uncanny and made things old, new again. . . . Its ability to turn music reproduction into an engaging and thrilling musical experience is simply stunning."
That sounded like a DAC I needed to review, but it wasn't until July that AURALiC co-founder Xuanqian Wang hand-delivered a review sample of the VEGA. And it wasn't until October 2013 that I was able to embark on this review.
AURALiC . . .
. . . was founded in Beijing, in 2008, by Xuanqian Wang and Yuan Wang. Xuanqian Wang trained as a professional engineer in both electronics and recording engineering, and also started playing piano at age four, while Yuan Wang studied sociology and management science in the US, before returning to China to start a company that manufactured precision instruments. The two met at a music festival in Berlin; their shared love of music and the "relentless pursuit of superior sound quality" inspired them to design and manufacture audiophile products. (From here on, I refer to the company and its product as Auralic and Vega—Stereophile's style is to reserve the all-caps treatment for actual acronyms and initialisms, and the capitalization and inverted camel-capping usage that Auralic has adopted looks too much like shouting in print.)
The Vega The elegant-looking Vega ($3499) is housed in a slim, brushed-aluminum enclosure. The front panel is dominated by a wide, rectangular, yellow-on-black OLED display, to its right a domed knob and a red LED. The rear panel offers single-ended and balanced outputs, respectively on RCAs and XLRs, and five digital inputs: transformer-coupled AES/EBU on an XLR (the default), two transformer-coupled coaxial S/PDIF on RCAs, one optical S/PDIF on TosLink, and a high-speed USB2.0 port. The AES/EBU and S/PDIF inputs handle 16- and 24-bit data with sample rates up to 192kHz; the USB port also operates with sample rates of 352.8 and 384kHz, and will accept DSD64 (2.8224MHz) and DSD128 (5.6448MHz) data using the DoP v1.1 protocol. No driver is required for correct operation with Mac OS10.6.4 onward; Windows users need to install the supplied driver (detailed instructions are included in the excellent manual).
While there is an on/off switch next to the IEC AC receptacle on the rear panel, the Vega is disturbed from its Sleep or Standby modes by pushing the front-panel knob. A second push brings up a menu, permitting selection of Input, Balance, Phase (polarity) Filter Mode (see later), and System parameters; otherwise, the knob controls the output level, allowing the Vega to be used as a digital-input control preamplifier. Pressing the knob to bring up the System submenu allows the user to set the Display brightness, Sleep mode enable/disable, internal clock mode (see later), and Volume mode: each input can be set to default to a different volume level, or all can be set to default to the same value.
The Vega can also be operated by remote control, a plastic controller being supplied as standard.
Technology
Inside, the Vega's digital and audio circuits are carried on a large printed circuit board that occupies the full depth of the chassis and most of its width. The toroidal power transformer sits behind the front panel and in front of a yellow shielded section that carries the AC input and filtering. A small daughterboard behind the USB jack is marked "AURALiC DSD over USB" and carries an XMOS USB receiver chip. Three surface-mount LSI chips live behind this board, the largest of which is marked "AURALiC Sanctuary Audio Processor powered by Archwave." Archwave AG is a Swiss company; their multi-core, ARM 9–based Sanctuary processor runs at 500Mips and is used in the Vega to upsample PCM input data to approximately 1.5MHz and 32-bit depth, to provide what Auralic calls the ActiveUSB buffer stage, and to implement four reconstruction filters for PCM data and two choices of low-pass filter for DSD data. The filter options are referred to by Auralic as Flexible Filter Mode—the PCM filters include linear-phase and minimum-phase options, as well as two slow-rolloff types; the two DSD options offer different degrees of ultrasonic rolloff, to prevent the format's noiseshaping from contaminating the downstream amplification.
The Vega uses a high-precision master-clock circuit that the company calls the Femto Master Clock. Covered by a hefty heatsink, this uses what is claimed to be an "aerospace grade," temperature-compensated crystal oscillator with an "ultra low noise" linear power supply. The jitter is specified as an extraordinarily low 82 femtoseconds, with phase noise at –168dBc/Hz. The user can choose between four clock settings: Auto (the default), in which the Vega uses the optimal clock window for any source; Coarse, which offers the widest bandwidth of input lock, to allow the Vega to work with very jittery sources; Fine, which narrows the lock acceptance window to give the lowest jitter with high-quality streams; and Exact, which will only give lock with only very low-jitter streams but gives the highest sound quality.
Once processed by the Sanctuary chip, the oversampled 32-bit data are fed to an ESS Sabre32 9018 D/A converter chip. This is a premium-quality, 32-bit, delta-sigma part with eight individual DAC sections, these operated, I believe, in two sets of four in push-pull parallel to get the lowest possible noise and the highest linearity, even at very low signal levels. Though this chip offers upsampling, this can be bypassed, in which case it will accept data of sample rates up to 1.536MHz, as in the Vega. It offers volume control for both DSD and PCM data. This chip is covered by a plate labeled "AURALiC DSD Direct Stream Digital DXD Digital eXtreme Definition." (DXD is the 24-bit/352.8kHz PCM format introduced by the Swiss company Merging Technologies for its Pyramix DSD workstation some years ago, to allow editing of DSD data without losing resolution.)
Texas Instruments' high-performance SoundPlus OPA1612 dual–op-amp chips are used for the Vega's I/V and analog low-pass filter stages. The balanced analog output stage, based on what Auralic calls the Orfeo module, is said to be "inspired by the Neve 8078 analog console's circuit design." (Orfeo is not used for the single-ended outputs.) The components in this module are claimed to operate in thermal equilibrium with very low open-loop distortion, the output transistors in class-A. Auralic says that the Vega's output stage will have no problem driving loads as low as 600 ohms from both its balanced and unbalanced outputs, which my measurements confirm (see sidebar).
Sound Quality
Xuanqian Wang told me that he doesn't believe in burn-in. However, I found that the Vega took several hours from cold before its sound quality reached a plateau. This is apparently because both the Femto Master Clock and Orfeo output-stage components need at least an hour to establish thermal equilibrium before reaching their specified performance conditions. When I put the review sample in Sleep mode, the clock and output stage remain powered, eliminating the need for any further warm-up when the Vega is switched back into operational mode.
Prior to the Vega's arrival, my listening room saw some superb-sounding D/A processors in 2013. In order of rising price: the NAD M51 ($2000, reviewed in July 2012), the Musical Fidelity M6DAC ($2999, June 2013), the Electrocompaniet ECD2 ($3100, December 2013), the Arcam FMJ D33 ($3200, February 2013), the Marantz NA-11S1 ($3499, October 2013), the MSB Diamond DAC IV with Diamond Power Base ($43,325, October 2012), and the dCS Vivaldi system ($68,497 without its SACD transport, January 2014). But the $3499 Vega was in no way embarrassed by having to follow this company. In fact, though I felt a twinge of loss when the Vivaldi system went back to the distributor, the Auralic Vega proved a very satisfying replacement.
The English composer John Tavener passed away as I was installing the Vega in my system. One of the first recordings I played, therefore, was cellist Raphael Wallfisch's performance of Tavener's The Protecting Veil, accompanied by the Royal Philharmonic Orchestra conducted by Justin Brown (CD, Intersound 2847), feeding data to the Vega's AES/EBU port from my Ayre Acoustics C-5xeMP universal player. Like Michael Lavorgna, I found that Mode 4 was overall my favorite filter. It allowed the spaces between the notes on this hauntingly beautiful recording to be fully developed.
I was going to follow the Tavener with a needle drop of Joni Mitchell's 1978 album, Don Juan's Reckless Daughter (LP, Reprise K63003)—but I couldn't wait for the transfer to digital, which of course can be done only in real time. So I fed the AES/EBU output of my Ayre QA-9 A/D converter, set to 24/96, straight to the Auralic Vega. OMG! The low F and C that Jaco Pastorius strikes from his Jazz Bass at the start of "Cotton Avenue" were projected with almighty weight by the Vega, but without losing any of the definition to the notes' leading edges. Similarly, when Pastorius swoops down to the open D string at the start of "Jericho," which ends side 1 of this album, the combination of low-frequency weight and higher-frequency definition made it difficult to remember that I was listening to back-to-back A/D and D/A converters in the playback chain. I knew, from my review in November 2012, that the Ayre has superb sound quality, but it was obvious that the Auralic Vega was equaling that quality.