AudioQuest JitterBug USB noise filter Measurements
Sidebar 3: Measurements
It's difficult to decide how to characterize the measured performance of products, such as AudioQuest's JitterBug, that don't operate directly on the analog signal. Yes, there exist USB bus analyzers—available from such companies as Tektronix—that Wavelength's Gordon Rankin, one of the JitterBug's designers (along with Garth Powell), uses. These can examine various issues affecting data transmission: data-packet errors, jitter, noise, etc. However, they cost tidy sums—too much for me to be able to justify to my paymasters that Stereophile buy one for use in a single review.
So, on the well-established but far from proven principle of "if something can be heard, it must be capable of being measured," I used my Audio Precision SYS2722 system (see the January 2008 "As We See It") to look at the outputs of three of the D/A processors I used in my listening: a first-generation AudioQuest DragonFly, a Meridian Explorer, and a PS Audio PerfectWave DirectStream. With each signal, I used first no JitterBug; then one JitterBug, in series with the computer's USB port; and then an additional JitterBug, plugged into a second USB port. Sources were both the i7 Mac mini (back from the Apple Genius Bar with a new logic board and power supply) and my MacBook Pro, this powered both from its battery and from its wall-wart supply.
I used four 24-bit files, all sampled at 44.1kHz, with each of the two computers, three DACs, and three computer conditions: 1kHz tones at 0dBFS and –90dBFS; a 19.1kHz tone at 0dBFS; and the undithered Miller-Dunn J-Test signal (an 11.025kHz tone at –6dBFS plus an LSB-level squarewave at exactly 229.6875Hz).
As you can calculate, these tests generated an enormous amount of data. Sad to say, in almost all the tests, I could find no measurable difference between the analog signals, whether there were two, one, or no JitterBugs associated with the USB ports in use. Fig.1 is typical. It shows a narrowband spectral analysis of the noise floor below 10kHz of the PS Audio's balanced analog output while the DAC decodes the 24-bit J-Test data. Even with the expanded vertical scale, the traces with two JitterBugs—one in series, one in parallel (left channel blue, right cyan)—overlay those with no JitterBug (red, magenta).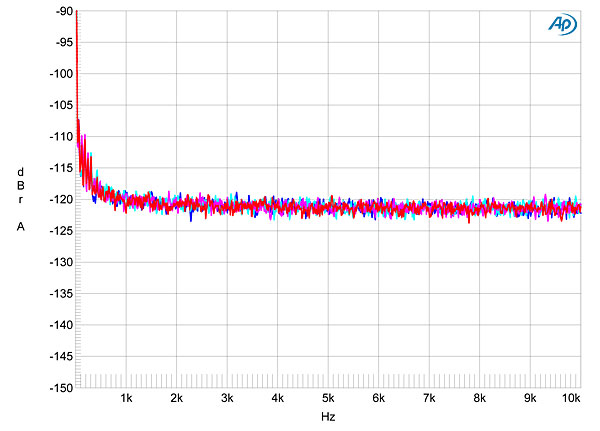 In only two test conditions did I find that the JitterBug made a consistent and repeatably measurable difference. First, with the AudioQuest DragonFly fed 24-bit J-Test data from the Mac mini, the two JitterBugs (fig.2, blue and cyan traces) eliminated the sidebands at ±1430Hz, and reduced the levels of the sidebands at ±715Hz by around 5dB (red, magenta). Second, with the laptop feeding the DragonFly 24-bit data representing a dithered 1kHz tone at –90dBFS, a spurious tone at 350Hz was very slightly lower with two JitterBugs (fig.3, blue and cyan traces) than it was without them (red, magenta).
It's difficult to see how these measured differences correlate with the improvement in sound quality I heard with the JitterBug. To put these differences into context, fig.4 repeats the test used to generate fig.3 with no JitterBugs, but with the laptop powered first by its battery (blue and cyan traces), then by its AC supply (red, magenta). Though the AC-supply–related spuriae are very low in absolute terms—note the greatly expanded vertical scale of all these graphs—they are still higher in level than any changes I could find with the JitterBug. I also couldn't hear any difference with the DragonFly between the MacBook Pro powered by its battery and by its external AC supply.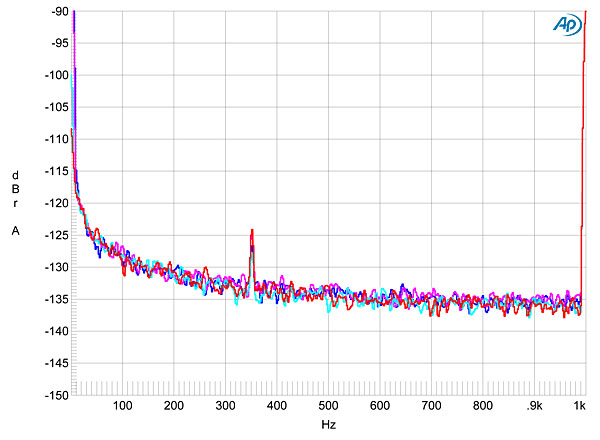 While measuring the effect of the AudioQuest JitterBug didn't prove to be a complete snipe hunt, it also didn't reveal why using the JitterBug improved the sound—which it most certainly did.—John Atkinson