Audio Streams #6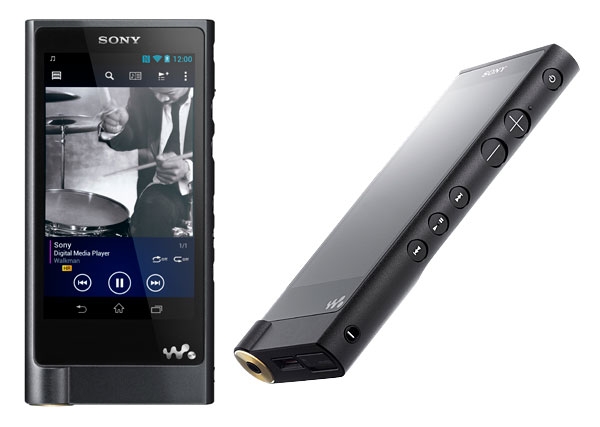 Back in the day, I owned a Sony Walkman cassette player. I loved it. I took it everywhere I went, listening to Jimi Hendrix, Bob Dylan, Neil Young (with and without Crosby, Stills & Nash), Miles, Coltrane, and more. Having music move around with me seemed a giant step into a more perfect future in which we could color our experiences with sound.
The Walkman adapted over time to play CDs delivering Perfect Sound Forever—until developments in technology and psychoacoustics taught us that what we heard was true: early CD-quality playback was not perfect. You can argue the theoretical merits of CD till you're blue in the face; the fact is, early CD playback sucked. The same was true of the nearly ubiquitous MP3. While there's tons of great science and engineering behind the MP3, early lossy compression sounded simply awful.
Proponents of CD sound quality and lossy compression don't like to talk about those formats' sordid pasts, or even how digital replay has actually improved since then—after all, how can you improve on perfection?—but with oversampling and better digital filters we were able to remove some of digital's rougher, unnatural edges. That said, some of the most natural-sounding DACs I've heard have been of the non-oversampling variety—but that's another story.
Another step in our digital evolution has been taken due to practical progress in file-based playback, including greater Internet bandwidth and cheaper digital storage, which have eliminated the physical constraints imposed by the CD and lossy compression. We can now listen to our music at the same resolution at which it was recorded, and enjoy reissues of analog recordings that more faithfully capture what's contained on their master tapes.
Sony's new NW-ZX2 High-Resolution Walkman ($1199.99, footnote 1) plays high-resolution PCM audio up to 24-bit/192kHz, as well as Direct Stream Digital (DSD) up to 5.6MHz, while offering DLNA compatibility along with WiFi (dual-band 2.4/5GHz) and Bluetooth connectivity. It is a thoroughly modern personal digital audio player. And, because it's based on the Android operating system (v.4.2), you can use the NW-ZX2 to download and install apps from Google Play, check e-mail, load and look at photos, watch movies, keep a calendar, and much more, as described in the 274-page manual. But we're here to talk about music.
The NW-ZX2 is roughly the size of an iPhone, albeit a bit stouter: 5.1" (130mm) long by 2.5" (65mm) wide by 0.6" (16mm) thick. Its body is milled from a solid slab of aluminum alloy that is finished in a black oxide coating, while its backside is covered in leather-textured black rubber. Much of its face is occupied by a 4", 854x480 (FWVGA) TFT color touchscreen. Inputs include a 22-pin WM-Port for charging and connecting to a computer with the included WM-Port–to–USB cable, and a 128GB-capable microSD card slot to supplement the player's 128GB of built-in memory. There's a single gold-rimmed, stereo, 3.5mm mini-jack for your earphones or, with a 3.5mm-to-RCA cable, to connect to your hi-fi.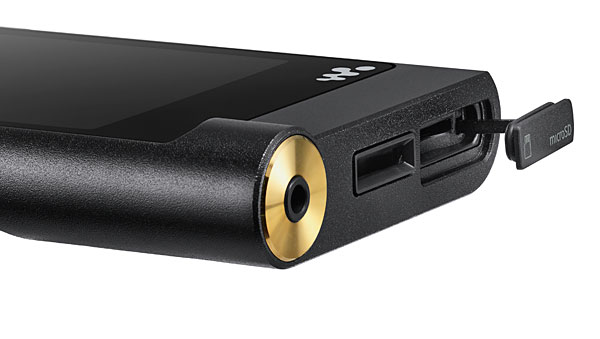 Along the NW-ZX2's right edge are a number of pushbuttons: power on/off, volume up/down, play/pause, forward, and back. The same playback functions are available on the touchscreen display, which is how I preferred to use them. The remainder of the NW-ZX2's serious functions are accessible via the touchscreen.
The NW-ZX2 has a lithium-ion battery, for which Sony claims 33 hours of high-resolution audio playback per charge, and about twice that for MP3s. Expect a full charge to take about 4.5 hours. Also inside are a chassis of gold-plated copper, Sony's S-Master HX High-Resolution Digital Converter/Amplifier, and the headphone amp, which Sony specifies as outputting 15mWpc. Overall, the NW-ZX2 feels nice and rugged, rather hefty in the hand—it weighs just over half a pound (235gm)—and its large touchscreen is a pleasure to use, especially in comparison with, say, the relatively tiny screen of the PonoPlayer.
The NW-ZX2 includes a number of DSP and EQ options: DSEE HX (Digital Sound Enhancement Engine), which "upscales your existing music to near high-resolution sound quality (corresponding to 192kHz/24-bit audio)"; ClearAudio+; Surround Sound, based on a Sony-developed proprietary sound-processing technology for headphone listening that offers a number of modes, including Studio, Club, Concert Hall, and Matrix; Dynamic Normalizer; and Equalizer, a five-band EQ. For DSD playback there are two user-selectable filters, Slow rolloff and Sharp rolloff, as well as a –3dB gain option that Sony claims can eliminate distortion with some recordings (–3dB is the NW-ZX2's default setting). I'll talk more about some of these features when I discuss the NW-ZX2's sound quality.
To load music into the NW-ZX2, connect it to your computer with the included cable, and drag and drop your music files into the Sony's Music folder. You can also load music from a microSD card that you've first inserted in your computer with an SD adapter and dragged and dropped music to. The NW-ZX2 can also be connected to a network via WiFi to play network-attached music. I was able to easily attach to and play music from my QNAP NAS, on which I've stored my library of AIFF files. The NW-ZX2 also supports AAC (non-DRM), ALAC, DSD, FLAC, HE-AAC, Linear PCM, MP3, and WMA (non-DRM) file formats.
To use the NW-ZX2 to play music, tap its music icon: The Sony presents you with your library of stored music in Album view. You can also view your collection by All Songs, Artists, Genres, Release Year, Recently Added, Playlists (which you can create directly in the player), Recorded Songs, SensMe channels, and Cover Art View. The Sony's Visualizer displays groovy patterns based on the music playing, but I'm not a big fan of visualizers; I prefer to use the battery to play tunes.
---
Footnote 1: Sony Corp., Tel: (877) 865-7669, (239) 768-7547. Web:
www.sony.com
.