The Audio Doctor: Prescribing the Best of Everything
On the corner of Sherman and Sanford in the quiet, residential neighborhood of Jersey City known as The Heights, just a block from Leonard Gordon Park and two blocks from Pershing Field, there is a beautiful, old Victorian house. Standing a little taller than the other houses in the neighborhood, 112 Sherman Place, with its turreted rooms, stained glass windows, and distinct green and ochre exterior, has a proud, stately, almost royal, appearance. This is the home of Dave and Paula Lalin, their three children, their three pets, and more high-end audio components than you would ever expect. This is the Audio Doctor.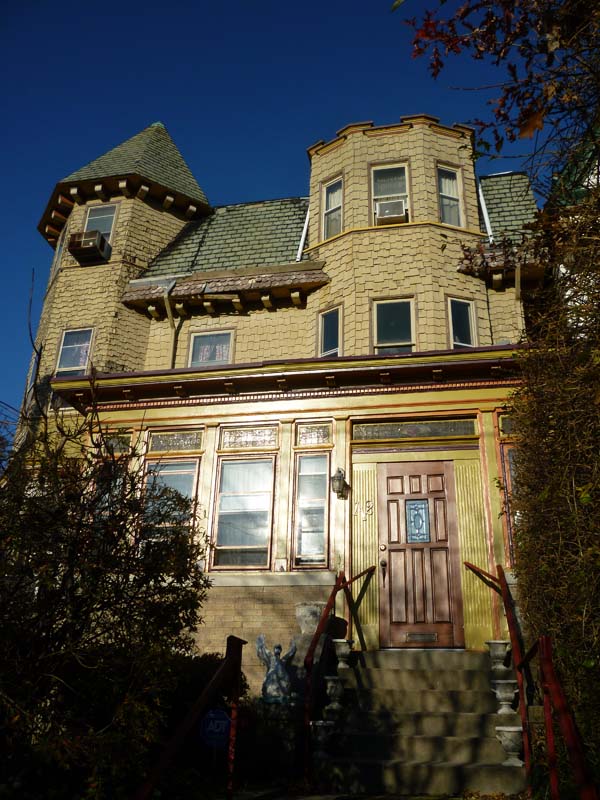 On a perfect, late autumn morning, Uncle Omar and I made the short drive from Downtown Jersey City to meet with the Lalin family for a little tour and a lot of hi-fi.
A self-described "gear hound," Dave Lalin says he's been interested in music and sound since he was about three years old. Like so many audiophiles, Lalin grew up with hi-fi at home: His father was an engineer and an audiophile. By the time he was five, Dave Lalin was spinning music on a reel-to-reel player. At the age of 13, he had acquired his first all-in-one system, a Fisher stereo with a turntable and two-way loudspeakers. At around that same time, he began reading hi-fi magazines, fantasizing about the systems he would someday own. He took on odd jobs—everything from delivering newspapers to performing magic tricks—in order to feed his growing addiction for hi-fi and music. Most teenagers feel a certain degree of angst and dissatisfaction for the world around them, but Lalin describes this time as his own personal "mid-fi hell."
It wasn't until he received his driver's license and happened upon Audio Connection in Verona, NJ, that life began to brighten for Lalin. There, he met Hart Huschens (now of Audio Advancements), who introduced him to audio components he had previously only seen in magazines. "It was like a lightning bolt," says Lalin. "That sounded like music!"
With Huschens' help, Lalin began piecing together a better system.
Throughout college, Lalin continued working odd jobs and did his best to share his enthusiasm for hi-fi, helping many friends and acquaintances set up their own systems. In 1989, while searching for a job in advertising, Lalin walked into the old 33rd Street location of Sound By Singer and found a job selling hi-fi. He worked for Singer until 1996, then took a job at Innovative Audio, where he worked under Elliot Fishkin until 1999. A second term at Singer lasted until 2005.
With over 15 years of experience in the industry, Lalin decided to go out on his own.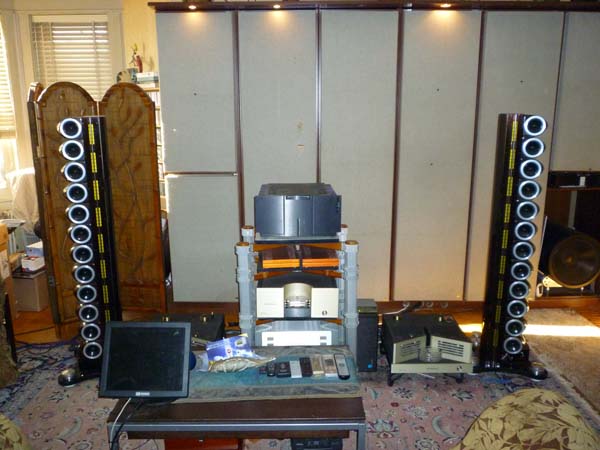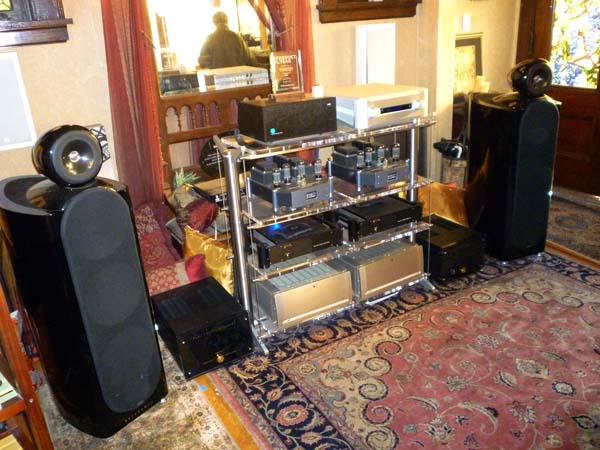 Initially, his plan for Audio Doctor would be to travel to other people's homes, listen to their systems, treat problems, and prescribe solutions for higher quality sound. "I didn't plan on opening a store. The original idea was that I would bring the equipment to the customer." But Lalin found that more and more customers preferred to visit his home, a point that corresponded nicely with his own beliefs in having extremely flexible hours, catering to the customer, and creating a high-quality event.
Lalin is especially adamant about that last point. "Shopping for something like this should be a fun experience," he emphasizes. "And that's one of the problems with the industry: The youth market has missed the point that high-end audio is a quality experience."
When I ask him to tell me more about what it's like to run a hi-fi shop from his home, Lalin confesses that sometimes he enjoys getting away from listening entirely, just zoning out in front of a television, but that he nevertheless loves his work.
"If a customer wants to set up an appointment at 6am, I'll be here. If a customer wants to set up an appointment at 9pm, I'll be here. My family is incredibly understanding."
As we talk, Lalin's daughter walks out from the kitchen with coffee that Lalin's wife has just brewed. It's one of the best cups of coffee I've had in weeks. "Starbucks," Paula Lalin modestly informs us later.
Past experiences at both Sound By Singer and Innovative Audio are still heavily present in Lalin's mind. He says his time spent working at those establishments helped shape his current philosophies. He insists that he's taken the positive aspects with him, while learning from the negative.
"Walking into Singer, customers had so many options, but they weren't always able to listen to everything. I took the idea of having lots and lots of gear, but added the flexible hours, emphasizing customer service."
Walk through the front door of 112 Sherman Place and you first find yourself in a small, enclosed porch that on this day is flooded with sunlight and completely stuffed with high-end audio equipment: Linn, Rega, PSB, KEF, subwoofers, floorstanders, monitors, integrateds, DACs, cables, and more.
Walk into the main living/listening area and you'll see two pairs of loudspeakers—Scaena Iso-Linear loudspeakers on one end, KEF Reference 207/2s (a favorite of Stereophile editor John Atkinson) at the other. Along one wall, you'll see four racks of gear: amplifiers, CD players, and a lovely Roksan Xerxes turntable. In a corner: more loudspeakers. On side tables: table radios, of course, and iPod docks and remote controls and other accessories. On ledges, frames, and mounted on walls: room tuning devices of the controversial sort. ("They really work," Lalin enthuses. "We can do a demo if you want.")
Walk into a smaller den and you'll find more loudspeakers (floorstanders and bookshelf models), cables, accessories, and what Lalin calls his own "wall of sound": perhaps nearly 50 individual components—tubed and solid-state amplifiers, CD players, DACs, a Rega turntable….The racks stand taller than Lalin himself. "I would have more, but I'm short. I can't reach any higher," Lalin laughs.
The system here is highlighted by a pair of brand new KEF R700 floorstanders. Lalin refers to these as "Baby Blades" because they contain much of the technology found in KEF's impressive flagship design. The finish is exquisite and the $3800/pair price tag makes them even more interesting. "This is definitely the coolest of the R Series," Lalin says. "If you can find something that's affordable and sounds great…that's cool!"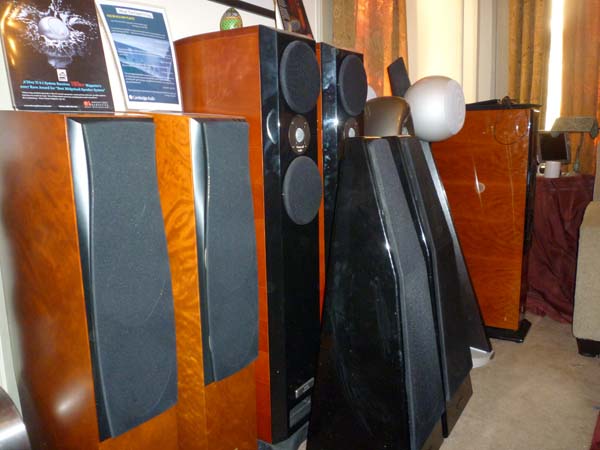 Clearly, when it comes to gear, Lalin has no single, simply defined allegiance. "This is my 'all-purpose-anything-goes room.' It's like a lab. I don't have a one-size-fits-all philosophy. I'm trying to achieve the best of everything."
As Lalin steps carefully behind the wall of gear to swap inputs, I find myself contemplating the many components, the rows of loudspeakers, the tangle of cables, the stacks of accessories. I imagine that Lalin takes comfort in all this, but have to wonder if certain customers would find it overwhelming. I think of how I might do things differently: Wouldn't it be nice to offer just a few, carefully selected product lines and create a more elegantly appointed atmosphere? It would certainly make things simpler, but Lalin doesn't seem very interested in simplicity. Or maybe it's just that his idea of simplicity is a little different.
"At this point, I'm pretty much done [bringing in new lines]," Lalin admits. "I'm going to narrow my perspective to components with digital inputs and networking capabilities. That's sort of the new panacea—high-quality products that are convenient and user-friendly. That's really cool!"
We've just listened to "Bed of Nails" from Wild Beasts' outstanding album, Smother, through the KEF R700s, Exposure 2010S CD player and matching integrated amplifier (approximately $1300 each). The KEFs only have about 15 hours on them and I wonder if they could use a little more time. As the music plays, however, the sound improves, becomes more relaxed, more open, more coherent. I know the sound of the Exposure pieces well because they've been my references for several years. Now Lalin switches to the new Unison Research Unico Primo integrated amplifier ($2295) and CDE CD player ($3895). This combination presents a large leap up in drama, scale, richness of color, and overall physicality. Everything has grown in size; it sounds like we're listening to bigger speakers. I'm at once impressed by the Unison Research gear and annoyed by my Exposure components; I find myself wondering how I might afford the Unico.
In the larger room, through a system comprising KEF Reference 207/2s, Chord CPA 5000 preamplifier and SPM 650 monoblock power amplifiers, an Esoteric K-03 disc player, and Kubala-Sosna cables, we listen to several tracks from Sharon Van Etten's upcoming album, Tramp. The sound is clean, clear, dramatic, effortless, compelling, and big. The CD sounds far better here than in my own system, better than I thought it could sound.
Omar reaches for a copy of Kip Hanrahan's Desire Develops An Edge, an exquisite and adventurous album released in 1984 by Hanrahan's wonderful American Clave label. (Search for every record released by American Clave and buy them as you find them; you won't be disappointed.) Desire Develops An Edge features inspired performances by Jack Bruce, Teo Macero, Steve Swallow, John Scofield, Jerry Gonzalez, Arto Lindsay, Puntilla Orlando Rios, and a host of others. The music and sound are equally passionate and vital.
Lalin's Roksan Xerxes turntable, equipped with a Benz LP-S moving-coil cartridge on a Basis Vector tonearm, goes into a Manley Steelhead phono preamp for an impressive analog rig. Listening to "Sara Wade," the quick, natural transients and warm, tight, physical bass combine for a sound that beautifully represents the emotion of the music. At one point, when the drummer pairs forceful kicks to the bass drum with delicate taps on the ride cymbal, Omar and I look at each other and nod, immediately impressed by the system's excellent sense of touch and portrayal of nuance.
Toward the end of our visit, Lalin finally expresses a preference for a specific kind of sound.
"If you want to really recreate an experience," he says, "the music has to sound real. A system should try to balance musicality with realism, and I lean toward realism. It's like this place, my home, this store—I want people to be able to listen to this gear in a realistic environment.
"I work for the customer," he continues. "My job is about creating relationships with people. This is my home, but it's also the customer's home. I've turned my house into a store," he says with a smile.
"I love having people over."
To make an appointment with the Audio Doctor, call (877) 428-2873.